Following the 2009-2016 events with participants from a large number of countries, Tallinn University of Technology will host the 9th Conference & Summer School "Economic Challenges in Enlarged Europe" from 11–16 June 2017 in Tallinn and the Nelijärve lakeside resort. The event is organised in collaboration with Bank of Estonia, the Society for the Study of Emerging Markets (USA) and Association for the Study of East European Economies and Cultures (USA).
You are invited to submit papers for presentation and discussion. We would especially encourage submissions on:
macroeconomic effects and economic policy considerations under global change;

consequences of economic fluctuations on the financial sector and related opportunities;

real sector implications and labour market responses to the changing economic environment;

economic development and convergence/ disintegration issues in enlarged Europe;

work arrangements in the changing socio-economic context;

financial decisions and considerations in the complex economic environment;

Digital Single Market considerations;

regulatory efficiency in Europe and its economic, legal and policy implications;

comparative regional studies (e.g. Nordic countries, CEE countries, Western/Southern European countries, non-EU countries etc).
Submissions on other topics falling under one of the thematic tracks below are also very welcome.
The summer school short courses develop academic publishing skills and cover some special topics in economics, finance and public policy.
Tracks
Macroeconomics

Work and Labour Market

Finance

Economic Environment

International Business

Digital Single Market

Law & Economics
Keynote Speakers
We have the honour of hosting the renowned professor of economics, Josef C. Brada from Arizona State University (USA), as keynote speaker.
Professor Ali M. Kutan from Southern Illinois University (USA), Editor of Emerging Markets Finance and Trade and Co-Editor of Economic Systems, will give a half-day course on how to publish in top economics and finance journals.
Other speakers will be announced in due course.
Publications
All accepted papers are eligible to be considered for publication in one of the following international peer-reviewed academic journals:
If you wish your paper to be considered for publication in one of the above journals, please submit by 1 August 2017 (I round), or if not ready by that time, by 15 September 2017 (II round) your final full paper. Papers will be reviewed for the above journals following their normal review criteria, and a limited number of outstanding papers will be published by the journals.
Program Outline
The venue will be Hotel Euroopa, a 4-star conference hotel in Tallinn city centre. The short courses will take place at the Nelijärve lakeside resort, 66 km from Tallinn.
Registration
Online registration facility is available at our website. Different packages of participation fees are available – please refer to the website.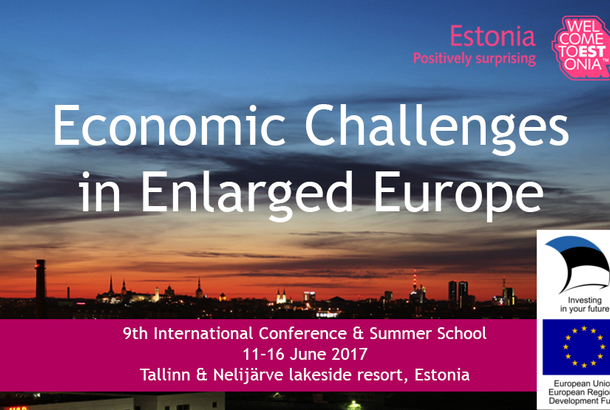 Start Date:
End Date:
Deadline for paper submissions:
Expired help
Deadline for participant registration:
Expired help