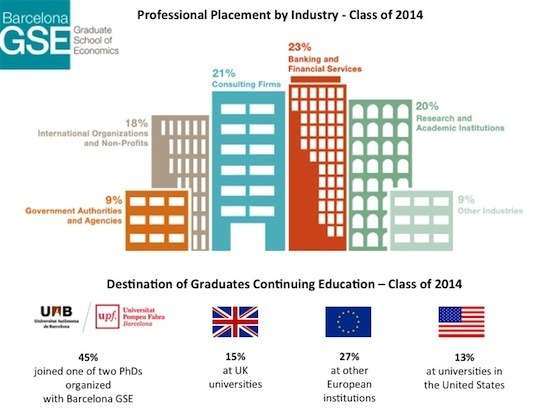 What can you do with a Master's in Economics?
With your courses completed and your master's thesis ready to hand in (weeks before the deadline, of course), all you have left to do is confront that little decision you've been putting off all year (or two for most European Master's?). You know the one – what are you going to do with your life after you have completed your Master's degree?
You might be disappointed to hear that this article will not hand you the answer to this or any other profound question on a silver, or any other platter. Instead we do offer some practical suggestions to help you reach a decision yourself and take a look at the trends among recent graduates, based primarily on a last survey conducted by Barcelona Graduate School of Economics among its 214 graduates in 2014. This at least gives an idea of what your pioneering peers from previous years have decided to do after graduation from this particular institution.
At a Crossroads
Of the two options available (work or study), the Barcelona survey suggests that of the 94% of the class of 2014 who responded after six months after graduating, 87% were "placed", i.e. either working or studying. Of these, approximately 72% found employment, and 28% took up a study place. So which of these options is best for you, and how can you best reach that decision?
Schools Out - But only for the summer
If you are even considering further study, most likely a PhD, then think about what advantages a PhD could have for your later career, in academia or otherwise. Also bear in mind that a PhD experience is more than just research, with the administrative and time-management skills required providing you with a complete set of skills highly valued in the job market.
If you do decide to continue your studies, according to the Barcelona GSE survey by far the most popular option is to stay local to where you graduated. For example, around half (46%) of those continuing education from this particular school stayed where they were, starting a PhD in Barcelona at one of the universities there. Points in favour of staying where you are include the fact that you know the academic and social infrastructure, and may even be able to keep working with professors or other students you already know, and who know you. Additionally, starting a PhD is likely to be a big enough challenge in its own right, and avoiding the stress of moving cities or even countries can make this process easier. You can find more resources to help you deciding about your PhD undertaking here.
If the idea of staying where you are doesn't appeal, then keep an open mind when you look at your options for further study, and be prepared to move to a new country to find the best opportunities for you. From the Barcelona survey, the most popular countries apart from Spain were the UK and the USA, with 15% and 13% of graduates respectively starting programmes there. A further 27% continued their studies elsewhere within Europe. Although not necessarily applicable worldwide, the popularity of European countries and the USA as study destinations is confirmed by the survey.
Get on your bike and look for work
For the rest of you who have had enough study and want to start paying off those debts, there is good news, namely that the job market for Econ Master's students is healthy. Again though, be ready to live abroad for a while to increase the number of opportunities available for you. Of the sample in the survey around one third found a job outside of their home country.
Perhaps unsurprising given the improved fortunes of the financial sector, almost a quarter of Barcelona graduates found employment at banks or other financial services providers. Close behind in offering fresh graduates a chance were consulting firms and research institutes, followed by international organisations and non-profits.
So how does all this help you? Clearly no one else can, or should make your decision for you. But look at others' experiences, and try to break your decision into steps: Study or work? If study, then where? If work, then in what kind of institution?
Once you have answered these fundamental questions, you can start to focus on what you need in order to prepare and send a good application, and shortlist some places you would like to apply to. Worth checking out is this very handy list of institutions that have employed Barcelona master's graduates in recent years - a great place to start narrowing down your search.
With this advice in mind, and with just a little luck, after handing in your thesis you can look forward to the next stage of your career: walking out of university with a shiny new Master's degree and straight into that perfect job or PhD placement!
Photocredit: Barcelona GSE