Exam season is known for causing stress, sleepless nights and... humour? Some brave students have pushed through the negative feelings generated by exams to use this time for fun jokes for their fellow students. Today we're sharing a light-hearted look at some of the best student jokes for exam time.
Musical flashmob
What better way to cope with exam stress than a good old fashioned sing-a-long? That was the plan of engineering students at the University of Toronto, who decided to express themselves musically during a first year exam. They organised a singing flashmob to help relieve the stress of fellow exam-takers. In the middle of a very silent exam, a single brave individual stood on their desk and started singing, and was soon joined by others.
The students decided to vent their frustrations in the style of one of history's most famous group of students – the barricaded Parisian students from the musical Les Miserables. They performed a version of the song "One Day More" changed to "One Test More" to reflect that feeling of never-ending dread that accompanies exams. Here's hoping that the fellow students found the show of camaraderie inspiring as they wrote their tests.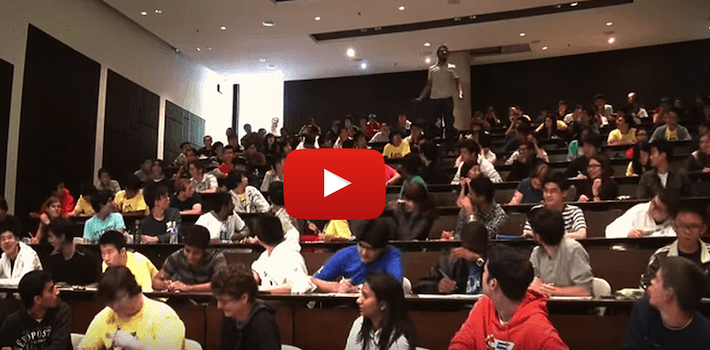 A ukulele love-in from fellow supportive students
We all know that feeling – it's the last week before your exams, and you're stressed, tired, and constantly trying to cram more information into your brain before the big test. So off you go to the library, desperately hoping that you can predict what material will be coming up on the test and prepare yourself. Not fun! It's a time of stress and misery for a lot of students.
---
Discover best Master's Programs in your field on INOMICS...
---
At the Vaughan Secondary School in Ontario, Canada, the music department decided to stage a musical intervention to support the stressed-out students during exam week. A group of students with ukuleles and signs congregated outside the school library to surprise those revising with a performance of the classic song "Don't Worry, Be Happy". They got all the students singing along and helped everyone to relax and feel better. What a lovely way to diffuse exam stress.