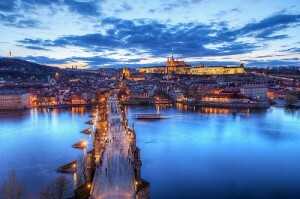 INOMICS at the 26th Annual EAIE Conference
This Saturday, the INOMICS Team will pack the car and head to Prague to take part in the 26th Annual European Association for International Education (EAIE) Conferencebetween September 16th and 19th at the Prague Congress Centre. This year's conference theme, 'Stepping into a new era' is well suited to INOMICS' current expansion as a multi-disciplinary, crosscutting platform hosting thousands of academic and career opportunities for students, academics and professionals.
With four days packed full of workshops, poster sessions, receptions and exhibitions, INOMICS is proud to take part in this international event linking education professionals from diverse fields. Jan Muehlfeit, Chairman Europe of the Microsoft Corporation and graduate of executive development programs at the University of Pennsylvania, London School of Economics and Harvard, will speak at the Opening Plenary on September 17th.
Throughout the conference INOMICS will maintain a booth (Number 235) and team members will be on hand to discuss our many collaborations with institutions around the globe. If you happen to be at the conference, please feel free to stop by, say hello and build a partnership with INOMICS!
Image credit: Miroslav Petrasko
Also Interesting

The Pros and Cons of a Career in Research

Upon completion of a Master's degree or PhD, the big question arises: what next? Although it seems like natural progression to continue with further research, there are many other careers open to academics in business, education, or communication and journalism, to name but a few examples. So how do you know if research is the right career choice for you? A good way of figuring it out is weighing up the pros and cons. Browse our job listings for economics opportunities

Career Advice, Study Advice

Top YouTube Channels to Learn Econometrics and Economics

Despite the easing of Corona-induced restrictions in certain places around the world, many universities and centers of learning remain shut, and will likely stay so for some time. For the foreseeable future then online learning will fill the void and become the default means of study. Yes, these are strange times. If you aren't already incredibly familiar with Zoom/Whereby/Skype we advise you to download them all now!

Applying for a Conference

How to Write a Successful Motivation Letter for Economics Conferences

When you apply to present at an economics conference, you'll often be asked to provide a letter of motivation along with your abstract and CV. This is used to decide which applicants will be invited to give a talk or poster presentation at the conference. But what information should this letter of motivation contain, and what's the best way to increase your chances of being accepted to present?