4th International ICNDBM Conference: NEW DIRECTIONS IN BUSINESS, MANAGEMENT, FINANCE AND ECONOMICS
Deadline for paper submissions
Deadline for participant registration
The Canadian Institute for Knowledge Development (CIKD) in collaboration with Istanbul Aydin University is pleased to announce the call for abstracts for the 4th International ICNDBM Conference on New Directions In Business, Management, Finance And Economics in Istanbul, on February 12th, 2020.
Keynote Speakers:
Luigi Guiso, Axa Professor of Household Finance at the Einaudi Institute for Monetary, Banking and Financial Studies in Rome, listed as The World's Most Influential Scientific Minds by Reuters, awarded the Smith Breeden Prize in 2009 and Spangler-IQAM Prize in 2015 with an h-index of 59.
Ilhan Ozturk, Professor of Energy Economics at Cag University, highly cited researcher of 2018 from Clarivate Analytics with an h-index of 57.
Luis Alberiko, Gil-Alana, Professor of Econometrics and Quantitative Methods at the University of Navarra, among the top 5% authors on IDEAS/RePEc.
Main Themes of the conference are focused but not limited to the following:
Management
Marketing
Accounting
Banking
Economics
Finance
Publishing opportunities:
The abstracts submission will stay open until Jan 21th, 2020. Late submissions will not be accepted.
To submit your abstracts please visit:
https://icndbm.com/submission-4th-icndbm-conference/
There will be two presentation modalities at this conference: Oral and Virtual.
Location of Venue:
Istanbul Aydin University, Istanbul, Turkey
Important Deadline:
Early Bird Registration: 3 January 2020
Abstract Submission: 21 January 2020
Registration Deadline: 28 January 2020
Full Paper Submission: 4 February 2020
Day of Conference: 12 February 2020
For more information visit:
4TH INTERNATIONAL CONFERENCE ON NEW DIRECTIONS IN BUSINESS, MANAGEMENT, FINANCE AND ECONOMICS
You can also contact us by email:
info@icndbm.com
CIKD is looking forward to many interesting contributions!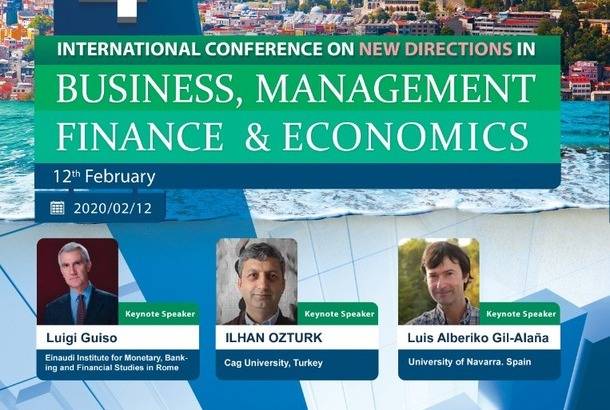 Deadline for paper submissions
Deadline for participant registration