The conference will be the first international event organized by the "Network on Informality Studies" at Universidad del Rosario in Bogotá, Colombia.
The school of Economics at Universidad del Rosario (Bogota, Colombia) is pleased to invite you to The Economics of Informality Conference 2018. This Conference aims to bring together scholars, experts, young researchers, practitioners and policy makers to present their work and exchange knowledge and debate the issues about informal economy.
Date of the conference: May 28 – 29, 2018
Submission deadline:
The deadline for the call for papers is March 30, 2018. Papers must be submitted using our online application form. Young researchers are particularly encouraged to apply.
There is no participation fee. Participants do have to cover the costs for travel and accommodation. Accommodation at reasonable prices will be proposed to participants.
The official language of the conference is English.
Format
We invite you to submit papers studying the phenomenon of informality across of a wide range of areas, including labor economics, industrial organization, urban economics, agricultural economics, finance, regulation, public economics, political economics, development economics, among others. Both, empirical and theoretical papers are welcome.
Notification of acceptance: April 15, 2018
Scientific Committee
Jean Olivier Hairault, Professor of Economics - Paris School of Economics
David Margolis, Professor of Economics - Paris School of Economics.
Albert Berry, Emeritus Professor, University of Toronto
Fernando Jaramillo, Research Director, Deparment of Economics - Universidad del Rosario
Andrés Felipe García Assistant Professor, Deparment of Economics - Universidad del Rosario
Carlos Medina, Director at the Medellín Branch - Banco de la República
Catalina Granda, Associate Professor - Universidad de Antioquia
Juan Miguel Gallego, Associate Professor - Universidad del Rosario
Cristina Fernández, Research, Fedesarrollo
Speakers
Francois Bourguignon. Professor of Economics, Paris School of Economics.

Pranab Bardhan. Professor of Economics at University of California, Berkeley.

Mauricio Cárdenas Santamaría, Minister of Finance and Public Credit.

Luis Fernando Mejía Alzate. Director of the National Department of Planning (DNP).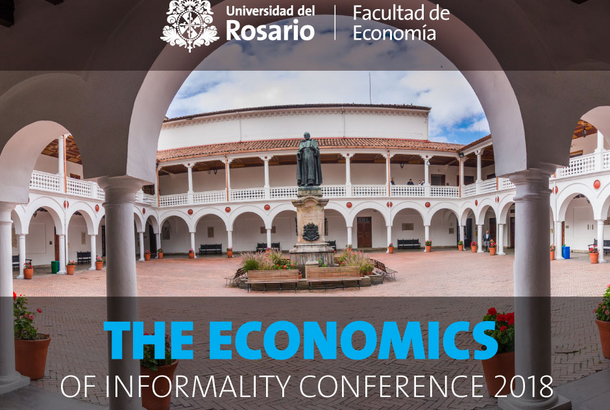 Start Date:
End Date:
Deadline for paper submissions:
Expired
Deadline for paper submissions:
Expired
Carrera%206%20%23%2015%20-%2018%2C%20Bogot%C3%A1%20%2C%20Bogot%C3%A1%2C%20Colombia