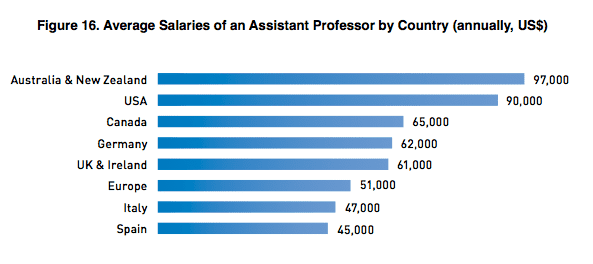 How Much Econ Professors Earn? Salaries in Academia by Country
Yesterday INOMICS released the Economics Job Market Report 2013 (Worldwide Overview). The report contains insights about the academic job market, compiled from answers from almost 2,500 economists and recruiters from all over the world who completed a survey earlier this year. The findings of the report include salaries, recruiters' and candidates' employment preferences, regional disparities, skills & specializations most in demand and other general trends in the economics job market.
Even though salary was not mentioned by economists among the top factors for a job choice, potential earnings do inevitably affect decisions about future career paths. More than that, given the high mobility of the academic job market, where institutions compete for top talent globally, it is natural for candidates to weight their financial gains before relocating to a different country.
The highest salaries were reported by Economics Professors who are employed in universities in Australia & New Zealand (105,000 $US on average), followed by US-based Professors (102,000 $US on average). In Europe, UK Professors earn the most, whereas wages in Italian Universities are on average 40% lower than their British counterparts. The numbers presented in the graph above represent the average income of Full Professors from a given country, based on the responses from our survey, without any adjustments. Of course, when comparing salaries in different countries, a lot of factors should be taken into consideration, including living costs, social security and salary differentials. Nevertheless, these numbers serve as a fair indication of the wage level for academics in each given country.
In the following weeks INOMICS will release a series of Regional Economics Job Market Reports, which will include more detailed information about salaries for different positions and career levels. You can subscribe to receive a notification when reports are released on INOMICS.
Information in the graphs is based on the Economics Job Market Report 2013 (Worldwide Overview). To see more information about methodology download the full report here.
Also Interesting

The Best Online Microeconomics Courses for Beginners

Microeconomics is the study of what economic actors - be they people, firms, or whole industries - do when confronted with choice, and how this affects the distribution of resources. It's fascinatingly revealing but can be frustratingly complex. And regardless of which direction your economics career takes, it's likely that, at some point, it will have to be mastered. But that's fine, INOMICS is here.

Making money with your degree

High-Salary Career Options for Economists

Before you start considering what crazy lucrative job you are going to get with your economics degree, consider this fact: a lot of rich people don't like their money. Many complain about not knowing what to do with it all, yet simultaneously having huge anxiety they'll lose it. They moan about their friends treating them like walking bank accounts, being judged for not looking the part, and no longer being able to visit - how to put it delicately? - less refined establishments.

Career Advice, Study Advice

Top YouTube Channels to Learn Econometrics and Economics

Despite the easing of Corona-induced restrictions in certain places around the world, many universities and centers of learning remain shut, and will likely stay so for some time. For the foreseeable future then online learning will fill the void and become the default means of study. Yes, these are strange times. If you aren't already incredibly familiar with Zoom/Whereby/Skype we advise you to download them all now!