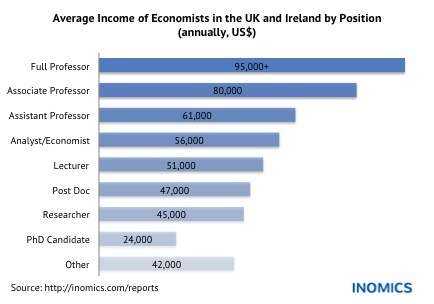 Academic Salaries in the UK and Ireland
On Wednesday, January 29, INOMICS released the Economics Job Market Report 2013 (UK and Ireland). This report, based on the findings of the Economics Job Market Survey conducted in 2013, introduces the reader to various aspects of the job market in economics, business and finance, concentrating primarily on the academic field.
As shown earlier in our post "How Much Econ Professors Earn? Salaries in Academia by Country", the UK is on the list of countries that remunerate their economists quite well. As can be seen in the graph above, entry-level academic positions, such as PhD Candidate, Researcher or Post Doc, tend to pay less than 50,000 US$ per year, though this number is still significantly higher than in many other countries and regions. Salaries for Professors start, on average, with 61,000 US$ per year for Assistant positions, and go above 95,000 US$ per year for Full Professorship positions.
However, there are of course many factors influencing the salary an economist might earn, including years of experience, the highest degree obtained and so on. Our findings show that salaries are strongly correlated with one's highest degree, and having a PhD determines a stable increase in the average pay.
More details on the findings and methodology of the survey can be found in the full version of the report, which is available for free download on the INOMICS site.
Also Interesting

Countries with the Highest Salaries for Academics

In 2018 INOMICS released another of its Salary Reports which provides an overview of a survey conducted of 2175 people in 2017 and contains insights into the job market. Respondents came from 117 countries, 17 more than the year previously, and the figure of those asked represented an increase of 11% on the previous year.

Professors Think That Academic Publications Are Much More Relevant For Their Employability Than Their Teaching Skills

The world of academia is constantly changing, so much so that the importance to Professors, of different academic and career achievements, is shifting in ways that may be somewhat unexpected.

How Much Econ Professors Earn? Salaries in Academia by Country

Yesterday INOMICS released the Economics Job Market Report 2013 (Worldwide Overview). The report contains insights about the academic job market, compiled from answers from almost 2,500 economists and recruiters from all over the world who completed a survey earlier this year. The findings of the report include salaries, recruiters' and candidates' employment preferences, regional disparities, skills & specializations most in demand and other general trends in the economics job market.