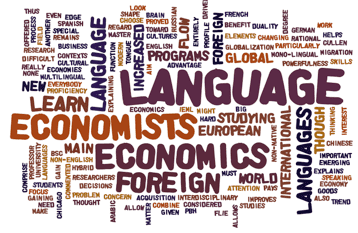 Why study Economics in a Foreign Language?
With English being considered the "must-have language", is there a need for economists to learn a foreign language, or does it concern only those who work or want to work in the business field in a non-English speaking country?
While gaining proficiency in English remains the priority, economists` regard toward languages is changing. Progressive Economics explains in its article Language Economics: Why Santorum's Argument Doesn't Translate that globalization has driven economists´ attention not only to the increased flow of goods, but also to the increased flow of migration and the cultures and languages that comprise them.
No matter which foreign language one chooses to learn, researchers at the University of Chicago have proven that economists benefit from studying in a non-native tongue. Their research shows that thinking through a problem in a foreign language helps one to make more rational decisions. Learning a foreign language teaches one to reduce emotional involvement and thus increases the likelihood of taking favorable risks. This is credited to a ''distancing mechanism" created during the learning process. Peter Cullen, expert in Content and Language Integrated Learning (CLIL) and lecturer at the University of Urbino, commented on the powerfulness of this ability, explaining how learning a second language allows the brain to benefit from a duality and improves the process of thought itself, which is "particularly important given that none of our economies really function in entirely mono-lingual contexts". He defined the current global economy as an "integrated system of connected localities, regionalities and national-supernationalities which functions across many languages and their respective formal and informal institutional cultures."
With over 6700 spoken languages, which ones should economists study? Russian, Chinese and Arabic, though rising in popularity, can seem too difficult to learn for some, but a reignited interest emerging among economists for European languages, especially Spanish, French and German, has led to the creation of some hybrid programs all over the world. The aim of programs such as the IEML (International Economics and Modern Languages), the FLIE (Foreign Language and International Economics) or the BSc Economics With A European Language is to combine the main elements of a degree in economics with language and cultural skills to allow students to gain edge in the global economy. These interdisciplinary studies might thus shape the new profile of multilingual economists.
If you are thinking that learning a new language is too challenging for you, keep in mind some tips from the Modern Language Association (MLA):
- You are never too young and it is never too late to begin to learn a new language!
- Whatever language you choose, learning it will make a difference in how you see the world and in how the world sees you!
Also Interesting

Cultural Differences in Academia: Major Points to Keep in Mind While Studying Abroad

In recent years, more and more universities are deliberately seeking out international students and encouraging cross-cultural exchange, whether through direct exchange programs, entire degrees for or including international students, or wider networks such as the Erasmus program in Europe. The benefits of working and studying abroad are numerous – they can lead to improved language skills, salary, a global network of contacts and increased cultural sensitivity.

How To Prepare For Your Post-Doc Interview

When you are applying for a postdoc position, as part of the process you'll need to have an interview with the PI of the group you are applying to work with and others in the department. Here are some steps you should take to prepare for this interview.

Top YouTube Channels to Learn Econometrics and Economics

Despite the easing of Corona-induced restrictions in certain places around the world, many universities and centers of learning remain shut, and will likely stay so for some time. For the foreseeable future then online learning will fill the void and become the default means of study. Yes, these are strange times. If you aren't already incredibly familiar with Zoom/Whereby/Skype we advise you to download them all now!