Doctoral programme in Economics (MRes+PhD)
Program
Duration
36 Months
Application Deadline
Expired
Certifications & Titles
MRes + PhD
Fees
International Fees : 18200 GBP
Funding Options
A range of studentships are available. Please visit the website for more details.
Ranked in the top 10 for business and economics in the UK by the Times Higher Education World University Rankings 2021, the School of Economics at Surrey offers an attractive doctoral programme, similar in structure to top US PhD programmes. Our MRes/PhD Economics is designed for candidates with an outstanding background in Economics, typically already holding an MSc in the subject, who wish to engage in leading doctoral research in Economics.
The standard entry route to the PhD programme is through the MRes Economics programme. The MRes provides cutting-edge training in micro, macro, econometrics and research methods lasting one year and is, on successful completion, followed by the PhD programme, lasting three to four years during which students take advanced PhD field courses and work on their research. A small number of places with direct entry into the PhD programme is reserved for applicants that hold a degree similar to our MRes.
An attractive feature of the MRes/PhD programme at Surrey is the relatively small cohort size of the programme. This guarantees a first-rate match of the research interests of the students with leading academics as supervisors. A limited cohort size also allows for insightful interaction with the lecturers delivering the MRes and PhD courses. This allows us to provide full funding for most students in the programme for the entire duration of the programme.
At Surrey, we are also very proud to have 97% of postgraduates in employment or further study within 15 months (Graduate Outcomes Survey 2020, HESA).
Scholarship
Our scholarships cover international fees for eligible students and pay a stipend of approximately £17,500 annually covering four years in the MRes/PhD. In exchange, students deliver moderate amount of tutorial teaching/ marking/ research assistance providing our students with useful teaching and research skills. We also have places available for a small number of outstanding students with their own funding. Funding will be allocated on a rolling basis from the beginning of February until we exhaust funds.
The School of Economics
The School of Economics comprises of an international community of world-leading researchers covering micro theory, macro, econometrics, and applied micro. According to the latest THE, the school is in the top ten of economics departments in the UK. Our research is at the forefront of the field and informs our teaching, ensuring that what you learn is topical, relevant and has societal impact. Recent faculty research has appeared in leading economics journals, including the American Economic Review, the Review of Economic Studies, the Journal of Political Economy, the Quarterly Journal of Economics, Journal of the European Economic Association, Journal of Econometrics, the Economic Journal, and the American Economic Journals.
The University of Surrey
The University of Surrey is a global community of ideas and people, dedicated to life-changing education and research. With a beautiful and vibrant campus, we provide exceptional teaching and practical learning to inspire and empower our students for personal and professional success. Through our world-class research and innovation, we deliver transformational impact on society and shape future digital economy through agile collaboration and partnership with businesses, governments and communities.
Postgraduate open events | University of Surrey.
Key dates
Applications are open now
Closing date: Thursday 22 July 2021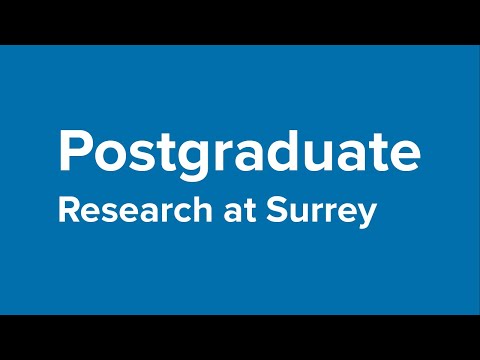 Program
Duration
36 Months
Application Deadline
Expired
Certifications & Titles
MRes + PhD
Fees
International Fees : 18200 GBP
Funding Options
A range of studentships are available. Please visit the website for more details.