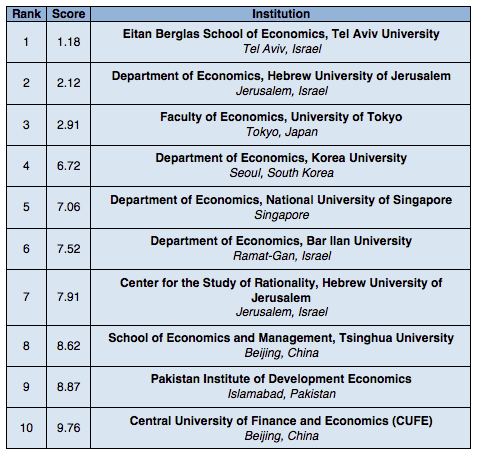 Rankings: Top 10 Economics Institutions in Asia
Data Source: RePEc, Top 12.5% Asia, as of January 2013
Following our series of posts about the rankings of economics institutions, we decided to have a look at it in a regional context, starting with Asia. The list presented in this post is based on RePEc data, as it is one of the few rankings available for Economics specifically. Please note that only 887 institutions and 3019 authors, registered with RePEc, were included.
If you are interested in more general rankings of Universities in Asia, it is worth having a look at the Top Asian Universities 2012-2013 by the THE World University Rankings or 2012-2013 Asian University Rankings by QS.
To read about the difference in methodology for all the rankings listed above, see our earlier post University Rankings for Economics and Econ Department Directories.
This ranking is:
"based on a limited sample of the research output in Economics and Finance"

"based on data about authors who have registered with the RePEc Author Service, institutions listed on EDIRC, bibliographic data collected by RePEc, citation analysis performed by CitEc and popularity data compiled by LogEc"

"The average rank score is determined by taking a harmonic mean of the ranks in each method, except the first one (number of works), the best and the worst rank."
Also Interesting

From University Campus to Remote Education: How Steep is the Learning Curve?

Universities around the world are currently experiencing a crash course in online education. The coronavirus pandemic has shaken the sector in a big way, leaving professors and students struggling to complete the academic year off campus and having to prepare for the next one under very uncertain circumstances.

What is Supply-side Economics?

​Supply-side economics. Since its conception in the 1970s, debating its merits – or lack thereof – has been at the heart of political discourse, demarcating Republican from Democrat, Tory loyalist from Labour devotee, and informing not just an economic outlook, but a world view.

Into the Economist's Mind

The INOMICS Questionnaire: Fratzscher vs Jackson

Esteemed economist, Stanford Professor, and friend of INOMICS, Matthew O. Jackson, generously took time out of his busy schedule to take part in the third INOMICS Handbook Questionnaire. Opposite him, in his customary role of quizmaster, was Professor Marcel Fratzscher, president of the DIW Berlin, and one of Germany's leading voices in macroeconomics. Observing tradition, and as a nod to those involved, the encounter has been dubbed 'Fratzscher v Jackson'.