The 2017 Annual Meeting of the Swiss Society of Economics and Statistics (SSES) will be held in Lausanne, Switzerland on June Thursday 8 and Friday 9, 2017. Prospective contributors are invited to submit papers. The special theme of the meeting will be "Economists and Policy Making". However, as usual at SSES meetings, contributed papers across a wide range of topics will be welcome, including: macroeconomics, microeconomics, finance, economic policy, regulation, public economics, economic history, political economy, development economics, econometrics, and statistics.
OVERVIEW: The special theme of the 2017 Meeting is "Economists and Policy Making". The profession of economics is facing criticism and discontent after recent failures to predict and prevent financial crises and given the seeming incapacity of economic policies to revive stagnant economies and boost middle-class incomes. In part this criticism reflects the considerable influence wielded by economists working for government agencies, central banks or academic institutions and providing advice to policy makers.
This raises some urgent questions. What should be the place and role of economists in our societies? Are there differences among countries and for what reasons? How do economists interact with policy makers? How influential are economists really? How should good economists deal with bad politics, and vice versa ?

Keynote addresses will be given by:
- Marion Fourcade (Professor of Sociology, University of California at Berkeley)
- James Robinson (Professor of Economics, University of Chicago)
- Aymo Brunetti (Professor of Economics , University of Bern).
PAPER SUBMISSION PROCEDURE: Authors must submit their paper (preliminary or full version, including abstract, JEL codes and keywords) between December 1, 2016 and February 1, 2017 via the conference website: http://www.sgvs.ch/congress17. There is no submission fee. Authors who wish to be considered for the 2017 SSES Young Economists Award should indicate this when submitting papers.
Notifications of acceptance will be sent by email no later than April 1, 2017. The registration deadline for the conference is May 1, 2017. A selection of contributions fitting the special theme will be published in a proceedings volume of the Swiss Journal of Economics and Statistics (http://www.sjes.ch).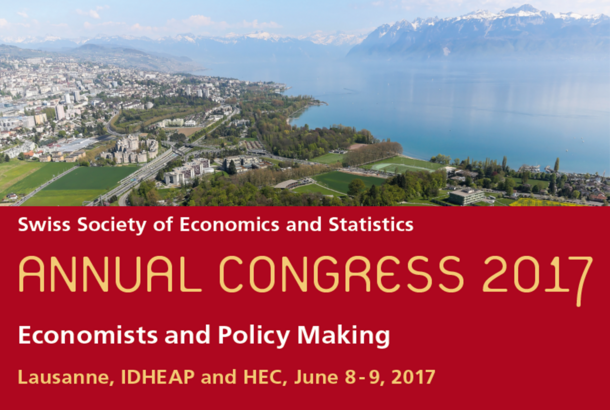 Start Date:
End Date:
Deadline for paper submissions:
Expired help
Deadline for participant registration:
Expired help