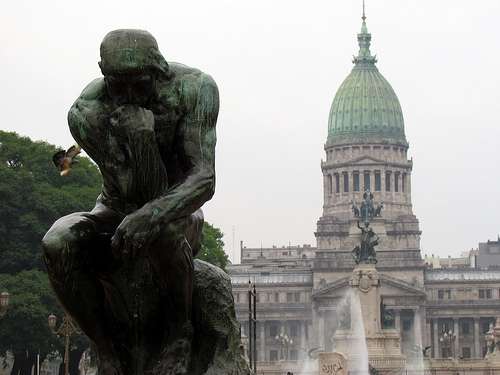 Top Think Tanks and Social Science Research Institutes in Spain and Latin America
This blog post is the third in a series of entries highlighting top think tanks around the globe. Last week we posted a list of top institutes in Europe, and yesterday we offered you a list of think tanks in the United States. Today we'll focus on the Spanish-speaking world, with a list of top think tanks and research institutes in Spain and Latin America.
With this list we hope to highlight prominent institutions undertaking important research on diverse topics within the broad fields of politics, economics and international relations. Whether you're interested in a job or internship or just want sources for top-notch analysis, this list is a great place to start.
We recognize that these three posts only covered certain regions, leaving out hundreds of highly respected institutes in areas including Asia and Africa. To take a look at the many other institutions with jobs, conferences and other listings on offer, head to the INOMICS website here. Additionally, please share your experiences with others by leaving a review on the INOMICS website for any institute where you have worked, studied or interned!
Photo credit: David Berkowitz
Also Interesting

Balancing Work While Starting a Family

You are educated, qualified and consider yourself reasonably intelligent. You have handed in countless papers, proposals, and at least one thesis. You probably have some experience under your belt, maybe already landed a pretty good job with good prospects. You are confident of your ability, ready to work evenings and weekends, and keen to impress. You may also have a steady partner, or are thinking about settling down in the next few years, which opens the possibility of starting a family, if you haven't already. The game is about to change.

Career Advice, Study Advice

Top YouTube Channels to Learn Econometrics and Economics

Despite the easing of Corona-induced restrictions in certain places around the world, many universities and centers of learning remain shut, and will likely stay so for some time. For the foreseeable future then online learning will fill the void and become the default means of study. Yes, these are strange times. If you aren't already incredibly familiar with Zoom/Whereby/Skype we advise you to download them all now!

What is Supply-side Economics?

​Supply-side economics. Since its conception in the 1970s, debating its merits – or lack thereof – has been at the heart of political discourse, demarcating Republican from Democrat, Tory loyalist from Labour devotee, and informing not just an economic outlook, but a world view. Its defining feature lies in the assumption that production, rather than demand, is the primary factor in creating and sustaining economic growth. To that end, its proponents advocate the lowering of taxes and removal of regulation.