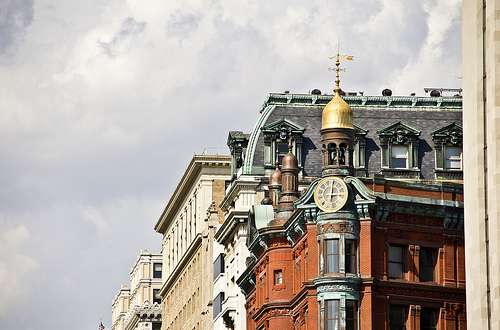 Top Think Tanks and Social Science Research Institutes in the U.S. 2013
Following up on last week's list of Top Think Tanks and Social Science Research Institutes in Europe, this post is dedicated to top institutions in the United States. Although the U.S. is home to hundreds of research institutes, focusing on a vast array of disciplines and issues, there is a certain degree of consensus regarding which are the most respected. In the list below, we chose to highlight top think tanks working in the broad areas of politics, economics and international relations.
This list is not exhaustive, but rather selective in its representation of think tanks from both sides of the political aisle, as well as many in the middle. The fifteen institutes listed below offer valuable job and internship opportunities and produce work that can be instrumental for students, professionals, politicians and the general public. Each of these institutes, listed in alphabetical order, is located in Washington, D.C., except for the Council on Foreign Relations, Human Rights Watch and the World Policy Institute, which are located in New York City, the Foreign Policy Research Institute, which is located in Philadelphia, Pennsylvania and the East-West Center, which is located in Honolulu, Hawaii.
Keep an eye out for tomorrow's post on Top Think Tanks and Social Science Research Institutes in Spain and Latin America!
To take a look at the many other institutions with jobs, conferences and other listings on offer, head to the INOMICS website here. Additionally, please share your experiences with others by leaving a review on the INOMICS website for any institute where you have worked, studied or interned!
Photo credit: thisisbossi
Also Interesting

The Most Useful Apps for Economics Students

Your phone is one of the most useful tools you've got, whether you're studying or working in the field. Particularly in the current situation, using the technology many of us have all around us is a great way to stay on top of your economics research and remain knowledgeable while inside, staying safe during the coronavirus COVID-19 pandemic. Most of the apps listed below are also available on iPad, so you can download them on whichever device is more appropriate for you.

What is Supply-side Economics?

​Supply-side economics. Since its conception in the 1970s, debating its merits – or lack thereof – has been at the heart of political discourse, demarcating Republican from Democrat, Tory loyalist from Labour devotee, and informing not just an economic outlook, but a world view. Its defining feature lies in the assumption that production, rather than demand, is the primary factor in creating and sustaining economic growth. To that end, its proponents advocate the lowering of taxes and removal of regulation.

The Case for Income Tax Reform in the US and UK

Whether someone believes in higher rates of tax or not can tell you a lot about their political views. As a general rule, conservative politicians - at least since the 80s - have favoured fewer tax brackets and relatively lower rates of tax. The argument goes that this encourages people to work harder because they keep more of their money, which means more money remains in the economy; eventually it will trickle down to those not so rich.