Over the last decades the wine market has changed dramatically. While until the '60s the production and consumption of wine was concentrated mainly in Europe and the Mediterranean countries, in the '70s new countries started massive investments which led to an increase in both quantity and quality. At the same time there has been a number of technological innovations in both agronomy and oenology whose effects on wine authenticity and on the environment are debated. The wine sector is therefore facing sensitive socio-environmental issues: The consumers' expectations, like especially health issues and environmental concerns, the supply conditions, especially climate change, and the increasing competition raise new challenges in terms of sustainability. The sustainability might become a driver of the supply, the demand and a vector of competition in the future.
This conference provides an opportunity for all those interested in the issue of sustainability in the wine sector, to discuss their research and to exchange ideas. Researchers are invited to submit both empirical and theoretical papers that are broadly consistent with the conference's special topic.
We welcome papers from the following fields: consumer economics (D11-D12), economic impacts of globalization (F6), market structure, firm strategy, and market performance (L1), firm objectives, organization, and behavior (L2), regulation and industrial policy (L5), economic history: agriculture, natural resources, environment, and extractive industries (N5), agricultural markets and marketing • cooperatives • agribusiness (Q13), agricultural finance (Q14), agriculture and environment (Q15), R&D • agricultural technology (Q16), agriculture in international trade (Q17), agricultural policy (Q18), valuation of environmental effects (Q51), climate • natural disasters and their management • global warming (Q54), environment and development • sustainability (Q56), tourism and development (Z32). In particular, we are interested in papers related to the following topics:
The consequences of climate change on wine production and consumption;
Weather risk management;
The changing geography of wine production;
Regular, organic and natural wines: innovation vs. tradition;
Willingness to pay for sustainable certifications;
The public regulation of the wine sector regarding the sustainability concerns;
Crowdfunding in the wine sector: a way for adopting sustainable production process?
Use of chemical products and environmental protection;
Wine trade and increased international competition;
Disequilibrium between aggregate demand and supply of wine;
Management and marketing: how to survive the wine war;
Strength through unity: Wine cooperatives at work;
Investments in quality and clients' willingness to pay;
Wineries and wine tourism as means to protect the landscape;
Sustainability measures;
Certification systems for sustainable products and processes;
Life cycle sustainability management in the wine supply-chain;
Corporate Social Responsibility.
Only full papers may be submitted, preferably in pdf format. Papers must be in English and
must include a cover page with the following information:
· An abstract of up to 500 words, with JEL classification and no more than 5 keywords
· Authors' full name and affiliation
· Contact details for the corresponding author, such as address, phone and e-mail
Further informaton is availab
Questions may be directed to the local conference organizer: eventi@asimmetrie.org.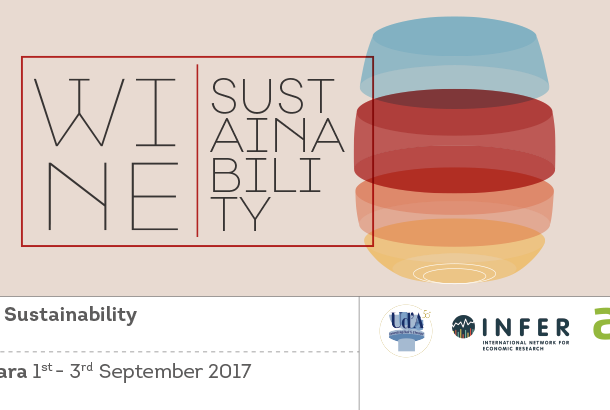 Start Date:
End Date:
Deadline for paper submissions:
Expired help
Deadline for participant registration:
Expired help