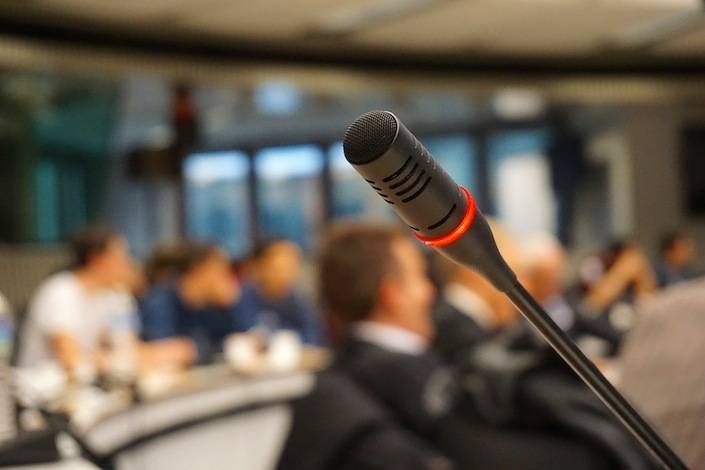 How To Deal With Nervousness During Presentations At a Conference
Read a summary or generate practice questions based on this article with the new INOMICS AI toolhere.
You've been accepted to give a talk at a conference, you've worked on your presentation, and you're ready to go – now you just need to keep your nerves under control! It's very common to struggle with nervousness when presenting, so consider these tips to help you deal with this.
Advance Preparation
The very best way to keep your nerves under control is to have practised your entire presentation from beginning to end beforehand, at least once. A few days before your presentation, recruit a friend or two to sit with you and be your audience. You can practise in an empty lecture hall or classroom if one is available and if that will help you to feel more comfortable. But it's also fine to practise at your house, or even in a cafe or bar if you bring a laptop with you. Run through your whole presentation, including slides, and take note of any areas where you struggled to find the right words or weren't sure what topic to speak on next. That way, you can know which specific topics or slide you need to remind yourself of.
However, it's important not to over-rehearse. You don't need to have your entire presentation memorised, and in fact doing so will only make your presenting style appear stilted and unnatural. You should be familiar with the material you're presenting (and if your presentation is about your research, you are likely to already be as familiar with the material as you need to be), and be able to anticipate some questions or criticisms that your audience might have. But remember that you are already an expert in this area – hence why you're presenting on it at a conference. There's no need to attempt to cram lots of extra information into your brain the day before a presentation; rather, let the knowledge that you already have guide you in how you present.
Immediately Before You Present
One issue that is almost bound to arise when you present, and can be very stressful, is problems with the computer, projector, or slides which you have prepared. Between different file formats, different laptop adaptors, and the difficulty in getting video or sound effects to work correctly in your presentation space, there is a lot that can go wrong. The best way to deal with this is to make sure you've tested out all of the equipment earlier in the day before your presentation. Don't wait until 10 minutes before you begin in order to test! If there are problems, you need to know earlier so that you can find the correct adaptor, get help from IT support, and so on. If you're presenting in the afternoon, find a time in the morning at which you can test. If you're presenting in the morning, arrive very early, or consider testing the day before. That way you won't have any last-minute technical problems to deal with.
While Presenting
It's common to feel flustered, hyper-vigilant, or a bit overwhelmed when you start to present. The best solution for this is to give yourself the opportunity to take a few seconds to get yourself together. A good way of achieving this is to have a bottle of water in front of you – if you feel yourself getting overwhelmed, stop talking and have a drink of water and take a deep breath before you continue. It might feel to you as if you are standing in front of everyone and doing nothing for ages, but don't worry, it's only a few seconds and won't feel that long to the audience.
Another common problem is feeling like you don't know where to put your hands, or what to do with your body. If there is a lectern or podium in front of you, then make use of it – rest your hands on either side and grip it gently, which will help to make you feel grounded. If there's no lectern, then a good tip is to gently squeeze together your thumb and index finger while you're speaking; this pressure will help as an outlet for your nervousness which your audience won't notice.
Finally, one great way to reassure yourself during a presentation is to find a friendly face in the audience who you can can look to when you're feeling unsure. If possible, ask a friend or colleague to come along, and catch their eye when you need to. Otherwise, pick an audience member who seems open and friendly and look at them – the point is to think of your audience as a collection of friendly people, rather than as a singular scary judging entity.
When you can keep your nerves under control, your presentation will be more fun for you and more engaging for your audience. We hope these tips help!
You can find all the latest conference opportunities for your field on our website.
Also Interesting

Which Concentration Should You Choose For Your Master's Degree in Economics?

If you're planning to study economics at a Master's level, then you may have the opportunity to pursue a concentration, sometimes also referred to as a major. While rarer, some PhD programs may also offer concentrations, though many are already specialized degrees (or require you to have your own research agenda).

The GRE is changing: ETS to streamline the test in September 2023

The Graduate Record Examinations, more commonly known as the GRE, is one of the most important standardized tests in the world for admission to post-Baccalaureate programs. It's very often required by universities when considering admission into their Master's or even PhD programs.

How To Find The Right Exchange Program

Exchange programs allow students to study at a different institution as part of their degree. Typically, students will use this opportunity to study abroad at a foreign partner of their home institution, though exchange programs can sometimes take place in the same country. Regardless, these programs are a fantastic way for students to broaden their horizons, take specific courses at another institution, and study abroad without committing to living multiple years in another country.