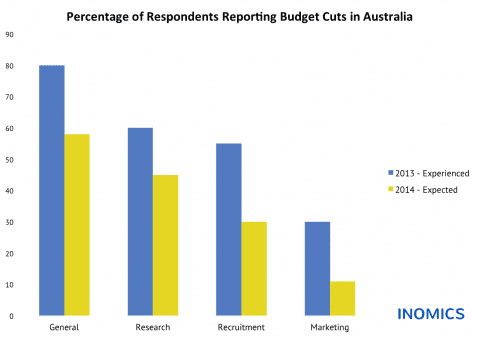 Budget Cuts in Australia: Experienced and Expected Changes in Academic Institutions
Last year, we conducted a global survey of nearly 800 academics, asking questions about budget cuts at their respective institutions for fiscal year 2013, and their expectations for 2014. We wanted to get a sense of the climate around the world in terms of who is still being affected by the economic downturn, and to what extent, in order to better grasp the daily reality for both employers and job seekers.
In this post we're examining the responses from researchers and other academic professionals working in Australia. Of those who took part in our survey, 60% work in universities, 15% in private companies or consultancies, 10% in the government, 5% in banks and the remaining 5% in think tanks.
The breakdown of experienced and expected budget cuts in Australia is quite interesting, as the differences between reported budget cuts in general versus specific departments is large, while the percentage of respondents expecting cuts in 2014 lessons across the board. This trend indicates a positive outlook in the Australian market, though it is possible that cuts in universities are more common in private companies and government, making the data somewhat inconclusive.
The very small percentage of respondents anticipating cuts in their 2014 marketing budgets is great news for marketing departments in both education and the private sector. The numbers in Australia reflect the global trend, though the percentage of respondents expecting marketing budgets cuts is amongst the lowest worldwide.
Also Interesting

The Most Useful Apps for Economics Students

Your phone is one of the most useful tools you've got, whether you're studying or working in the field. Particularly in the current situation, using the technology many of us have all around us is a great way to stay on top of your economics research and remain knowledgeable while inside, staying safe during the coronavirus COVID-19 pandemic. Most of the apps listed below are also available on iPad, so you can download them on whichever device is more appropriate for you.

The 2020 INOMICS Awards

Now in their fourth year, the prestigious INOMICS Awards recognise the top career and study opportunities offered by INOMICS customers in 2019. Keeping with tradition, we divided the awards into categories to showcase exactly which opportunities were of greatest interest to INOMICS users. They include: Top Employers, Top Training Courses, Top Places to do a Master's, Top Places to do a PhD, Top Conference Organizers and Top Summer School Organizers.

How the Coronavirus is Affecting Economics

15:00 8 June 2020 As some countries begin to loosen their lockdowns to varying degrees of success, many universities are still playing it on the safe side. The University of Surey, for example, has moved its CIMS summer school course online. This will be from the 7th to 12th of September 2020.