The Forward College is governed by The Board of Trustees, The Academic Council and the President. The Team is organised into five operational groups which include Staff, Faculty, and Senior Advisors:
The Bachelor in Business Leadership (BBL) Development Group

The Academic Bachelors Development Group

The Careers and Partnerships Group

The Outreach, Admissions and Inclusion Group

The Management Group
The Founding Team
Having worked in Government, major Tech companies, social business, and higher education in leadership positions, Boris and Leonor have witnessed how positive leadership relies not solely on expertise and rational thinking but also on other forms of intelligences: social, emotional, practical and technological.

At the heart of their vision lies a desire to develop a more human and holistic model for higher education that is fit for the future of work and global challenges.
VISION
Resynchronising Higher Education
Our times call for a switch towards a more positive and human model of leadership. This new leadership shall leverage all forms of human intelligences and skills: cognitive but also social, emotional, practical and technological.

Blending tradition for excellence and innovation for relevance, FORWARD COLLEGE offers a unique programme designed for bright students who wish to bring about positive change.
New Leadership
Society and Businesses are evolving from hierarchical structures where leadership is about reaching positions of power into communities and networks where leadership is about engaging people for a shared purpose across areas of expertise, cultures, social backgrounds, and organisations.

This engagement-based leadership reflects the changing aspirations of younger generations who wish to make change happen here and now, of employees wanting to feel engaged rather than "managed", of citizens who seek to participate more actively in decision-making processes.

Engagement-based leadership is relevant for business organisations that are increasingly decentralised, co-operative, and immersed in complex ecosystems. It is also more relevant for tackling highly complex challenges in areas including ecology, geo-politics, and economic inequality where top down approaches are proving ineffective.
"MY BEST ADVICE: DEVELOP A REPUTATION OF EXCELLENCE IN THE THING THAT YOU WANT TO BE KNOWN FOR."
JEFFREY SAMPSON, FOUNDING MEMBER OF APPLE UNIVERSITY
Based on All Human Intelligences
Engagement-based leadership emphasises the central importance of human processes, requiring it to draw on the full range of Human Intelligences: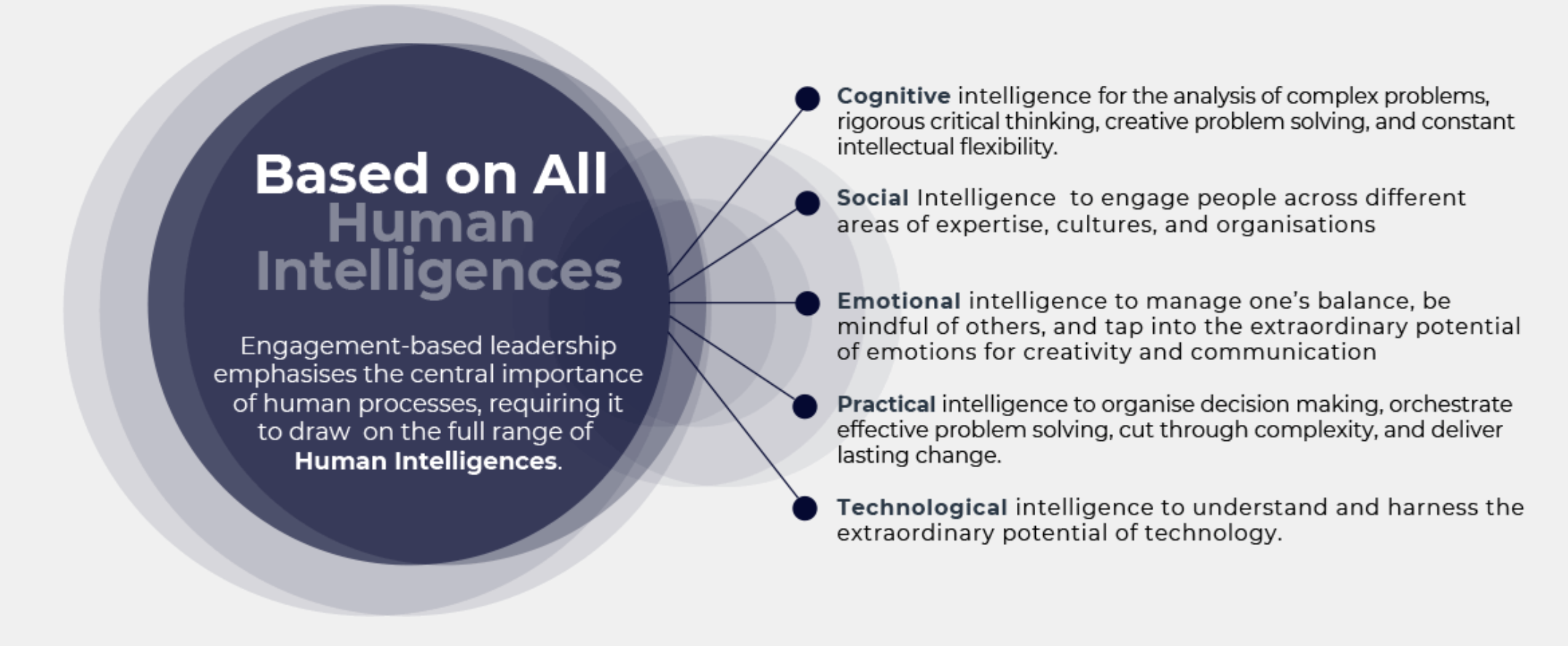 "Training promising students into developing all of these Human Intelligences will nurture a powerful yet diverse set of values, beliefs, knowledge, and skills that are the key components of engagement-based leadership."