INOMICS Releases Salary Report 2015 for Academics
Berlin, December 10th, 2015
---
INOMICS, a recruitment network for academics and professionals, releases its annual Salary Report on Thursday, December 10, 2015. The report offers key insight into the academic job market. The findings are based on over 800 responses to a survey conducted between February and April 2015. Most respondents currently work within a university, and represent different career stages, ranging from those just starting their PhD to those working as senior professors. The questions were designed to gain insight into the job market from the point of view of market candidates and potential applicants. The report compares average salaries in different regions and countries, taking into account age and professional experience.
---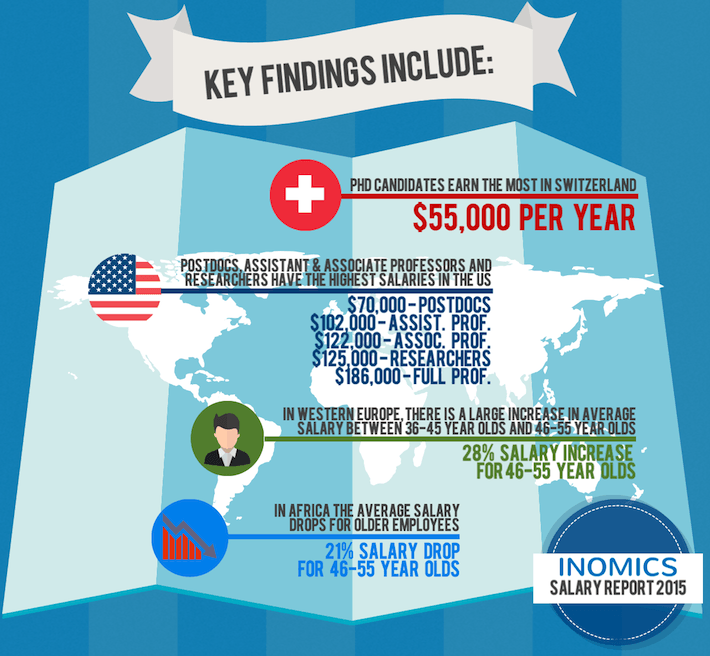 For PhD candidates, institutions in Switzerland pay the highest average salaries by a considerable margin.
For all positions at the postdoc level or more senior, as well as for researchers, the highest salaries are found in the United States.   
In Western Europe, a large increase (28 percent) in average salary between the 36 to 45 year olds and 46 to 55 year olds was observed.
Professionals in Eastern & Southeastern Europe receive relatively low raises in their salaries with age.
25 – 35 year olds in the US earn much more than their counterparts in other countries.
In developing regions, such as Africa, the expected increase in salary with age is found in the younger age groups, but average salary drops for older employees.
---
The information presented in this study supports applicants in making informed career choices. It also provides recruiters with crucial information about the current state of the job market to help them find and attract the best candidates.
Download the full report here.
---
About INOMICS
INOMICS is an online platform for academics, which provides a stream of career and study opportunities, scientific events, research news and funding, all based on individual preferences and constantly updated.
---
Downloads
---
Contact PR & Communications
Am Kupfergraben 6a
10117 Berlin, Germany
media@inomics.com