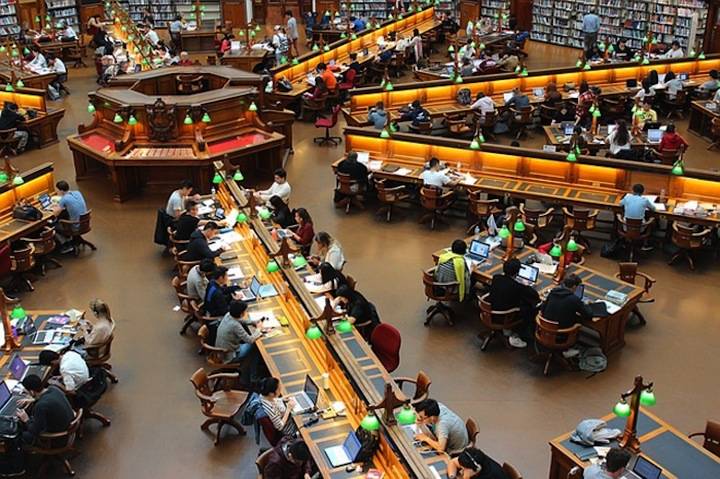 10 Tips for a Successful Start to Your New Academic Year
The new academic year is about to begin, so follow these ten tips for a successful start to the year!
1. Pick your courses. Hopefully you've already chosen the courses that you'll be taking in the new academic year – but if not, get on this now! Check your student handbook to see what courses are a requirement for you degree, and have a think about what new skills you need to develop and which courses can help you with this.
2. Try studying something new. It's easy to get into a rut when you're studying, and find yourself taking the same courses and doing the same work as everyone else. But university is a wonderful opportunity to try new things and learn about new topics – so why not see if you can take a class in a subject which is new to you but which you've always found interesting? Consider studying one course from outside of your academic subject, to broaden your horizons and to teach you a different approach to learning.

3. Register for your courses. One you've chosen your courses, you may need to register for them. Check out your university's website to see when and how you need to register, and do this quickly as popular courses can sometimes be over-subscribed.
4. Get organised early. Find out as soon as possible what your deadlines are, and when you will have to submit work or sit exams. Start planning out your semester so that you can see how long you have to write your essays and assignments, or to revise for your exams. The early you start, the less stressful this will be.
5. Get a calendar (and use it!) Once you know when your deadlines are and when you need to be working on various projects, write all of this information down in a pocketbook or electronic calendar. Check your calendar regularly and update it as you get new information, so you'll always know what you need to be working on today.
6. Get on your university's CMS. Many universities now use an electronic Course Management System like Moodle or Blackboard, through which you can get information about your courses and assignments and download reading materials. Get a login from your university's IT department, and make sure that it works and you can access all the materials you need. This will make your life much easier than scrabbling to get it working at the last minute when you urgently need some information from the CMS!
7. Pick up extra reading from the library. Once you have your course introductory materials, take a look at the reading list and suggested extra reading materials. Take a trip to the library and pick up any books which you think will be helpful to give you a general overview of the course topic, and start reading these. You'll find it easier to read the latest journal articles or highly technical materials if you have an understanding of the broad themes under discussion your subject field.
8. Get to know your new coursemates. When you are in your second or third year of studying and are taking several courses, it can be tempting to skip out on social occasions with your fellow students. After all, you've already made friends and have lots going on. However, don't underestimate the value of spending time with your fellow students, as you can learn a lot from academic discussions with them as well as having fun socially.
9. Get to know your new lecturers. Lecturers all have different teaching styles and preferences, and different knowledge that they can share with you. Read over any notes or guidelines which your lecturers give you about office hours, their preferred method of communication, and their research interests so that you can get an idea of what they're like. After a few weeks, consider visiting them during their office hours to discuss how you are finding the course so far.
10. Make sure you're getting enough sleep. The start of the academic year can be busy and demanding, and you might feel like you have no time to relax. But you can't study effectively if you're already exhausted at the start of the year. Give yourself a full 8 hours sleep a night as often as you can, and you'll find studying and working to be much easier.
Find more advice for students here:
>> 8 Qualities Which Will Get You Through Tough Times In Your PhD
>> 10 Characteristics of Successful Students
>> Tips for a Successful PhD Application
>> How To Find A PhD Supervisor
Also Interesting

Sample Motivation Letter For Your Economics PhD Application

When you apply for a PhD, you will need to write not just a research proposal but also a letter of motivation. This letter describes why you wish to undertake a PhD and why you would be well-suited to researching your proposed topic. But what needs to go in this letter, and what tone is appropriate for it? To give you some ideas, today INOMICS is sharing a sample letter of motivation, as well as offering advice on how to write our own, so you can maximise your chances of getting accepted.

Why do a PhD?

If you're an economics student currently doing your undergraduate or Master's degree, you might be considering doing a PhD at some point. The idea of dedicating another three years or more of your life to original research is both exciting and terrifying, and the experience of actually doing it can be both exhilarating and harrowing. Taking the step towards doing a PhD is a big decision, and one that shouldn't be made without the proper research and consideration. Once taken, however, it can be an extremely valuable experience and one that can set you up nicely in the future.

Top Free Online Courses in Statistics and Data Analysis

There are now more online learning options than ever, including courses which are - thank you Internet - absolutely free. Whether you want to prepare for your upcoming university course, need to pick up some extra skills to help with your job, or you are just interested in a subject and want to learn more, there will be an online course out there that can help you achieve your goals.