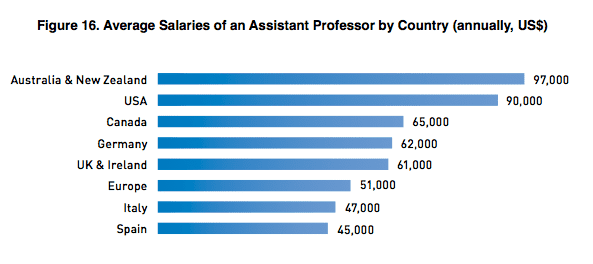 How Much Econ Professors Earn? Salaries in Academia by Country
Yesterday INOMICS released the Economics Job Market Report 2013 (Worldwide Overview). The report contains insights about the academic job market, compiled from answers from almost 2,500 economists and recruiters from all over the world who completed a survey earlier this year. The findings of the report include salaries, recruiters' and candidates' employment preferences, regional disparities, skills & specializations most in demand and other general trends in the economics job market.
Even though salary was not mentioned by economists among the top factors for a job choice, potential earnings do inevitably affect decisions about future career paths. More than that, given the high mobility of the academic job market, where institutions compete for top talent globally, it is natural for candidates to weight their financial gains before relocating to a different country.
The highest salaries were reported by Economics Professors who are employed in universities in Australia & New Zealand (105,000 $US on average), followed by US-based Professors (102,000 $US on average). In Europe, UK Professors earn the most, whereas wages in Italian Universities are on average 40% lower than their British counterparts. The numbers presented in the graph above represent the average income of Full Professors from a given country, based on the responses from our survey, without any adjustments. Of course, when comparing salaries in different countries, a lot of factors should be taken into consideration, including living costs, social security and salary differentials. Nevertheless, these numbers serve as a fair indication of the wage level for academics in each given country.
In the following weeks INOMICS will release a series of Regional Economics Job Market Reports, which will include more detailed information about salaries for different positions and career levels. You can subscribe to receive a notification when reports are released on INOMICS.
Information in the graphs is based on the Economics Job Market Report 2013 (Worldwide Overview). To see more information about methodology download the full report here.
Also Interesting

Sample Motivation Letter For Your Economics PhD Application

When you apply for a PhD, you will need to write not just a research proposal but also a letter of motivation. This letter describes why you wish to undertake a PhD and why you would be well-suited to researching your proposed topic. But what needs to go in this letter, and what tone is appropriate for it?

The Pros and Cons of a Career in Research

Upon completion of a Master's degree or PhD, the big question arises: what next? Although it seems like natural progression to continue with further research, there are many other careers open to academics in business, education, or communications and journalism, to name but a few examples. So how do you know if research is the right career choice for you? A good way of figuring it out is weighing up the pros and cons.

Recognising What Matters Most

The UK COVID-19 Recovery and the Case for Community Wealth Building

'The greatest science policy failure for a generation' is how the editor of The Lancet, Richard Horton, described the UK's COVID response last June. It was a widely shared sentiment – made credible by the UK having one of the highest death rates in the western world. Fast forward to the present, and the government has finally claimed a 'much needed win' – a big one, too.