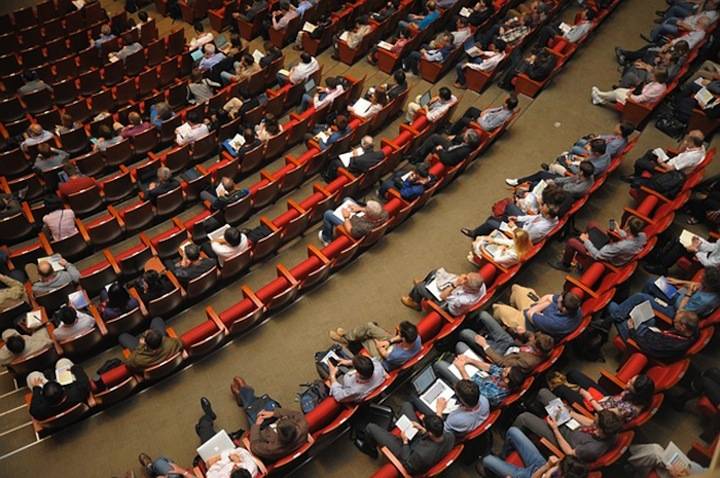 How to Get Accepted to an Academic Conference
Attending an academic conference is a great way to hear about new research in your field, to network with other researchers, and to present your own work to an engaged audience and receive feedback. Conferences are generally open to anyone from the field who wants to attend, however, you will get much more from the experience (and be much more likely to receive funding for your trip) if you are presenting some of your own research at the conference. But how do you get accepted to present at a conference? Today we're sharing some tips on this topic.
Choosing the right conference
Firstly, choose the conference which will be most relevant to your research. Budgets for conference attendance vary, but typically a PhD student might expect to attend either one large conference per year, or two to three smaller conferences. So it's important that the conference you apply to is a good match for your interests.
A few factors to consider when selecting a conference:
- Is it a broad event or is it for a specialist topic? There can be advantages of each – presenting your work to a diverse or interdisciplinary audience is excellent practice for your communication skills. But specialists in your area will be more interested in your work and can give you better feedback.
- Is it a national conference, or is it international? Generally speaking, international conferences are more highly regarded, but they are also more difficult to get accepted into and they are more expensive to attend.
- How will you fund your conference trip? You'll need funding to pay for not only the conference fee, but also travel, accommodation, and food while you're away. Universities usually have budgets for students to attend conferences, but there are often restrictions on where you can travel to or how much you can spend in total. Some conferences offer grants for students to attend if they get accepted to give a presentation, so take a look at the conference website and find out what is available funding-wise.
Submitting an abstract for a conference presentation
Once you've chosen one or two conference that you're interested in attending, look out for the "Call for Abstracts" which comes a few months before the conference date, at which time you can submit your application to present. Generally, you will only need to provide a short abstract of your research, and possibly a CV or motivation letter.
But how should you write your abstract in order to give yourself the best chance of being accepted to give a conference presentation? Here are some guidelines to consider:
- Giving a talk vs presenting a poster. Often you can specify whether you're applying to give a talk or a poster presentation. Talks are more prestigious, but presenting a poster is useful too – you can get direct feedback from lots of attendees with a poster. It's generally a good idea to apply for both a talk and poster, and see which you get accepted for.
- New and innovative research. To have the best chance of acceptance, your abstract needs to cover research which is innovative and adds a new or unusual perspective to the work in your field.
- Results are strongly preferred. While occasionally you might be accepted to present theoretical work at a conference, generally you will have more success if you have already performed an experiment and you have results to share. This is dependent on field, of course, but there is an overall bias towards accepting abstracts which have at least early results.
- Consider the conference theme. Finally, have a look at the theme or focus of the conference for the upcoming year. Usually there will be a topic or list of topics which the conference is aiming at, and your chances of being accepted to present are much higher if you can find a way to link your research to the theme.
This may be also interesting for you:
>> Dress Code for Academic Conferences: What to Wear and What to Avoid
>> Academizing During Your First Academic Conference
>> Inviting Participants And Advertising Your Conference
Also Interesting

Career Advice, Study Advice

Top YouTube Channels to Learn Econometrics and Economics

Despite the easing of Corona-induced restrictions in certain places around the world, many universities and centers of learning remain shut, and will likely stay so for some time. For the foreseeable future then online learning will fill the void and become the default means of study. Yes, these are strange times. If you aren't already incredibly familiar with Zoom/Whereby/Skype we advise you to download them all now!

A Discriminatory Pandemic

The Racial Inequalities of COVID-19

Dubbed 'the great equalizer' at its outset, COVID-19 has often been described as picking its victims at random. Blind to race, ethnicity, and gender, it sees just a human body, a host that enables it to do what all pathogens are programmed to do: spread. While this, from a biological perspective, may be true, the disease's sweep of the globe has been anything but equalising. Data from both the US and UK - who along with Brazil compete for the honour of worst pandemic response - show that in terms of cases and deaths, minorities are hugely overrepresented.

For student recruiters and admission officers

Tips for recruiting students during Covid-19

Among the most common challenges faced by Universities we find the need to deliver course curriculum adaptable for e-learning experiences; the need to provide a solution to the current dilemma of international students, start their studies online, delay the start of their studies or turn to local institutions to start their studies; the demand for hosting virtual campus tours, virtual Q&A sessions, among others.