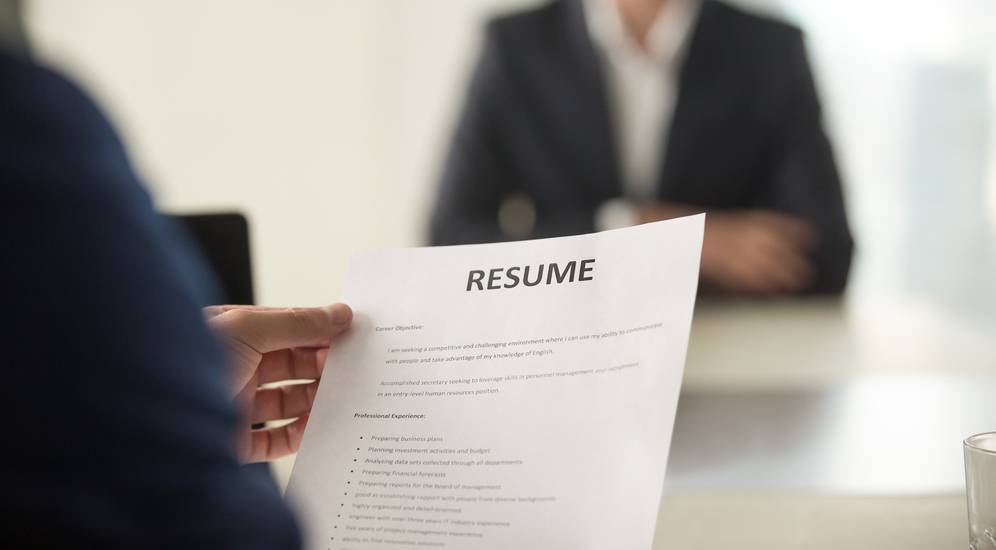 How to Write a Cover Letter: Five Steps to Success
Whether you're still a student, a recent graduate, or already years into your career, mastering the art of cover letter writing is useful at every level. In one form or another, cover letters are a required component of applications to jobs, study programs, conferences, scholarships and many other important opportunities along your career path.
In this post, we'll break down how to write a successful cover letter into five basic components. This information can be applied to any type of cover letter, though it is most closely aligned with a cover letter for a job application. We've also included some examples at the end to help you generate ideas for your cover letter.

1. Start with a great introduction
Rather than restating your name and the title of the job to which you are applying, begin with a strong sentence about what makes the position right for you. Skipping the unnecessary repetition of information and jumping right into your letter makes you look more professional while also emphasising your interest.
If you have any personal connections to the institution or organization, mention that in the first few lines. Such connections can set you apart from other applicants, so don't be afraid to point them out. If you don't have any connections, use the full first paragraph to express your interest in the position and briefly mention why you are a good fit for the job.
2. Highlight your unique qualifications
In the body of your letter, you should include one to two paragraphs describing details about your academic and professional background. This should incorporate information that cannot explicitly be found in your CV, including strengths, interests and achievements that are relevant to the job to which you are applying. Don't be afraid to cite specific accomplishments, as specific details are far more impressive and memorable than bland lists of qualifications.
3. Show you've done your research
Prior to sitting down to write a cover letter, spend some time looking at the website of your prospective employer. Read about current events, research or other work being done in the area to which you are applying. If there are publications available, take a look at those, noting any points of particular interest.
You should not simply reiterate what you've learned about the organization, but instead underscore why and your background and qualifications fit with the work they do. By referencing the current work of the organization to which you are applying in connection to your own qualifications, you create a clear link for the hiring team and can set yourself apart from other applicants.
4. Be brief and concise
While your cover letter should be packed with useful and interesting information, it should also be short and to the point. As a rule, a cover letter should only be one page long, unless your prospective employer has stated otherwise.
In order to keep your letter brief but powerful, read through each paragraph individually and make sure every sentence tells the reader something important. Any superfluous sentences or paragraphs should be removed, as they will only distract the hiring team from what's important.
5. End with a strong conclusion
The final paragraph is just as important as the opening paragraph, as these are what stick in the minds of the person reading your letter. You should reiterate what you said in the opening paragraph while incorporating elements of points you raised in the body of your letter as well.
In your conclusion, it is important to demonstrate that you understand what the organization needs and show them that you are the person who can offer it. Be clear but not generic and enthusiastic but not overly flattering – in short, make yourself memorable without going overboard.
In addition to each of these components, there are some simple stylistic elements to remember. Choose the right font for your resume to make a great first impression. Second, never send a cover letter in Word form – instead always convert it to a PDF. You could even think about using a cover letter template to really make your letter stand out. Third, for the convenience of the reader, it is a good idea to combine your CV, cover letter and any other application documents into one PDF, with your cover letter on top. Where to include references is also something to consider. Finally, it's always a good idea to have someone else read through your cover letter before you send it off, as outside feedback can help you edit it down until it's just right.
And now for some examples...
Thank you to Novoresume.com for allowing us to reproduce some of their excellent cover letter examples here. You can find more cover letter examples on their website. If you're looking for examples of sample motivation letters for PhD applications check out our guide.
Cover letter example for students and graduates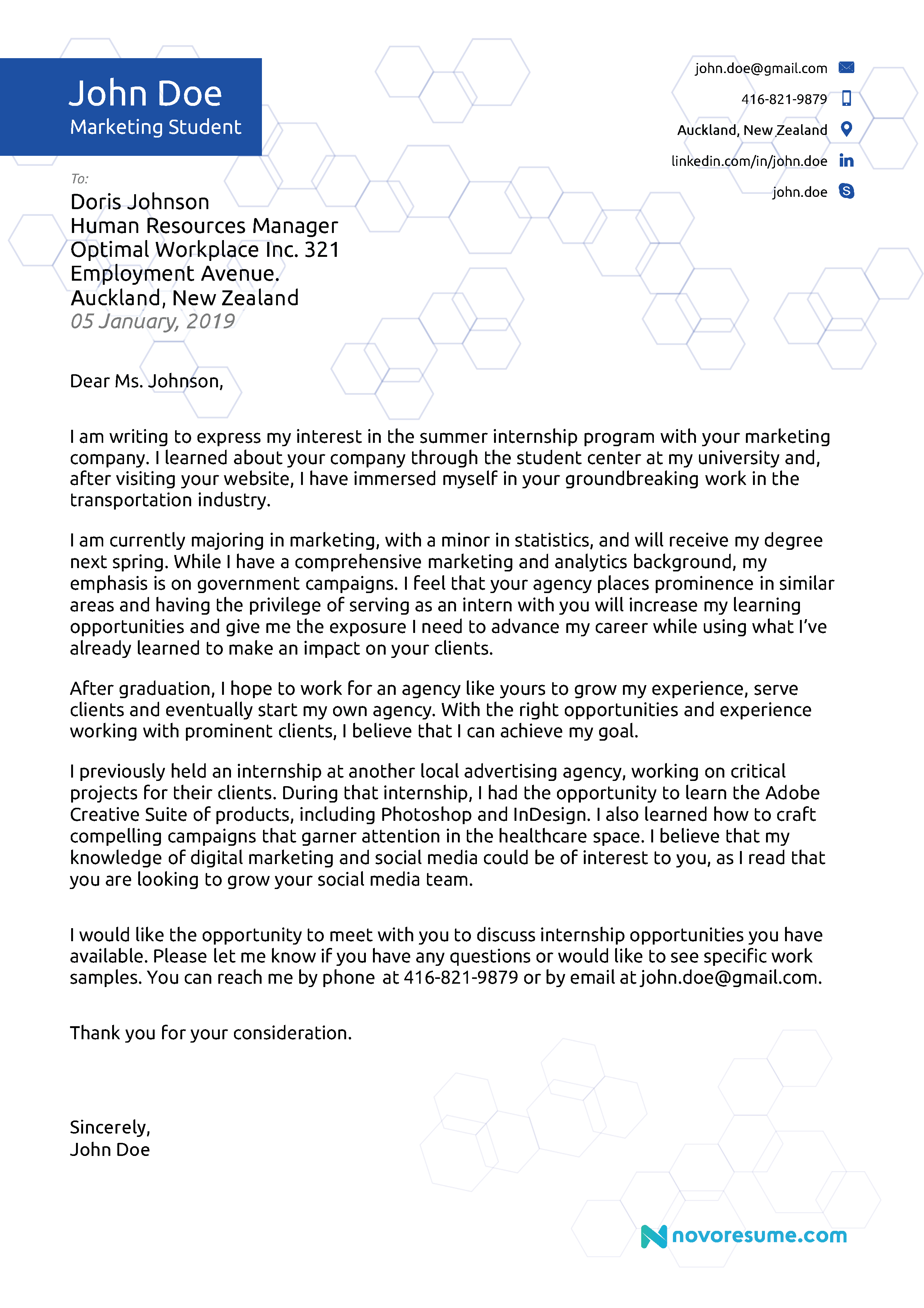 Cover letter example for middle management positions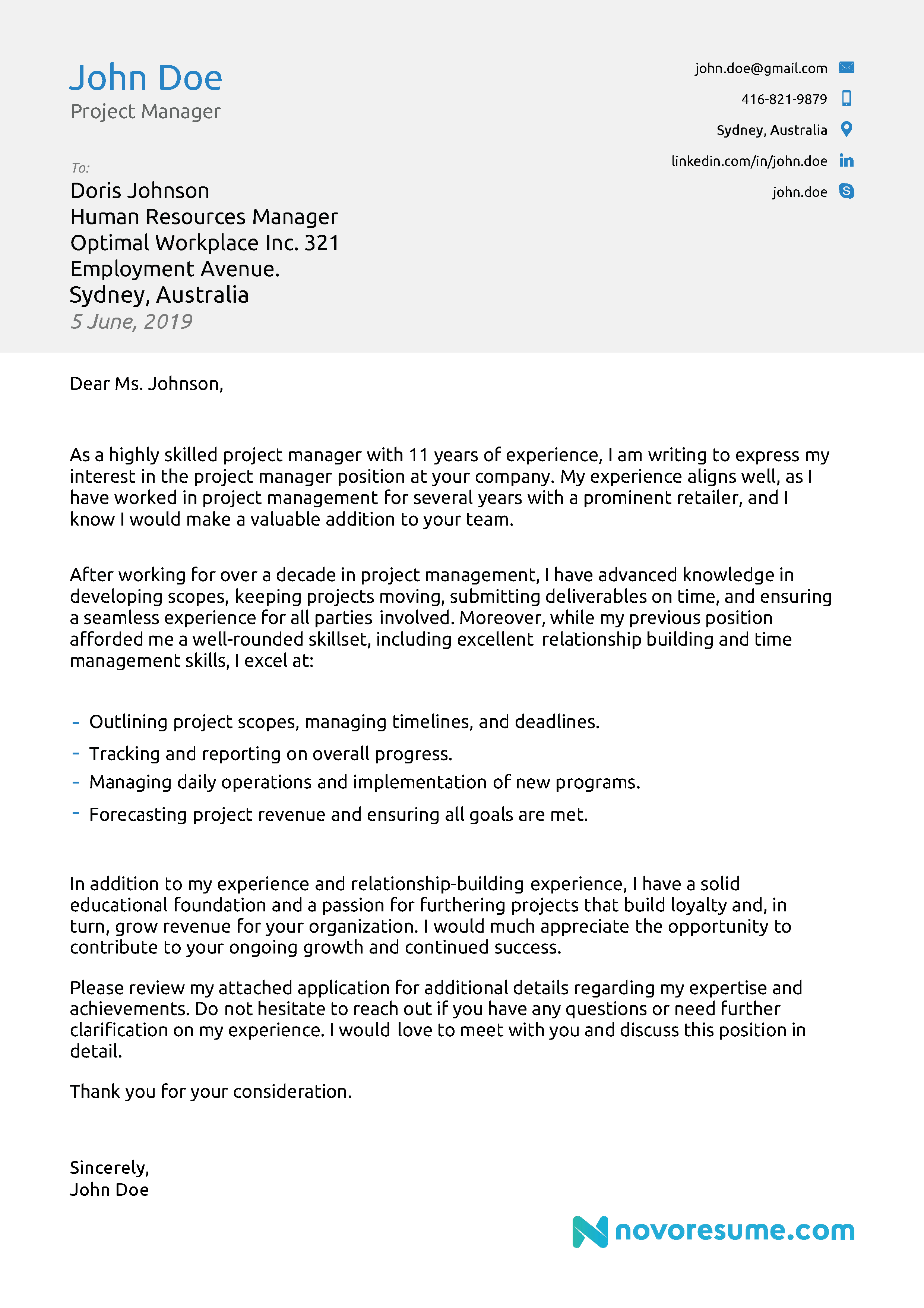 Cover letter example for management positions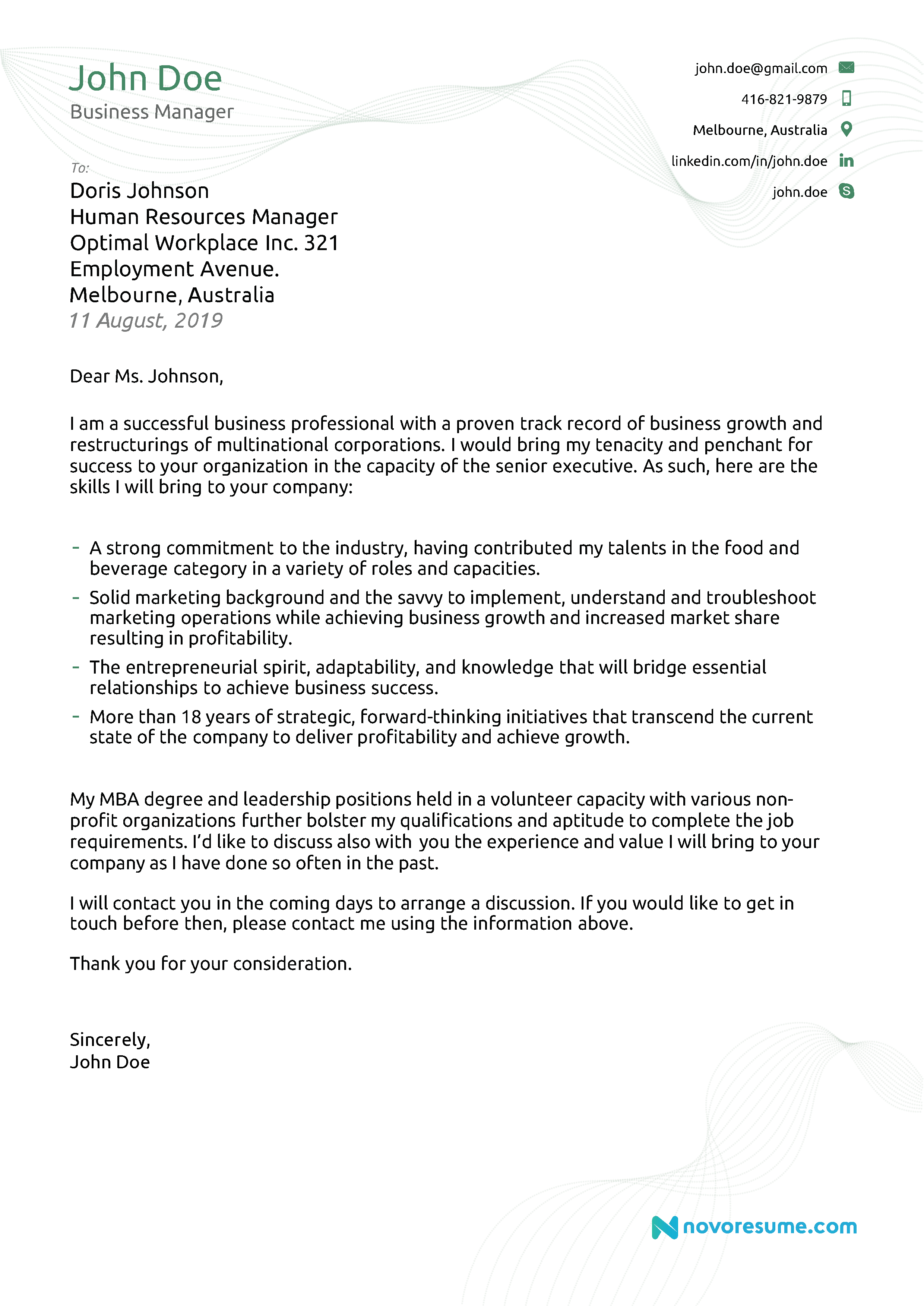 Also Interesting

INOMICS Salary Report 2020

How has the Economics Job Market Been Affected by the Coronavirus? - Salary Report Introduction

In 2020, INOMICS has once again carried out its salary survey, examining the state and health of the economics profession worldwide. As in previous years, the survey considered pay, sector, seniority, location, gender and educational background. Our 2020 survey was launched in the spring as cases of coronavirus began to increase exponentially around the world. Consequently, we added new questions related to the coronavirus pandemic to assess the effect of the crisis on economists and economics students.

The Best Microeconomic Books

Anyone in the midst of their undergraduate degree will know of the two main tenets of economics: micro and macro. If you're looking for the best macroeconomic books, you can head over to our article on that topic, because in this piece, we'll be going through some of the most useful and interesting microeconomic books which will help you get up to speed on all of the fundamentals of the discipline.

INOMICS Salary Report 2020

COVID-19 and the Effect on Female Employment and the Gender Pay Gap

Less than a year on from COVID's genome sequencing, vaccination programs are being rolled out around the world. And while the pandemic is far from over, it would appear we're approaching its endgame, arriving there faster than anyone dared hope. The previous fastest ever vaccine to be developed was for Mumps - and that took four years.