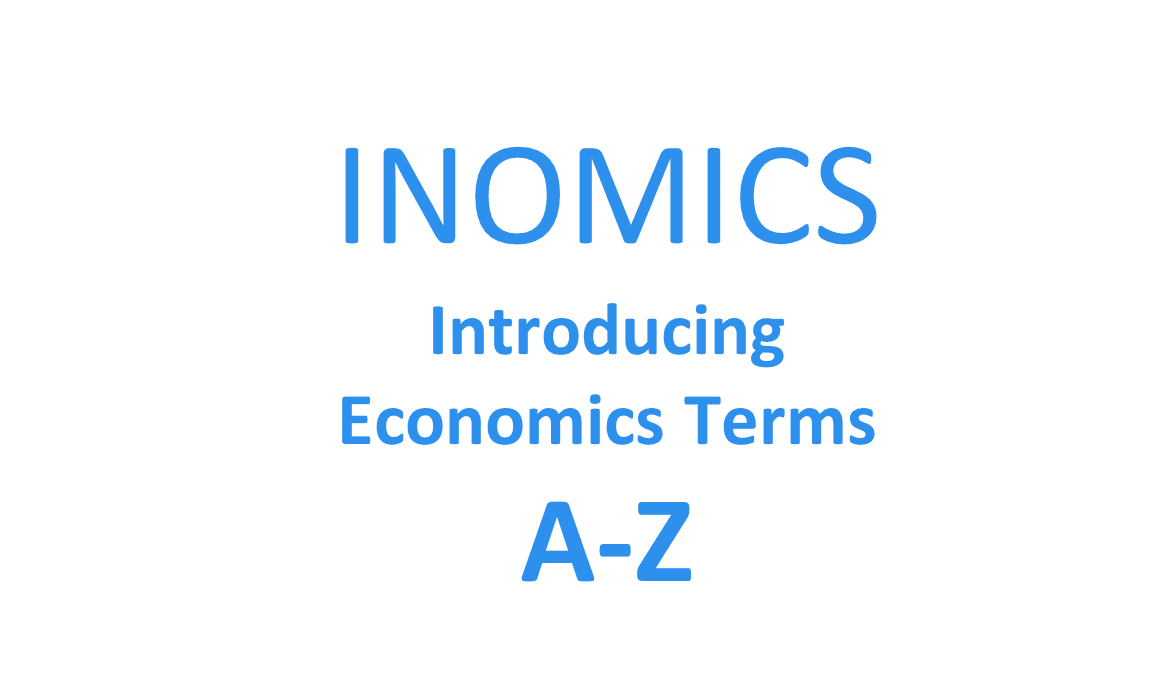 The new economics definitions
INOMICS unveils its A-Z of economics terms
Here at INOMICS, we've always been dedicated to trying to help you, the economist (fledgling or otherwise) get the most out of your education and career. Whether that be offering you the best new courses and conferences, nudging you towards the perfect university degree, or helping you apply to jobs once you're done studying, we're there to give advice and present opportunities you may not have otherwise found.
But there's always more we can do, and we felt the time was ripe to expand our help section to try and give even more value to young economists who are just starting out in the game. So without further ado, we're proud to unveil our new A-Z of economics terms.
Our A-Z is simple - we have professional economists write accessible but in-depth overviews of some of the most important economic terms that you will need for your studies. Starting out, we are focusing on microeconomics terms, but soon we will be expanding to macroeconomics, environmental economics, and every other type of economics you can think of. They aim to offer an insight into exactly what the term means, put it into context to make it easy to understand, and give a brief insight into where the term has been used and where you can find more academic information on the concept.
First, head to inomics.com and take a glance at our header navigation. Hover your mouse of the section 'Insights' and you'll see a drop down menu with the option listed 'Economics Terms A-Z'.
---
---
Give that a click and you'll be taken to our list of all economic terms, handily listed by the first letter of the term, making it easier to find exactly what it is you're looking for.
---
---
And if you go further and click on an actual term, you'll be able to see all the information about that term, including links through to any related definitions which we think help explain certain concepts which have been referred to. Let's have a look at one example, adverse selection (long picture incoming):
---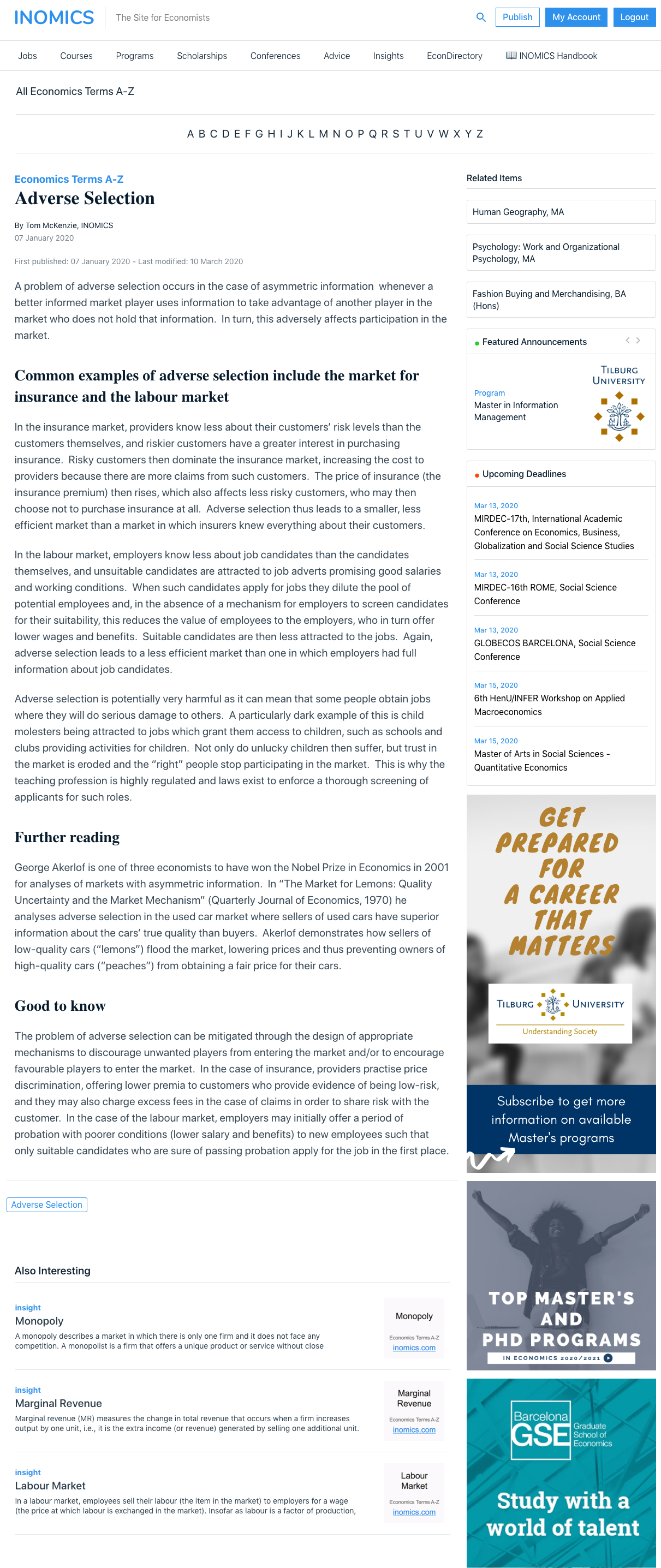 ---
As you can see, this definition of adverse selection includes a brief, one or two sentence definition at the top, followed by a longer, more in depth definition with examples. Then some further reading is recommended which can help to expand your knowledge even more, and finally, a 'Good to Know' section which offers tips on how to avoid common potholes when using a term and explains some of the more tricky aspects a definition may have. Right at the bottom of the page we recommend some related terms which may be useful knowing. Watch out, too, for some of INOMICS' very own video explanations which will be appearing with some of the definitions in the coming weeks!
So there you have it! INOMICS' new Economic Terms A-Z is a godsend for anyone currently studying their economics degree and needs an accessible but thorough overview of tricky economics terms. Written by professional economists with experience at doing stuff like that, it's a great addition to our Advice section, which offers economists tips in their studies and jobs. Confusing term getting you down? Head to INOMICS for an explanation!
Also Interesting

INOMICS Salary Report 2020

COVID-19 and the Effect on Female Employment and the Gender Pay Gap

Less than a year on from COVID's genome sequencing, vaccination programs are being rolled out around the world. And while the pandemic is far from over, it would appear we're approaching its endgame, arriving there faster than anyone dared hope. The previous fastest ever vaccine to be developed was for Mumps - and that took four years.

Jobs for Economists in the Government: The Right Career to Consider?

When discussing jobs in the government, the type of work that comes to mind is most likely influenced by your particular background. In countries in which large segments of the economy are nationalized, it's possible to become a civil servant in nearly any field. In other places, your options might be more limited. Regardless of where you're from, or where you'd like to work, however, every government employs economists, and it's easy to argue that they're needed now more than ever - though in the weird times of the pandemic, finding a government job may be more complicated.

Power your Recruitment Strategy with a Multi-Channel Campaign

Multi-channel marketing campaigns allow institutions to increase conversion rates by interacting with potential candidates (students, professors and researchers) at different stages of their decision process, using the best channel for that stage. For example, a candidate who has already visited your institution website is more likely to respond positively to a direct email campaign, while a young candidate who has not yet heard of your university/centre/company is more responsive to meeting representatives at a recruitment fair.