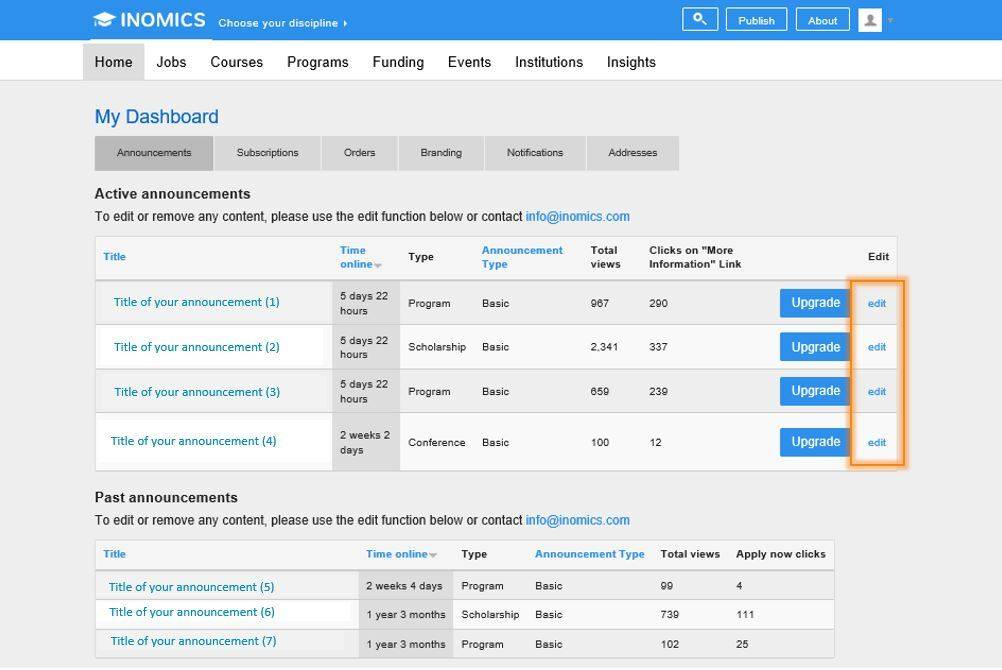 Inside INOMICS - New Feature: Edit your Announcements
Read a summary or generate practice questions based on this article with the new INOMICS AI toolhere.
Starting this month, customers posting jobs, courses, conferences, programs or scholarships on INOMICS can now edit and correct their Announcements any time after publication. Whether to correct a typo, update a date, or adjust a link, you can now easily access and update your INOMICS posts.
To edit your content, simply visit the Announcement page while you are logged in to INOMICS, and click the Edit tab. Alternatively you can find your Announcement listed in your Dashboard, which is accessible from the user menu, and click directly on the Edit link there.
And another tip: if you would like to check and edit your Announcement before it goes online, simply change the "Appearance Date" in the posting form to the following day. That way your Announcement will be held offline until the date is reached, and you have time to come back and make changes before it goes live.
All updated posts are regularly reviewed by our team, so that we can continue to maintain the high quality that visitors and subscribers to INOMICS are used to. We also request that if you need to make a change to the title of your Announcement, or if you wish to edit the Appearance Date after the initial posting, please contact us at info@inomics.com - our team will be happy to help you.
Editing Announcements is a long-requested feature from many customers, and we hope that the extra control you now have over your posts on INOMICS will help save you time and enable you to keep your Announcements updated.
To learn more about how to edit your Announcement, please visit the "Step by Step Guide" here
Also Interesting

A gentle introduction to LaTeX for economists

Economists often run into situations where they need to type out mathematical formulae or draw up a graph, especially for research papers. But, anyone who's attempted to do so knows that math symbols and complicated graphs are very difficult to produce using typical word processor options. So, what's a humble econometrician to do?

Studying in the USA: How to apply for a student visa

So you want to study abroad in the United States of America, the largest economy in the world. In keeping with its "melting pot" reputation, the US has been an education destination for many over the years, and is filled with many high-quality, internationally competitive universities. Of course, if you're an international student, you'll probably need to get a visa before you can go.

Insights into Central Banking Careers with Dr. Gómez-Pineda

Dr. Javier G. Gómez-Pineda, our interview guest for the 2023 INOMICS Handbook, graciously agreed to return for a second interview. This time, the INOMICS team prepared some career-related questions for the central banker. With his answers, Dr. Gómez-Pineda shares his wisdom about central banking and economist careers in general with you, our readers.