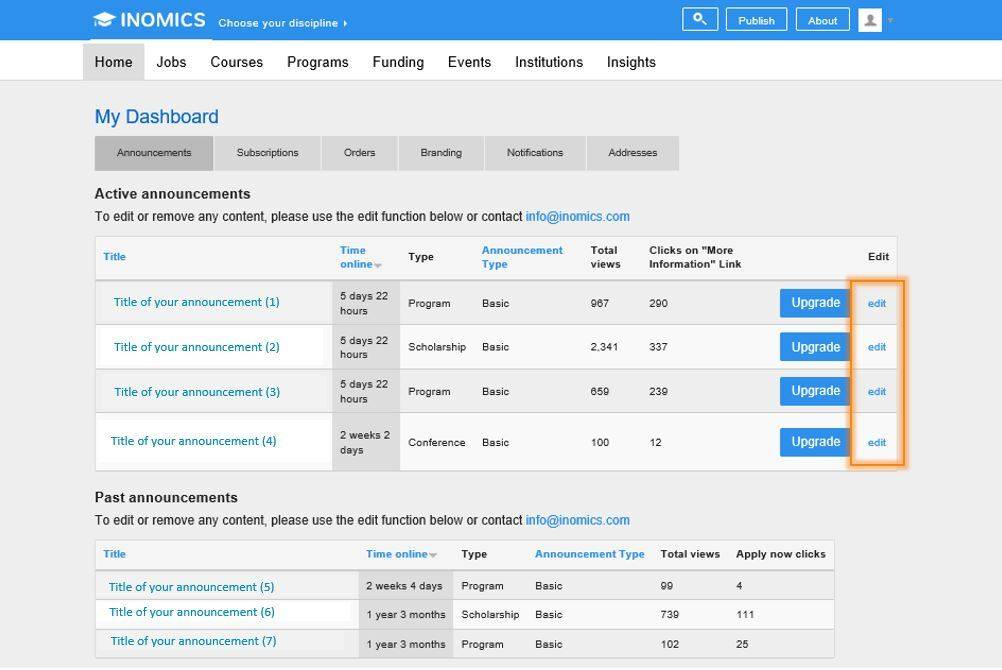 Inside INOMICS - New Feature: Edit your Announcements
Starting this month, customers posting jobs, courses, conferences, programs or scholarships on INOMICS can now edit and correct their Announcements any time after publication. Whether to correct a typo, update a date, or adjust a link, you can now easily access and update your INOMICS posts.
To edit your content, simply visit the Announcement page while you are logged in to INOMICS, and click the Edit tab. Alternatively you can find your Announcement listed in your Dashboard, which is accessible from the user menu, and click directly on the Edit link there.
And another tip: if you would like to check and edit your Announcement before it goes online, simply change the "Appearance Date" in the posting form to the following day. That way your Announcement will be held offline until the date is reached, and you have time to come back and make changes before it goes live.
All updated posts are regularly reviewed by our team, so that we can continue to maintain the high quality that visitors and subscribers to INOMICS are used to. We also request that if you need to make a change to the title of your Announcement, or if you wish to edit the Appearance Date after the initial posting, please contact us at info@inomics.com - our team will be happy to help you.
Editing Announcements is a long-requested feature from many customers, and we hope that the extra control you now have over your posts on INOMICS will help save you time and enable you to keep your Announcements updated.
To learn more about how to edit your Announcement, please visit the "Step by Step Guide" here