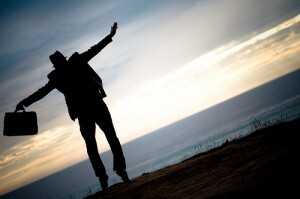 The Benefits of Working Abroad – Why It Pays to Gain Experience Elsewhere
In a previous post we delved into the topic of how studying abroad can help your future job prospects. Yet, whether or not you've spent time in other countries as a student, it can help your career to broaden your search parameters when looking for work later on. We're not just talking about a semester or year spent volunteering in some remote part of the world (though that's arguably quite a valuable experience as well) but rather about a serious career step that leads you to living and working in another country.
As globalization brings the world closer together, and more and more countries begin to offer visas to highly skilled workers, the possibilities for employment around the world continue to grow. Using international networks likeINOMICS, you can search for job opportunities in countries around the globe in your field of interest. The question we want to tackle in this article is – once you've found a job abroad, what are the benefits of taking it?
In today's globalized and extremely competitive market, speaking multiple languages is a must for anyone looking to land a great job. Regardless of your field, being able to converse and engage with clients, partners or other colleagues in a second (or third or fourth) language benefits your brain and your company. According to a recent study, approximately 31% of executives speak two languages and 20% speak three, and the number of organizations specifically hiring multi-lingual applicants is growing rapidly.
As this article in Forbes points out, working and living abroad offers the perfect opportunity to really immerse yourself in a foreign language and build specific vocabulary relevant to your field. Just remember that everyone struggles with language learning sometimes, so be persistent and the hard work will pay off!
Many companies offer workers higher salaries when they are willing to make a move abroad. As this articlepoints out, most companies will also pay for your full move and even fund visits home. Even if you aren't able to find a position abroad through a current employer, the opportunities for a boosted salary abroad are vast, and not just for workers coming from less to more developed countries.
In many cases a move in the other direction can also be easy on your wallet – in terms of lower rents, lower cost of living and more money to put into your savings or retirement funds. Moreover, once you have worked abroad you will often be able to negotiate a higher salary upon your return as a result of the experience you have gained.
Everyone knows how important networking is, and working abroad inevitably offers you the opportunity to greatly expand both your personal and professional networks. By connecting with people in your field from across the world, you can gain insight into ways of working and find opportunities that you would never have come across in your home country.
Connections created amongst foreigners while abroad are often quite strong, since the shared experience of living elsewhere creates commonalities between potentially very different people. Fostering such a network can prove beneficial for many years after your return home (or your next step, wherever that may take you).
Even if you've always thought of yourself as an open-minded, worldly person, the best way to put these characteristics to the test is to live abroad for an extended period of time. Living and working as a foreigner allows you to experience a new culture, including different sets of values, work ethics and ways of communicating. Having such an experience will help you gain perspective on the culture in which you're living, while also expanding your understanding for others within your community back home.
Recognizing that there is no one right way to do things, but rather many different paths available, can help you be a better leader in any situation. Being forced to adapt to new situations helps you become better at coping with stress, communicating with those different from you and taking the time to find the best solution regardless of the circumstances.
This interesting blog post offers specific accounts of six women working in countries around the world, highlighting specific things they learned and detailing how the experience helped them grow.
In addition to all of the reasons listed above, working abroad also offers many unforeseen benefits, including opportunities for personal growth that simply couldn't be found in your home country. Bonus benefits such as traveling, trying new foods and making lasting international friendships make the experience worthwhile in and of itself, above and beyond the many benefits international work can have for your career.
Also Interesting

Ranking, Study Advice, Career Advice, Blog Post

The Top Economics Blogs

Reading economics blogs can be an easy way to get your fill of knowledge and, in many cases, they're more palatable compared with academic journals, which can be dense and gruelling. The blogs we've listed - in no particular order - are the ones we here at INOMICS turn to when we're looking for interesting, informative, and occasionally offbeat articles on a wide range of economic topics. With much of the outside world still off-limits, they also provide an excellent and productive means of passing the time. So go on, dive in.

10 Most Affordable Countries in Europe to Do Your Economics PhD

Fortunately, the UK and the US aren't the only two places in the world with universities great for studying economics, and particularly in Europe, higher education hasn't yet been turned into corporate business, meaning not only are degrees cheap, some are completely free. And paying less (or even nothing) doesn't translate into a lesser experience. To the contrary, many of countries on this list can make legitimate claims to housing some of the most prestigious higher learning institutions in the world.

The Pros and Cons of a Career in Research

Upon completion of a Master's degree or PhD, the big question arises: what next? Although it seems like natural progression to continue with further research, there are many other careers open to academics in business, education, or communications and journalism, to name but a few examples. So how do you know if research is the right career choice for you? A good way of figuring it out is weighing up the pros and cons.