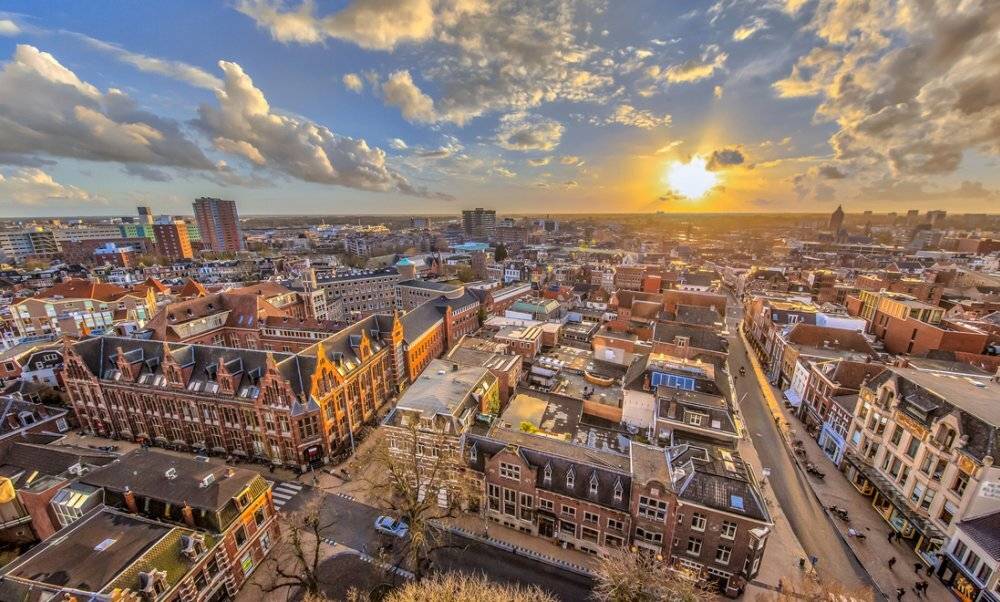 Campus Reviews
University of Groningen, Netherlands - Why You Should Study Abroad Here?
Read a summary or generate practice questions based on this article with the new INOMICS AI toolhere.
Groningen is a beautiful, scenic city in the north of the Netherlands which has hosted the University of Groningen since 1614, making it the second oldest Dutch university. The university is known for having astronauts, prominent world bankers, and Nobel laureates among its alumni.
With just under 60,000 students at the university and a population of around 200,000, the city is very much a student town with approximately a quarter of the population currently studying. If you're considering the University of Groningen for your studies, here are some of the key facts to know about the university and the city.
Economics programs at the University of Groningen
The Faculty of Economics and Business at the University of Groningen offers a variety of courses at the bachelor and master levels, as well as having a PhD program. The bachelor's courses include BScs in International Business, Econometrics and Operations Research, and Economics and Business Economics, all of which are taught in English. There is also a course in Business Administration which is taught in Dutch.
For master's students, there are a wide variety of programs with different sub-specialities, including MScs in Accountancy and Controlling; Business Administration; Econometrics, Operations Research and Actuarial Studies; Economics; Economic Development and Globalization; Finance; Human Resource Management; International Business and Management; International Financial Management; Marketing; Social Science and Humanities Education; Supply Chain Management; and Technology and Operations Management.
➲ Subscribe to find your ideal Master's program in Europe
The PhD program is aimed at students who want to perform research into areas like economics, econometrics, finance, global economics, management, organizational behavior, marketing, and operations management.
➲ Subscribe to find your ideal PhD program in Europe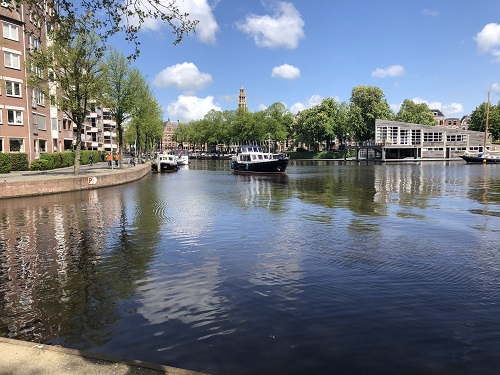 Photo by Inma, a current student at University College Groningen
Economics research specialties at University of Groningen
Research in economics at the University of Groningen is performed largely as part of the SOM Research Institute, the research arm of the Faculty of Economics and Business. This includes the SOM Applied Research center plus twelve Centres of Expertise, including those for International Banking, Energy Economics, Customer Insights, Operational Excellence, and more.
So there are broad areas researched here, but particular focus is placed onto research in international topics, econometrics, social science topics as applied to business such as customer psychology, and management.
The faculty also has what it describes as "signature areas" of research, including:
The Dynamics of Global Development and Inequality
Connecting Innovation and Creativity
Digital Business Models
Individual Health & The Economic Environment
Board Effectiveness
Collective Resilience
Markets and Sustainability
Tuition fees at University of Groningen
Like many universities in the Netherlands, tuition fees at the University of Groningen are much more affordable than they are in comparable universities in the U.S. However, fees are much higher for non-EU students, as is typical in Europe, and not all students are eligible for these lower and more affordable fees.
A bachelor's student from the EU can expect to pay a little over €2,100 per year, while a non-EU student will pay around €15,000 per year. For master's students, EU students will pay between €2,100 to €15,000 for a full-time one-year course, or between €1,500 and €8,000 per year for a part-time two-year course. This large range is due to whether or not you quality for what are called "university tuition fees" or whether you must pay at a higher level comparable to international student fees.
Non-EU master's students will have to pay around €15,000 per year to study full-time. Part-time fees for international master's students have not yet been set for the upcoming year, but previous years have been around €7,850 per year.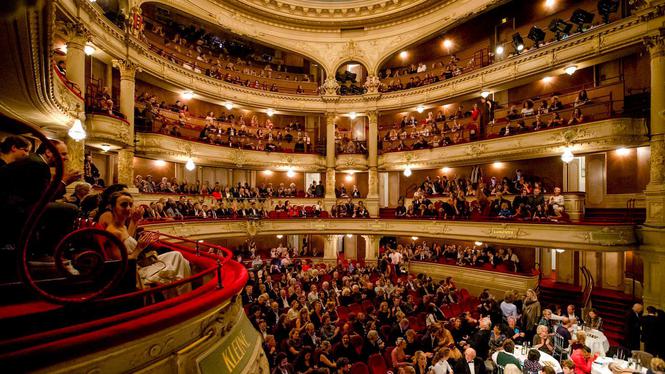 Stadsschouwburg, Groningen, Netherlands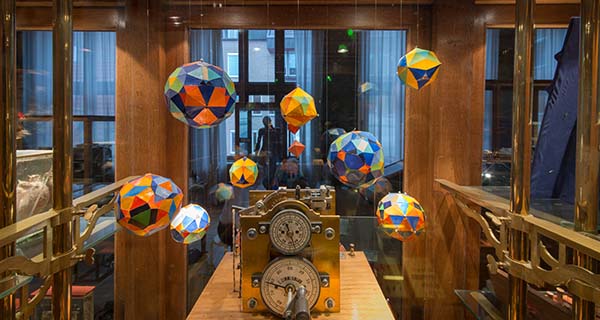 University Museum, Groningen, Netherlands
Educational approach at the University of Groningen
The University of Groningen has a distinctive approach to research, with a strong prioritization of research that is most pertinent to humankind right now. Its three main areas of focus are: healthy ageing, energy production, and building a sustainable society.
The university has twenty-four areas of research within these topics, including Elucidating Malignant Transformation, Human Wellbeing and Biomedical Materials, and Long-Term Perspectives On Human-Environment Relations.
One recent focus has also been on the impact of earthquakes and possible methods to fortify buildings against them. As Groningen is located near an immense gas field (the largest in Europe), the city often faces earthquakes of dire magnitudes – a risk that should be taken into account by anyone considering attending the university. However, with all the research being conducted on the matter, it appears the city is progressing towards an increasingly safe future.
Cost of living in Groningen
Groningen is a relatively affordable city, especially in terms of accommodation. If you want to live on your own in a one bedroom flat in the city center, you can expect to pay around €750 per month, or around €600 per month if you don't mind living a bit further out. Another option is to share with flatmates, for which you can expect to pay around €450 per month for a bedroom in a shared flat in the center or down to around €300 for a room in a shared flat further out.
Eating out is affordable too, with €15 enough to buy you a meal in a restaurant and a beer in a bar costing around €4. The city is famous for its waffles and has a typical European cafe culture so there are plenty of places to try these delicious local snacks.
Student life in Groningen
Groningen is very much a student town, with the university forming a large part of life there and a very heavily student-based population. Constantly ranked one of the happiest cities in Europe (with 53 percent of the population reporting they are happy to live here), Groningen offers more than you can imagine. Looming Gothic cathedrals paired with modern shopping centers make it a city that will appeal to anyone drawn to either the old or the new.
The city is clean and attractive, with good air quality which is helped along by the large number of people who ride bicycles rather than taking the car. The available healthcare is also excellent, so it's a good location to live for those who want to feel healthy and happy.
As one of the major cities of the Northern Netherlands, it is incredibly diverse and naturally there are tons of students. Bars are actually allowed to be open around the clock, 24 hours a day, so there's a lively party scene. The nightlife is not bad either, with one of the city's most famous establishments being a club called Vera - a venue that has seen iconic bands like Nirvana and U2 grace its stage.
On the festival front, the Eurosonic Festival is worth noting. Taking place annually, this festival aims to help emerging artists break into the international music scene, as well as getting more attention for European music, shining a light on the diversity it brings to the music community. The Eurosonic Festival is an inspiring event packed with possibilities for aspiring musicians.
One of the most alluring aspects of the city has to be its architecture. If you enjoy theatrical productions, Stadsschouwburg is your destination to go. A beautiful theater dating back 133 years, the Stadsschouwburg provides numerous different productions from more avant-garde plays and cabaret performances, to household titles.
➲ Discover all study programs in the Netherlands
Also Interesting

How To Find The Right Exchange Program

Exchange programs allow students to study at a different institution as part of their degree. Typically, students will use this opportunity to study abroad at a foreign partner of their home institution, though exchange programs can sometimes take place in the same country. Regardless, these programs are a fantastic way for students to broaden their horizons, take specific courses at another institution, and study abroad without committing to living multiple years in another country.

Which Concentration Should You Choose For Your Master's Degree in Economics?

If you're planning to study economics at a Master's level, then you may have the opportunity to pursue a concentration, sometimes also referred to as a major. While rarer, some PhD programs may also offer concentrations, though many are already specialized degrees (or require you to have your own research agenda).

The GRE is changing: ETS to streamline the test in September 2023

The Graduate Record Examinations, more commonly known as the GRE, is one of the most important standardized tests in the world for admission to post-Baccalaureate programs. It's very often required by universities when considering admission into their Master's or even PhD programs.