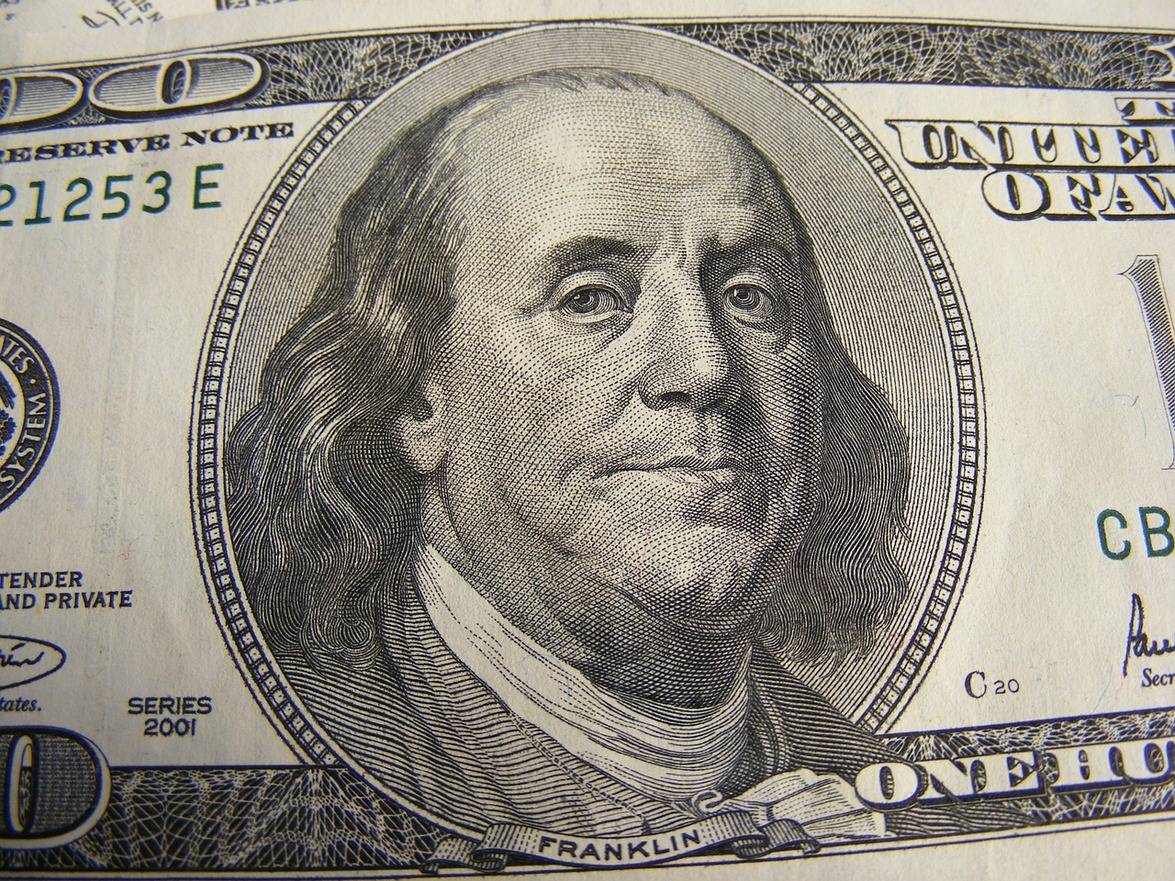 A Survey of Economists
Countries with the Highest Salaries for Academics
In 2018 we at INOMICS released another of our Salary Reports. The report provides an overview of a survey conducted of 2175 people in 2017 and contains insights into the job market, specifically the economics job market. Respondents came from 117 countries, 17 more than the year previously, and the figure of those asked represented an increase of 11% on the previous year. The report takes into accounts of gender, level of academic degree, sector, number of years of experience and seniority.
The focus of earlier reports was on the academic job market with the majority of respondents representing universities, research institutes or think tanks and possessing high academic qualifications; however, for the 2018 report, we have taken into account those working in the private sector in order to give a more well-rounded view. Bear in mind when looking at these figures that the average cost of living in these countries has not been taken into account.
Countries with the highest average salaries (as of 2017)
The highest average salaries for almost all positions in both academia and the private sector were in the USA, Switzerland, and Canada. Other countries ranked relatively highly, but pale in comparison to the top three. Other interesting findings show that in the US and Germany, salaries are 10% higher on average than in private sector salaries, an anomaly across the rest of our results. Of course, those employed in research in the private sector overall earn on average 30% more than those working in academia. Australia and Oceania were, however, exceptions to this trend.
In academia, senior level
Switzerland - $180,623
United States of America - $179,736
Canada - $141,219
United Kingdom - $116,731
Germany - $99,471
In the private sector, senior level
Switzerland - $192,500
United States of America - $183,750
United Kingdom - $129,640
France - $133,300
Italy - $108,300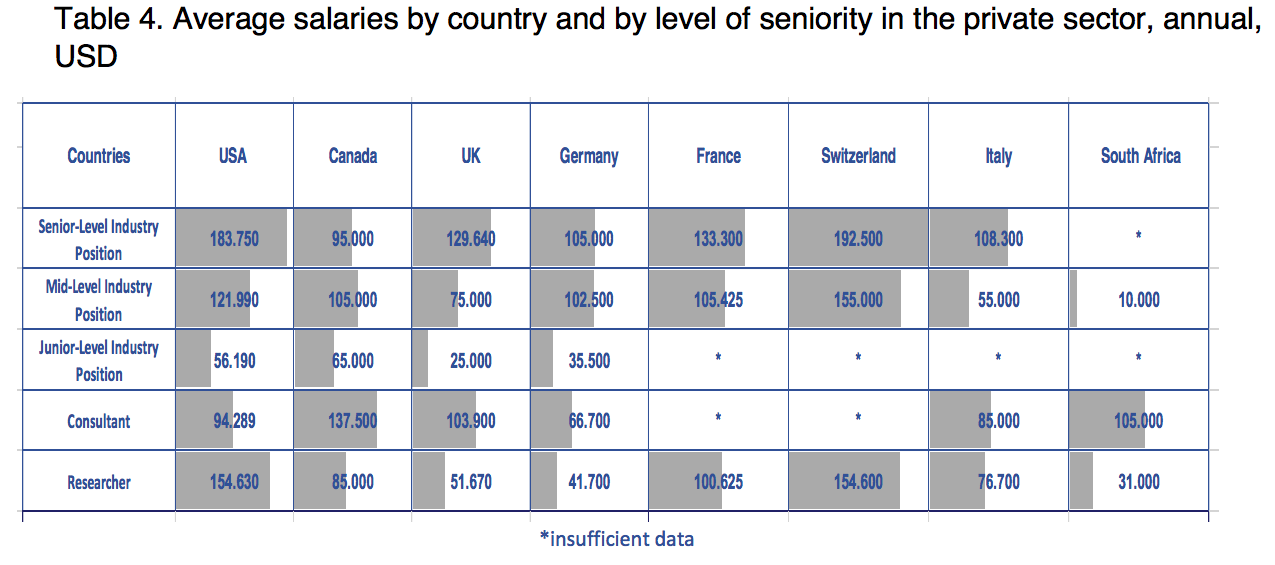 Gender pay gap
Unfortunately, we noted a significant gender pay gap across the world, especially at senior-level positions, in both the private and the academic sectors. Men's salaries are on average 18% higher in academia than women's salaries, and we observed a 'salary ceiling' - along with a glass ceiling - which made it not only difficult for women to rise to the top, but even once they have, difficult to earn the same as their male counterparts. Men receive 27% and 34% higher salaries for senior positions in academia and the private sector respectively.
Regardless of all of these negative points, however, compared to 2016, less gender pay disparity was observed worldwide for several of the positions we looked at, including PhD candidates and full professors. Things are moving in the right direction, but not fast enough. In two continents we noted higher average salaries for women, those being in Asia at mid- and junior-level positions, and in Australia & Oceania at the junior level. In some specific Western European countries, such as in the UK and Spain, women earn more than men on average as professors. Worldwide, men receive $83,570 on average, and women $62,640. Senior Editor William Pearse wrote about the problem economics has with women here.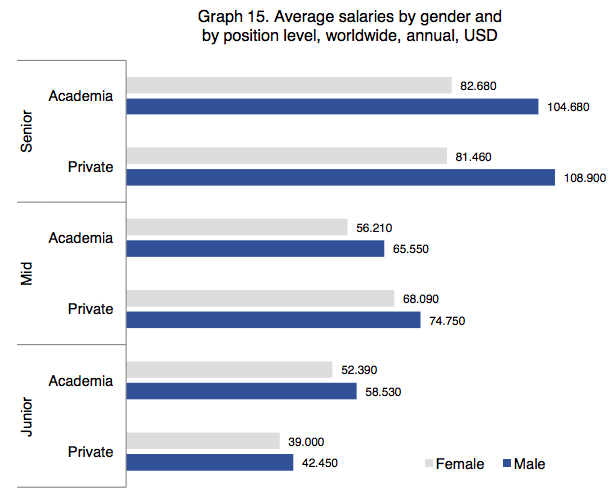 PhD candidates
For PhD candidates, the highest salaries are in are in Switzerland and Canada, with PhD candidates in Switzerland earning on average twice as much as those in Germany. Again, these figures are net salaries, not net income, and don't take into account living costs, which may explain some of the disparities, if not all. Overall, in the USA and Germany, salaries for PhD candidates have increased over the last five years, but across all of the countries we surveyed, this wasn't the case in the world; generally, there has been some fluctuation between 2012 and 2017, but no obvious observable trends.
Experience rules
As to be expected, more experience resulted in higher pay. The average salary for someone with less than one year of experience in the academic sector was just $28,990; jump to over fifteen years of experience, and this number increased to $91,700, and even higher in the private sector at $109,000. Interestingly, typically salaries for the first five years of experience are higher in academia compared to the private sector. However, this changes once one hits the 5-10 years of experience mark, in which the private sector rapidly overtakes academia.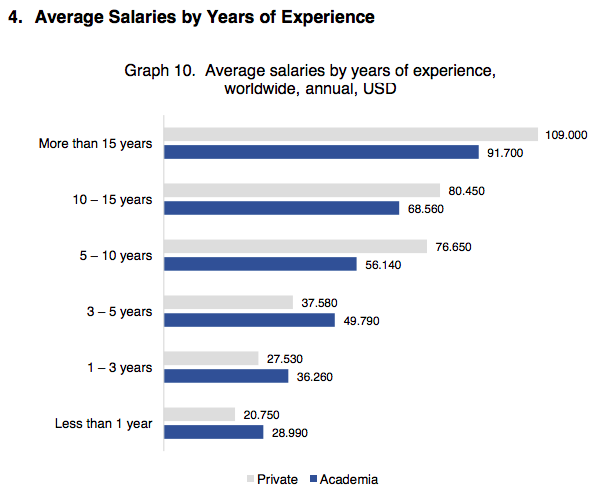 Also Interesting

The Problems With Development Aid

​Development aid: what is it good for? Well, according to much research the answer may well be absolutely nothing. In fact, it may well be worse than nothing. When judged against its aim of 'instigating economic development and alleviating poverty', its record is so dismal it looks as though aid actually hinders the achievement of its own stated goals. And the curious thing is this seems to be something of an open secret. Even to an untrained eye the big numbers pertaining to development aid don't look right. Take Africa, for example.

Recognising What Matters Most

The UK COVID-19 Recovery and the Case for Community Wealth Building

'The greatest science policy failure for a generation' is how the editor of The Lancet, Richard Horton, described the UK's COVID response last June. It was a widely shared sentiment – made credible by the UK having one of the highest death rates in the western world. Fast forward to the present, and the government has finally claimed a 'much needed win' – a big one, too.

How to Give a Great Academic Presentation

Whether you're a graduate student giving a presentation for a course or a researcher presenting at a conference, being able to give an engaging and well-prepared presentation is a valuable skill for anyone in academia – in COVID times it is invaluable. Today, hardly a talk is given without an accompanying PowerPoint presentation full of flashy graphs, images, exploding sub-titles, and often far too many bullet points.