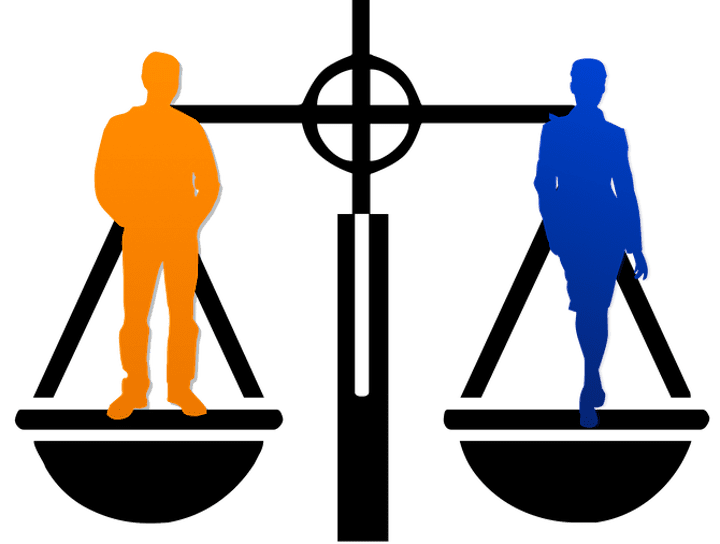 The Narrowing of the Gender Pay Gap For Professors in North America
As more women continue to occupy a greater number of senior positions both in academia and the private sector, the gender pay gap has become an increasingly relevant issue in the professional and academic labor market.
The INOMICS Salary Report 2016 has shown the average salary earned by both sexes at different professional and academic levels, in varying geographical regions.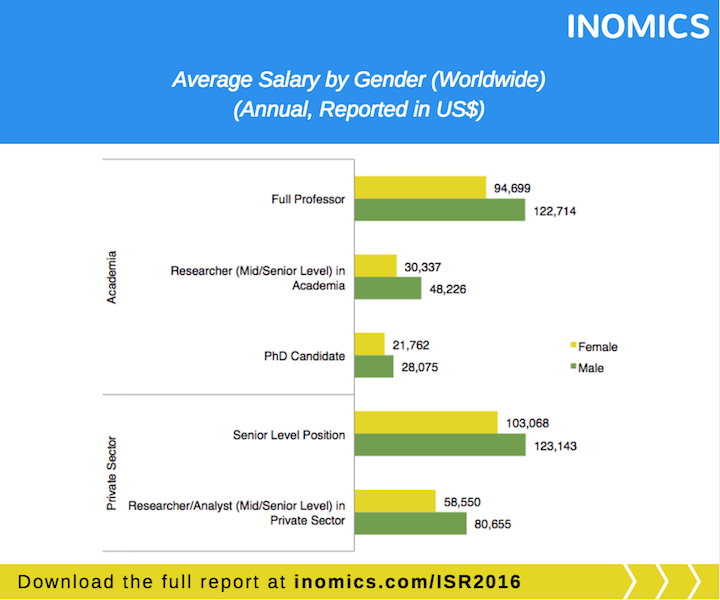 The overall finding relating to the gender pay gap is that it still exists at every level in academia and in the private sector and that the difference in remuneration is greatest among Full Professors whereby female full professors earn on average, 23% less than their male counterparts.
Interestingly however, even though male respondents in the private sector earn 47% more than their female counterparts, in academia, female Full Professors earn a higher salary than the male Full Professors which suggests a closing of the gender pay gap among North American Full Professors.
In the United Kingdom, there is an almost complete inversion of the existing gender pay gap in the North American labor market. Male Full Professors in the United Kingdom earn 32% more than their female counterparts whereas in the private sector, women earn slightly more.
Largely, the gender pay gap still exists in academia and the private sector in almost every region and at every level surveyed. However, the anomaly is North America where female Full Professors earn more than their male counterparts, suggesting that the gender pay gap in North America is closing, among Full Professors.
To learn more about worldwide salary by gender and region, please visit this page to download the full report for free.

Information in the graph is based on the INOMICS Salary Report 2016. The report reflects job market and salary trends for economists, ranging from those just starting their Master's to those working as senior professors or researchers in academia and the private sector.
Key findings include:
✓ Professors consider research publications more relevant for their employability than teaching skills.
✓ The gender pay-gap for economics professors at North American universities seems to have narrowed to the point of non-existence. If anything, female academics seem to earn slightly more than their male counterparts.
✓ Salary is not a primary motivator, although it has a demotivating effect if too low.
✓ A higher salary is considered as more important in some regions, for example in Asia, especially among people working outside of academia.
Also Interesting

The Value of Nature's Services to Modern Economies

These factors of production from nature hold the core of all economies' potential output, which therefore makes our economy dependent on the life-support systems of our planet. Even businesses seemingly removed from raw materials - like software-as-a-service companies - depend on power generated from natural sources.

Into the Economist's Mind

The INOMICS Questionnaire: Fratzscher vs Miguel

Marcel Fratzscher: What is your favorite place on earth? Edward Miguel: It may be a little cliche, but my favorite physical location is the Big Island of Hawaii, on the Kona side. It's where my family (my wife and two kids) and I have traveled regularly over the past decade or so for our family holidays, so it's a place that holds many of our favorite memories and warm feelings. It is also a stunning landscape -- with mountains, lava and black volcanic rock all set against the Pacific. I dream about it often!

The 'Recipe With No Ingredients' in Macroeconomics Textbooks

Almost fifty years ago William Nordhaus and James Tobin, both professors at Yale University and later Nobel Prize laureates in economics, wrote an article with which they intervened in the debate aroused by the well known Report to the Club of Rome, The Limits to Growth (Meadows et al, 1972)1. Among other things, they wrote: "The prevailing standard model of growth […] is basically a two-factor model in which production depends only on labor and reproducible capital.