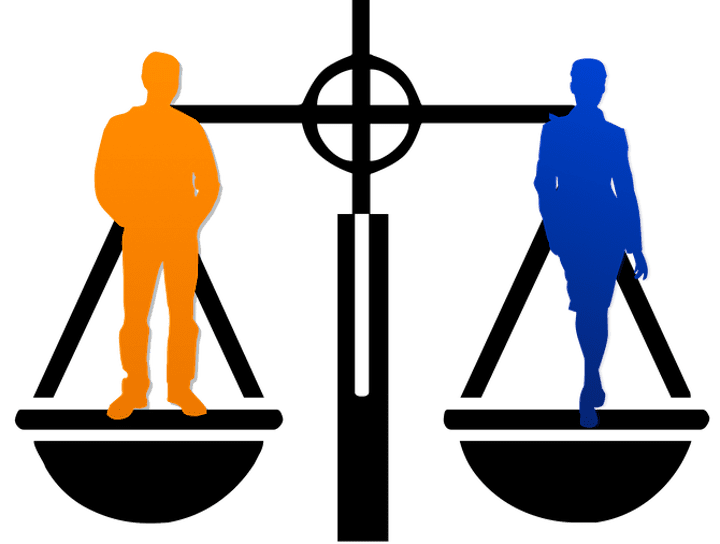 The Narrowing of the Gender Pay Gap For Professors in North America
As more women continue to occupy a greater number of senior positions both in academia and the private sector, the gender pay gap has become an increasingly relevant issue in the professional and academic labor market.
The INOMICS Salary Report 2016 has shown the average salary earned by both sexes at different professional and academic levels, in varying geographical regions.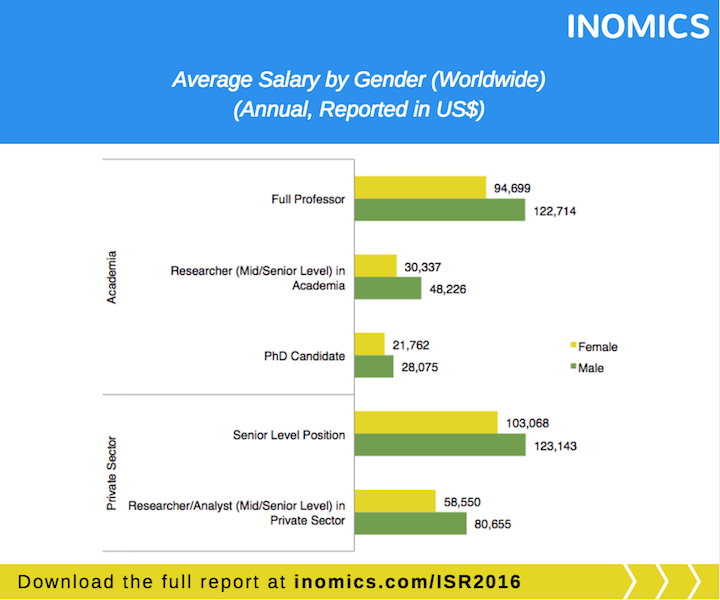 The overall finding relating to the gender pay gap is that it still exists at every level in academia and in the private sector and that the difference in remuneration is greatest among Full Professors whereby female full professors earn on average, 23% less than their male counterparts.
Interestingly however, even though male respondents in the private sector earn 47% more than their female counterparts, in academia, female Full Professors earn a higher salary than the male Full Professors which suggests a closing of the gender pay gap among North American Full Professors.
In the United Kingdom, there is an almost complete inversion of the existing gender pay gap in the North American labor market. Male Full Professors in the United Kingdom earn 32% more than their female counterparts whereas in the private sector, women earn slightly more.
Largely, the gender pay gap still exists in academia and the private sector in almost every region and at every level surveyed. However, the anomaly is North America where female Full Professors earn more than their male counterparts, suggesting that the gender pay gap in North America is closing, among Full Professors.
To learn more about worldwide salary by gender and region, please visit this page to download the full report for free.

Information in the graph is based on the INOMICS Salary Report 2016. The report reflects job market and salary trends for economists, ranging from those just starting their Master's to those working as senior professors or researchers in academia and the private sector.
Key findings include:
✓ Professors consider research publications more relevant for their employability than teaching skills.
✓ The gender pay-gap for economics professors at North American universities seems to have narrowed to the point of non-existence. If anything, female academics seem to earn slightly more than their male counterparts.
✓ Salary is not a primary motivator, although it has a demotivating effect if too low.
✓ A higher salary is considered as more important in some regions, for example in Asia, especially among people working outside of academia.
Also Interesting

The Pros and Cons of a Career in Research

Upon completion of a Master's degree or PhD, the big question arises: what next? Although it seems like natural progression to continue with further research, there are many other careers open to academics in business, education, or communication and journalism, to name but a few examples. So how do you know if research is the right career choice for you? A good way of figuring it out is weighing up the pros and cons. Browse our job listings for economics opportunities

A Post-PhD Career in Research: Jack of all Trades, Master of Some

Our favorite caricature of a post-doctoral researcher: a frail man (or woman) with unkempt hair, hunched in front of a computer screen, with a half-filled cup of coffee by his side. As the coffee gets colder and time flies by, he appears oblivious to his surroundings – he is happy spending long hours at his desk conceptualizing arcane theory on obscure topics the real world does not care about. He is in a state of eternal tapasya – meditating on his eternal love-affair with knowledge… because, life is an eternal quest for knowledge!

Best practices for every stage in the job recruitment process during Covid-19

Here we've compiled a list of tips and solutions to help make your recruitment plans more befitting. Job Advertising: Communication is key! Being as clear as possible in the job description in terms of the role, expectations and tasks to be performed, will help build a good rapport and trust with job applicants. Include flexible working hours, childcare, health insurance and the possibility to work remotely to incentivize applicants.