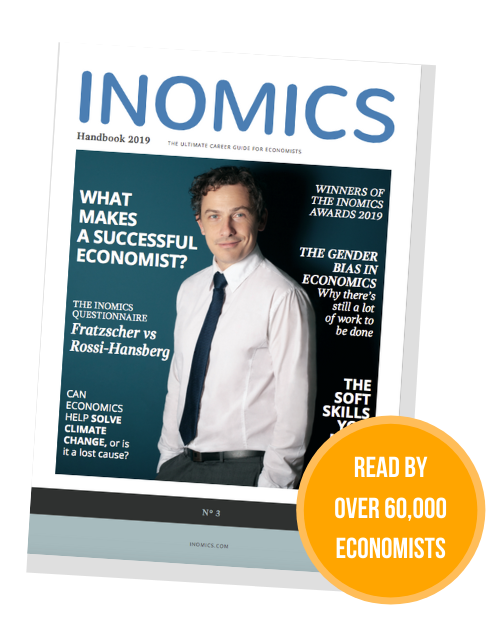 INOMICS Handbook 2019
The Ultimate Career Guide for Economists
---
A career is more than just a job! INOMICS Handbook is an annual career magazine read by over 60,000 economists, worldwide.
Download now for free
No sign up required!
---
The 2019 edition of INOMICS Handbook covers:
   ➲ The gender bias in the field of economics
   ➲ The soft skills you need to succeed as an economist
   ➲ Climate change and how economics can help solve it
   ➲ What makes a successful economist
   ➲ An interview with Princeton Professor, Esteban Rossi-Hansberg
   ➲ Winners of the INOMICS Awards 2019
   ➲ Recommended study and career opportunities
---

Are you an advertiser?
Questions and enquiries

Become an INOMICS member
Learn how we can help you to take the next step in your economics career.
Join an expert community of over 500,000 academics and students who already trusted us.
Previous editions
---
The INOMICS Handbook 2018 is the second edition of the annual career guide for Economists. Contributors to this edition include esteemed economic institutions such as the German Institute for Economic Research, the International Monetary Fund, and the University of Barcelona, as well as eminent economists like Marcel Fratzscher and John Cochrane. There is also a reprisal of the INOMICS awards, this year's categories extended to encompass: top employers, best training courses, best Master's and PhD programmes, best conferences, and the best summer schools.
---
The INOMICS Handbook 2017 is the first edition of a complete career guide compiled specifically for economists. It includes, among others, the INOMICS Awards for best-practice recruitment, rankings of the top universities and research institutes for economists to work for, a job market analysis including findings on average salaries around the world, average salaries by gender and factors justifying higher salaries, as well as articles and insights for everyone currently active, as a recruiter or a jobs seeker, in the academic job market.