Housing Anywhere and INOMICS announce partnership to support international study abroad programs
Berlin, November 12th, 2015
---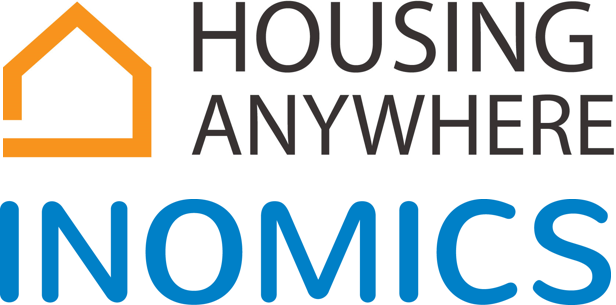 ---
Housing Anywhere and INOMICS have announced a partnership to support students planning to spend time studying at a university in another country. The two European companies will now share their respective information and advice for internationally focused students via both networks. This includes information about study programs, so far offered by INOMICS, and information about international student accommodation, so far offered by Housing Anywhere.
"The decision to study abroad implies a series of factors that a student needs to figure out. It is not only about finding a good source of information for exchange programs, summer schools, courses or complete degrees to join in a foreign country; it is also about accommodation decisions, financial resources, paperwork, etc." says Andreas Hoffman, CEO of INOMICS. "We want to unlock the potential of academic opportunities for our users, so a strategic cooperation with student services providers like Housing Anywhere is key in supporting international education initiatives and to add value for INOMICS users".
"It is an honour for INOMICS to work closely with Housing Anywhere and develop a fruitful partnership" says Hoffmann. "We hope to make study abroad decisions easier for students, by offering a list of career opportunities abroad and an effective solution for short-term accommodation in a foreign country".
From November 2015, all INOMICS users will have the possibility to access the services provided by Housing Anywhere, which helps students let out their rooms or to find a short term accommodation while they are studying abroad themselves, for a limited period.
"The partnership with INOMICS is focused on providing value to the students who use daily Housing Anywhere" said Niels Van Deuren, CEO of Housing Anywhere. "International students need support to find high quality and up-to-date sources of opportunities and information to go abroad, work, study and develop their career. INOMICS is a good way to provide our users with a trustworthy source of career opportunities worldwide".
Learn more about Housing Anywhere
Housing Anywhere is a platform for short-term housing. It has expanded as a housing solution for students and is endorsed by Universities in countries like the Netherlands, Spain, France, Germany and Denmark. Currently 100+ universities worldwide promote the page and over 10,000 rooms have been offered by local students to international students with the highest quality service.
Learn more about INOMICS  
INOMICS is a fast growing network for academics and students. With more than 20,000 career opportunities listed online, it provides a personalized stream of information for people around the world at all stages of their academic career - from researchers, post-grads and well-known professors, to graduate and bachelor students who are eager to develop their careers and be informed about the latest jobs, programs, courses, funding opportunities and events in their fields.
---
About INOMICS
INOMICS is an online platform for academics, which provides a stream of career and study opportunities, scientific events, research news and funding, all based on individual preferences and constantly updated.
---
Downloads
---
Contact PR & Communications
Am Kupfergraben 6a
10117 Berlin, Germany
media@inomics.com