INOMICS Releases Salary Report 2016 for Economists
Berlin, December 14th, 2016
---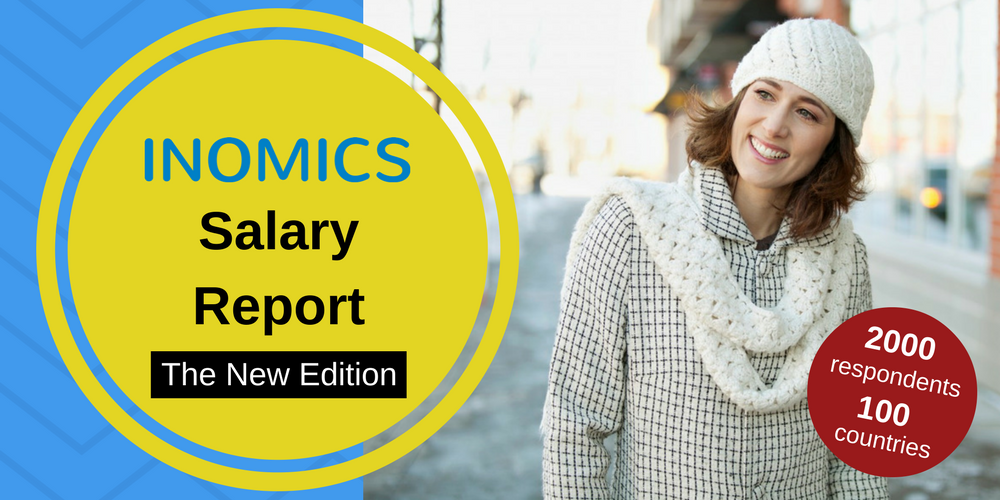 ---
INOMICS, a recruitment platform for academics and professionals, releases its fourth annual Salary Report on Monday, December 19, 2016. The report reflects job market and salary trends for economists, ranging from those just starting their Master's to those working as senior professors or researchers in academia and the private sector.
The findings are based on almost 2000 responses from 99 countries to a survey conducted between August and October 2016.
The INOMICS Salary Report 2016 delivers key understanding about salaries, taking into account different factors, such as:
geographical location,
gender,
job position,
work experience
level of education.
The 2016 Report also includes, for the first time, findings about:
salary satisfaction level,
main motivations at work
skills/experience justifying higher salaries.
Key findings include:
Professors consider research publications more relevant for their employability than teaching skills.
The gender pay-gap for economics professors at North American universities seems to have narrowed to the point of non-existence. If anything, female academics seem to earn slightly more than their male counterparts.
Salary is not a primary motivator, although it has a demotivating effect if too low.
A higher salary is considered as more important in some regions, for example in Asia, especially among people working outside of academia.
The information presented in this study supports applicants in making informed career choices. It also provides recruiters with crucial information about the current state of the economics job market to help them find and attract the best candidates.
Download the full report here.
---
About INOMICS
INOMICS is an online platform for academics, which provides a stream of career and study opportunities, scientific events, research news and funding, all based on individual preferences and constantly updated.
---
Downloads
---
Contact PR & Communications
Am Kupfergraben 6a
10117 Berlin, Germany
media@inomics.com