The INOMICS Handbook, a new career guide for economists, will be launched on 4 August
To include announcement of winners of the first INOMICS Awards, as well as rankings of the top universities and research institutes for economists to work for.
Berlin, July 31st, 2017
---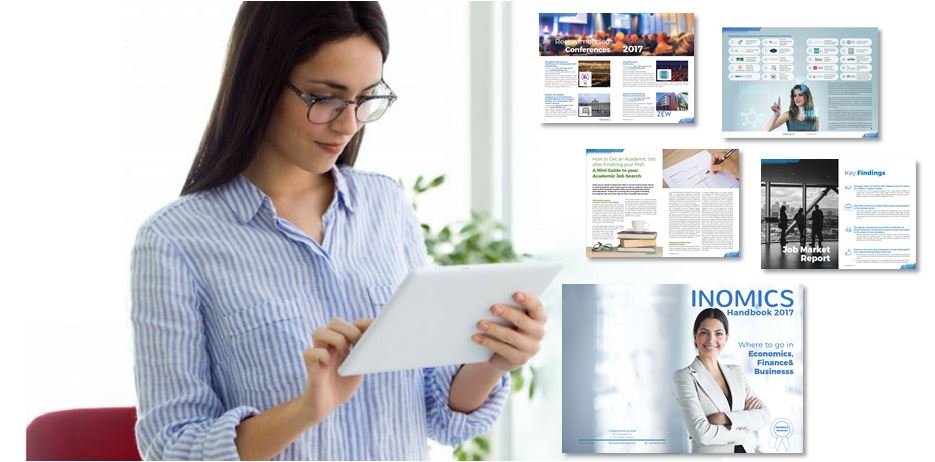 ---
INOMICS, a leading recruitment platform for students, academics and professionals in economics, business and finance, is to release the first INOMICS Handbook on Friday 4 August. 
The INOMICS Handbook is a complete career guide compiled specifically for economists. It includes:
The INOMICS Awards for best-practice recruitment

Rankings of the top universities and research institutes for economists to work for.

A job market analysis including findings on average salaries around the world, average salaries by gender and factors justifying higher salaries

Articles and insights for everyone currently active, as a recruiter or a jobs seeker, in the academic job market.
The INOMICS Awards recognise institutions with top recruitment practices and activity. Among these are universities, banks and research centres from 6 different countries. Additionally 10 Universities and 10 economics institutions in the United States, China, United Kingdom, and Germany are recognised as the best organizations for economists to work for, based on their research publications, employee reviews and student reviews.
As a service provider positioned in the centre of the economics job market, INOMICS' has drawn on its extensive experience in the field and its access to unique data on job market activity to produce its first Handbook for jobseekers in the fields of economics, business and finance.
"A successful career requires a fundamental understanding of the job market. For this reason in 2017, in line with our mission of helping economists reach their career goals via high quality information, we are releasing the first edition of the INOMICS Handbook" says Andreas Hoffmann CEO from 11 Academia Networks, the company behind INOMICS.
This is the first edition of the INOMICS Handbook and it is conceived as an annual publication, providing the economics community with the latest information related to career development in both academia and industry. The INOMICS Handbook will be available in digital and print versions. A free digital copy can be pre-ordered here. After launch day, the Handbook will be available online at inomics.com/handbook.
---
About INOMICS
INOMICS is an online platform for academics, which provides a stream of career and study opportunities, scientific events, research news and funding, all based on individual preferences and constantly updated.
---
Downloads
---
Contact PR & Communications
Am Kupfergraben 6a
10117 Berlin, Germany
media@inomics.com