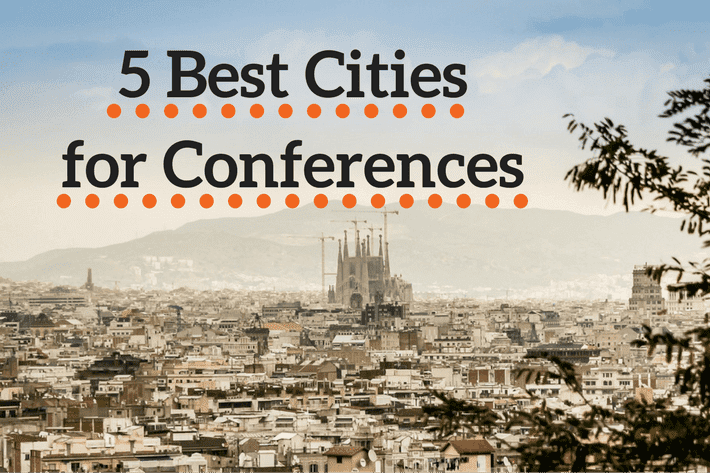 5 Best Cities for Conferences
Trying to choose a conference? Not sure where to go? Here are our tips for five of the best cities in which to attend a conference.
Barcelona, Spain
Barcelona is a hugely popular destination for tourists and travellers thanks to its warm weather, tasty food, rich cultural history, and relaxed way of life. These qualities make it a great destination for conference goers too. Accommodation is relatively affordable, and it has the nearby international Barcelona–El Prat Airport which makes travelling there easy.
One important tip if you're attending a conference in Barcelona is to make sure that you're drinking plenty of water. The average temperature there is over 20°C, getting up to 30°C at the height of summer. Pack a big hat and plenty of sunscreen and make sure that you're fully hydrated to deal with the heat!
Conferences which are coming up soon in Barcelona include:
University of Barcelona - Living the Future: International Conference on Technology, Engineering, Education & Computer LF-TEEC
EDULEARN17 (9th annual International Conference on Education and New Learning Technologies)
2017 9th International Conference on Information Management and Engineering (ICIME 2017) - Ei Compendex and Scopus
Berlin, Germany
Berlin is best known for its art and for its party scene, but there's also a significant academic community in the city, with a particular prominence of institutions working in the areas of neuroscience, medicine, linguistics, and the humanities. Berlin's laid back vibe is obvious as you stroll through the city's many parks or when you head out to one of the many small bars in the night life areas.
Berlin is an attractive conference destination due to its cheap food and accommodation, easy access thanks to several airports and innumerable train connections, and significant network of academic institutions.
Upcoming conferences in Berlin include:
2017 4th International Conference on Power and Energy Systems Engineering (CPESE 2017) - SCOPUS, Ei Compendex
6th European Conference on Mental Health
IOTOD 2017: Improving outcomes in the treatment of opioid dependence
Istanbul, Turkey
Famed for its gorgeous architecture and rich history, Istanbul is on the must-visit lists of many travellers. Right at the border between Europe and Asia, Istanbul has been an important centre for trade and culture for thousands of years. Now it is home to many academic institutions and is a popular location for international conferences.
If you are from Europe or the US, you will probably need a visa to travel to Turkey. However, these visas can be applied for online and do not cost much – typically around $20 or so. Just make sure to apply for your visa as early as possible to make your travel planning easier.
Some conferences happening soon in Istanbul:
CINECRI 17: IV. International Film Studies and Cinematic Arts Conference
APPLIED SCIENCES 17: International Conference on Applied Sciences and Engineering
MECHATECH 17: International Mechanical Engineering and Technologies Conference
Warsaw, Poland
The capital city of Poland is a cosmopolitan, arty place in which you can enjoy exceptional food and drink. Accommodation is cheap and easily available, and the city is well connected by train and by air from the nearby Chopin airport. The meeting of traditional Soviet architecture with modern urban culture makes Warsaw an appealing destination for travel and for conferences.
Poland is becoming a significant force in academia in Eastern Europe, and this is reflected in the diversity and quality of conferences which take place there.
Upcoming conferences in Warsaw include:
2017 International Conference on Gender Studies
International Conference "History & Society - Dialogue of the Deaf"
24th International Scientific Conference on Economic and Social Development
Florence, Italy
Offering breathtaking churches and art as well as delicious Italian food, Florence is a culture-lover's paradise. With a profound connection to history and art, the city hosts a number of prominent international conferences each year and is a great place to experience some of the factors that make Italy such an intriguing country for visitors.
Conferences to be held soon in Florence include:
LLCE2017: Language, Literature and Culture in Education
2017 6th International Conference on Computer Engineering and Bioinformatics (ICCEB 2017)
2017 4th International Conference on Artificial Intelligence (ICOAI 2017)
For a list of great conferences which you could attend, check out conferencemonkey.org.
Top Blog Post To Read:
Also Interesting

A Post-PhD Career in Research: Jack of all Trades, Master of Some

The importance of writing as communication It is indeed true that researchers like us (post-docs, research fellows, senior researchers, and so on) working in academia or in public/private/non-profit institutes spend a lot of time at their desks: writing articles, among other things. We maybe Doctors of Philosophy, but in reality, we are Masters in Writing and a few other things. This is because the demands of a researcher's role requires us to be jacks of a lot of trades and masters in some.

Optimise your Recruitment Strategy for Economics PhD Positions

Candidates can find more information in our guide on how to successfully apply to a PhD in Economics. For institutions aiming to find the best international talent for their PhD positions, the most important question is how to reach the right audience, primarily current master's students. You don't want to waste all your budget chasing after the wrong candidates.

Study Advice Article, Career Advice Article

How to balance your PhD and your social life

Treat your PhD like a regular job One of the challenges of adjusting to life as a PhD student is the lack of a firm schedule or a definite structure. Although there are options for structured PhD programs, especially in the US, many PhD programs do not have required coursework or set work times. This can make it hard to know when you should be working, and conversely, when you are allowed to take time off.