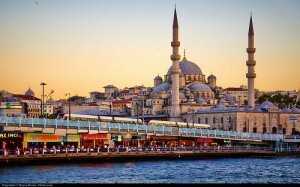 5 Reasons to Study in Turkey: "Crossing the Bridge"
Read a summary or generate practice questions based on this article with the new INOMICS AI toolhere.
Earlier this month we wrote about the top 5 reasons to study in the Iberian Peninsula; the high quality of education, the Spanish language, the culture, lifestyle, landscape and entertainment are factors that draw people towards study in Spain. Next up, Turkey is the second country we want to talk about in our series exploring top destinations for students from around the world.
In the last five years, Turkey has become an increasingly popular destination for students. Every year, hundreds of expats relocate to Turkey, to work or study in old and new Turkish universities that teach in English. The majority of the most prestigious universities of the country, for instance the Bogazici University, Galatasaray University and Koç University, are located in Istanbul, a city that connects the two continents of Asia and Europe.
Turkey, and especially its capital Istanbul, offers the warmth and delicious cuisine of Middle Eastern culture, in a fascinating mix that is not too unfamiliar to Western society. Life in this city is affordable, exciting, and it can connect you to the Asian continent without an extreme culture shock.
Turkey is a bridge between Asia and Europe
Turkey has the privilege of being geographically placed in 2 continents. Istanbul is a very particular city with two bridges that connect Europe and Asia. While living in Istanbul, you will find yourself exploring both the different and the common characteristics of the East and West on a daily basis. It is possible to find traces of all civilizations that have lived in Turkey since the Paleolithic age in the city. You can study next to an old Ottoman Palace or work in one of the most famous churches in history, which was later turned into a mosque by The Ottoman Empire.
Everywhere is central in Turkey
Like we said before, Istanbul brings two continents together with its lovely Bosporus. Turkey is close to many European and Middle Eastern countries at the same time. Turkey is a great location to be based in, since the country shares borders with eight countries including Greece, Armenia and Georgia.
If you choose to study in a Turkish university like, you will have the opportunity to live in Asia and be very close to Middle East as well as many historical sites and landmarks, some of which are beautifully introduced in this article.
You will be a part of an innovative academic world
There are new areas of study being introduced in Turkish universities every year, and you can choose to study more than one subject to tailor your own interdisciplinary education. You have the possibility to learn about business, economics or political sciences from a point of view that is different to the Western educational perspective you have been previously exposed to.
The Middle East Technical University in Ankara, the Anadolu University in Eskisehir or the Ege University in Izmir are some of the best alternatives to the universities in Istanbul, offering high quality education in English.
Turkey is a market in demand for international investors. There are many global companies that have offices in Istanbul, Ankara or Izmir that offer internships and jobs to international students. There are also many digital and hardware start-ups looking for young talents such as Startup Factory or Young Turk Ventures, as mentioned in this article.
The life of a young academic or student is usually relatively low-budget. Fortunately, life in Turkey is much more affordable than other European countries.
From low-priced restaurants to a fair-cost cultural dining experience, Turkey offers different options for students to enjoy their experience in the country. Eating out in Istanbul can be transformed into a rich experience for a low price. Typical dishes such as kuru fasulye, islak burger or kebah, can be cheap, delicious and extremely addictive. Moreover daily life expenses such as groceries, transportation and utilities can be considerably cheaper than in other countries.
Regardless of the place you choose to study in Turkey, you will have access to a rich culture, beautiful landscape, history and a personal experience that will definitely enrich your life and give you a new vision of western and eastern culture.
Photo credit: Moyan Brenn