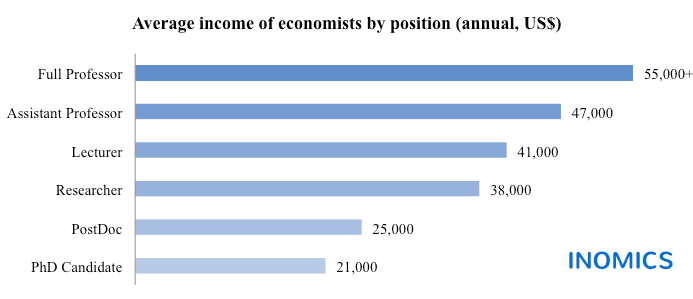 Academic Jobs and Salaries in Italy
Many believe that once one decides to follow an academic career path there is no way out. Working at a university is not only said to bring you respect and stability, but also a gradually increasing income. How high the latter might get obviously depends on many factors, such as your qualifications and the institution you graduated from, as well as the country where you are teaching.
Looking at the findings of the INOMICS Job Market Report (which is available for free download here) we clearly see difference in wage levels across academics in different part of the world. This post is dedicated to Italy, the country with one of the lowest reported salaries in Europe (followed only by Spain).
As can be seen from the graph, the salaries are not very high in the beginning of the path and although they increase with advancements (22% increase between positions on average), Full Professors earn 55,000 US$ per year on average.
According to the INOMICS Job Market Report – Italy, the first significant increase in salary happens after working for 3 years (+70% on average), and then another 72% on average is added when you reach the level of 5 years of experience.
Such relatively low reported salaries can be explained by different factors, including, among others, the young age of the respondents (65% are below 34 years old). In order to get more information about the Job Market in Italy and also see the methodology, you can download the full report here.
INOMICS has just launched the Job Market Survey 2014! Please participate and feel free to share the link below!
Also Interesting

Making Money With Your Degree

High-Salary Career Options for Economists

Before you start considering what crazy lucrative job you are going to get with your economics degree, consider this fact: a lot of rich people don't like their money. Many complain about not knowing what to do with it all, yet simultaneously having huge anxiety they'll lose it. They moan about their friends treating them like walking bank accounts, being judged for not looking the part, and no longer being able to visit - how to put it delicately? - less refined establishments.

A Discriminatory Pandemic

The Racial Inequalities of COVID-19

Dubbed 'the great equalizer' at its outset, COVID-19 has often been described as picking its victims at random. Blind to race, ethnicity, and gender, it sees just a human body, a host that enables it to do what all pathogens are programmed to do: spread. While this, from a biological perspective, may be true, the disease's sweep of the globe has been anything but equalising. Data from both the US and UK - who along with Brazil compete for the honour of worst pandemic response - show that in terms of cases and deaths, minorities are hugely overrepresented.

How the Coronavirus is Affecting Economics

15:00 8 June 2020 As some countries begin to loosen their lockdowns to varying degrees of success, many universities are still playing it on the safe side. The University of Surey, for example, has moved its CIMS summer school course online. This will be from the 7th to 12th of September 2020.