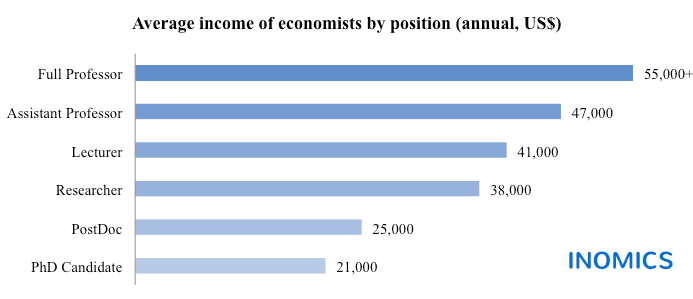 Academic Jobs and Salaries in Italy
Many believe that once one decides to follow an academic career path there is no way out. Working at a university is not only said to bring you respect and stability, but also a gradually increasing income. How high the latter might get obviously depends on many factors, such as your qualifications and the institution you graduated from, as well as the country where you are teaching.
Looking at the findings of the INOMICS Job Market Report (which is available for free download here) we clearly see difference in wage levels across academics in different part of the world. This post is dedicated to Italy, the country with one of the lowest reported salaries in Europe (followed only by Spain).
As can be seen from the graph, the salaries are not very high in the beginning of the path and although they increase with advancements (22% increase between positions on average), Full Professors earn 55,000 US$ per year on average.
According to the INOMICS Job Market Report – Italy, the first significant increase in salary happens after working for 3 years (+70% on average), and then another 72% on average is added when you reach the level of 5 years of experience.
Such relatively low reported salaries can be explained by different factors, including, among others, the young age of the respondents (65% are below 34 years old). In order to get more information about the Job Market in Italy and also see the methodology, you can download the full report here.
INOMICS has just launched the Job Market Survey 2014! Please participate and feel free to share the link below!
Also Interesting

Top Economics Journals

Getting published. It's the bane of many economists' lives, and it's never been so important. Jobs, tenure, not to mention reputation, all heavily rely on getting published – often regularly. Unsurprisingly, given its significance, there's much to consider when approaching journals. Where your work is published can have a huge effect on how it's perceived, how many people it reaches, and what kind of profile engages with it. Alarm bells need not ring, though, this article will walk you through the process, ensuring your work finds its rightful home.

10 Most Affordable Countries in Europe to Do Your Economics PhD

Fortunately, the UK and the US aren't the only two places in the world with universities great for studying economics, and particularly in Europe, higher education hasn't yet been turned into corporate business, meaning not only are degrees cheap, some are completely free. And paying less (or even nothing) doesn't translate into a lesser experience. To the contrary, many of countries on this list can make legitimate claims to housing some of the most prestigious higher learning institutions in the world.

10 Biggest Struggles of PhD Students

Doing a PhD is an incredibly daunting task. Normally at least 3 years, there are some challenges that you are almost certainly going to have to face. Below we look at some of the biggest (and most common) problems that PhD students encounter. If you are considering a PhD, or just beginning one, advanced awareness of these stresses may help you overcome them if you ever have to make their acquaintance (don't worry, we have our fingers crossed). Plus, knowing that they are frequently experienced and nothing out of the ordinary will hopefully provide you some comfort.