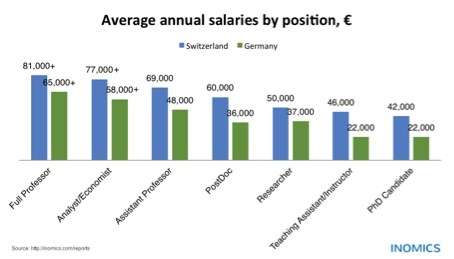 Germany vs. Switzerland: Salaries of Economists & Professors in Comparison
There are many factors affecting one's decision when choosing a job, and as the INOMICS Economics Job Market Report showed last year, a friendly working environment, flexible working hours and time to conduct one's own research seem to be the top three priorities worldwide. Salaries are rated fifth, but as we all know, expected remuneration can easily affect one's career choice.
This week we decided to look at salaries for Economists in Germany and Switzerland, and see if there is a significant difference between the two nations.
As can be clearly observed in the graph, average salaries in Switzerland are higher than those in Germany for every position, both in academia and in the private sector (Analyst/Economist). The trend becomes less extreme with experience gained and at higher seniority levels: the wage differential between Full Professors in the two countries is about 20%, while salaries for a Teaching Assistant in Switzerland are more than double that of identical positions in Germany. Naturally, one has to account for different cost of living, but the gap is quite significant.
It can also be observed that the wage increase in Germany is steeper than that in Switzerland: salary in the beginning of an economist's career path is relatively low, but it triples over time. It shall be noted here that the greatest proportion of economists earning more than €73,000 (the higher salary bracket in the Survey) are employed as Full Professors or Analysts/Economists, which is why the average number contains a plus sign.
The data for these findings was collected in the Economics Job Market Survey 2013, conducted by INOMICS. Other findings and the methodology of the survey can be found in the full version of each report, which are available for free download on the INOMICS site.
Also Interesting

Ranking, Study Advice, Career Advice, Blog Post

The Top Economics Blogs

Reading economics blogs can be an easy way to get your fill of knowledge and, in many cases, they're more palatable compared with academic journals, which can be dense and gruelling. The blogs we've listed - in no particular order - are the ones we here at INOMICS turn to when we're looking for interesting, informative, and occasionally offbeat articles on a wide range of economic topics. With much of the outside world still off-limits, they also provide an excellent and productive means of passing the time. So go on, dive in.

A Critique of Neoliberalism

Few would contest it has been the ideology of our political age. Ever since the 1980s, it has dominated western politics, underpinning governance, influencing culture, and leaving its indelible mark across society. During this time its core tenets were rarely challenged and only its peripheral aspects tweaked. The 2008 financial crash, however, changed this, shaking confidence in an ideology whose name, up until that point, was rarely ever spoken.

The Top Apps for Economists

In spite of all its distracting qualities, your phone is one of the most useful tools you've got, whether you're studying or working in the field. It's simply a question of how you use it. With this in mind, we have compiled a list of the apps that – we at INOMICS believe – are best placed to support both your studies and research. To make the most of them, maybe think about uninstalling messenger, too.