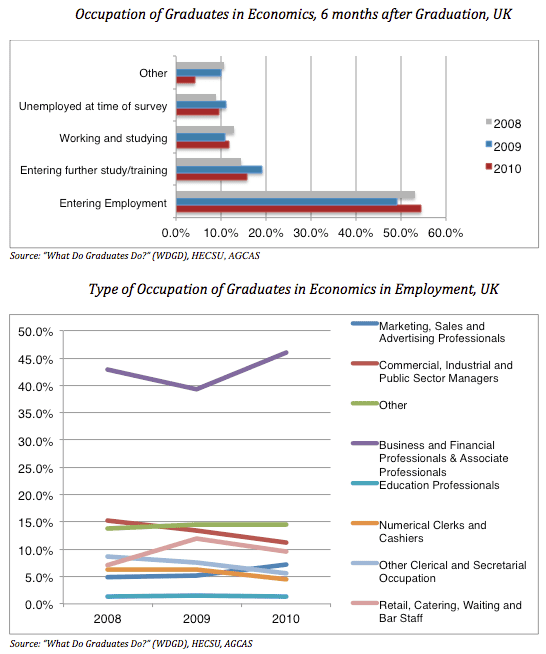 Graduates in Economics: Statistics (UK example)
What happens to economics students once they complete their first degree? Here is a snapshot of economics graduates' activities detailing their occupation six months after graduation.
According to the survey, which is published annually by the Higher Education Career Services Unit (HECSU) and the Association of Graduate Careers Advisory Services (AGCAS), in 2010 54.4% of Graduates in Economics in UK were entering employment, 15.4% went for further education or training, 11.7 % were working and studying and 9.5% were unemployed.
Among graduates in economics who were employed at the time of the survey, 42.9% were working as business and financial professionals, 15.2% as commercial, industrial and public sector managers, 6.2% as numerical clerks and cashiers and 8.6% had other clerical occupation. 7.1% of respondents were employed as retail, catering, waiting and bar staff.
You can download the complete survey, which also includes other disciplines here.
Also Interesting

Home Office and Uncertainty

COVID-19: The Economists' Experience

That the world of work has radically changed we know, we see it before our eyes: kitchens have replaced offices; pyjamas, suits; and housemates often now fill the space previously occupied by colleagues. But how have these changes - and others - been felt by economists around the world? Through a textual analysis undertaken in the INOMICS Salary Survey, we answer that question and, in doing so, paint an anecdotal picture of economists' COVID experience.

The Freight Shipping Industry

Who is Responsible for a Shipping Vessel? Ownership and Scrapping

The United Nations Convention on the Law of the Sea (UNCLOS) stipulates that the primary responsibility for vessels lies with the flag state of the vessel. Consequently, this means that each merchant vessel must be registered under the flag of a specific state. The flag state of the vessel is responsible for the inspection of the vessel and compliance with safety, pollution prevention, crew certification and international standards.

Jobs for Economists in the Government: The Right Career to Consider?

When discussing jobs in the government, the type of work that comes to mind is most likely influenced by your particular background. In countries in which large segments of the economy are nationalized, it's possible to become a civil servant in nearly any field. In other places, your options might be more limited. Regardless of where you're from, or where you'd like to work, however, every government employs economists, and it's easy to argue that they're needed now more than ever - though in the weird times of the pandemic, finding a government job may be more complicated.