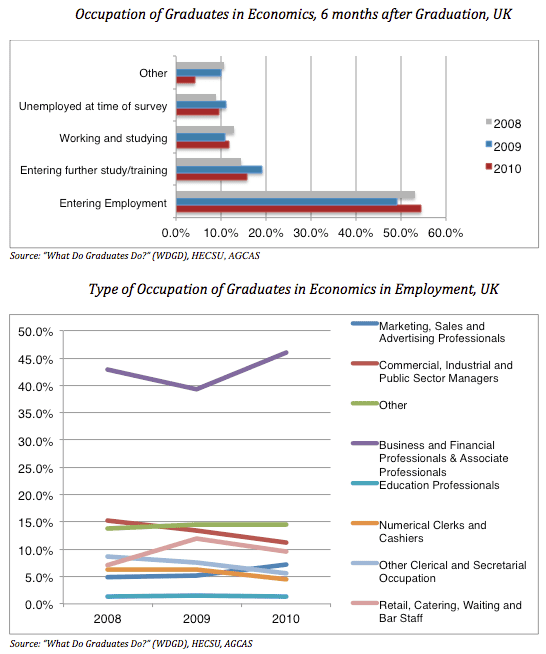 Graduates in Economics: Statistics (UK example)
What happens to economics students once they complete their first degree? Here is a snapshot of economics graduates' activities detailing their occupation six months after graduation.
According to the survey, which is published annually by the Higher Education Career Services Unit (HECSU) and the Association of Graduate Careers Advisory Services (AGCAS), in 2010 54.4% of Graduates in Economics in UK were entering employment, 15.4% went for further education or training, 11.7 % were working and studying and 9.5% were unemployed.
Among graduates in economics who were employed at the time of the survey, 42.9% were working as business and financial professionals, 15.2% as commercial, industrial and public sector managers, 6.2% as numerical clerks and cashiers and 8.6% had other clerical occupation. 7.1% of respondents were employed as retail, catering, waiting and bar staff.
You can download the complete survey, which also includes other disciplines here.
Also Interesting

8 Life Lessons You'll Learn Doing A PhD

Time management One of the first skills that you'll pick up in your PhD program is the ability to manage your own time. Unless you have an unusually overbearing supervisor, you will have to be responsible for organizing your own working days and making sure that your work gets done on time. This is excellent training for other roles later in your career in which you will have to allocate time for various tasks to meet deadlines. Browse our PhD program listings for economics

A Post-PhD Career in Research: Jack of all Trades, Master of Some

The importance of writing as communication It is indeed true that researchers like us (post-docs, research fellows, senior researchers, and so on) working in academia or in public/private/non-profit institutes spend a lot of time at their desks: writing articles, among other things. We maybe Doctors of Philosophy, but in reality, we are Masters in Writing and a few other things. This is because the demands of a researcher's role requires us to be jacks of a lot of trades and masters in some.

Optimise your Recruitment Strategy for Economics PhD Positions

Candidates can find more information in our guide on how to successfully apply to a PhD in Economics. For institutions aiming to find the best international talent for their PhD positions, the most important question is how to reach the right audience, primarily current master's students. You don't want to waste all your budget chasing after the wrong candidates.