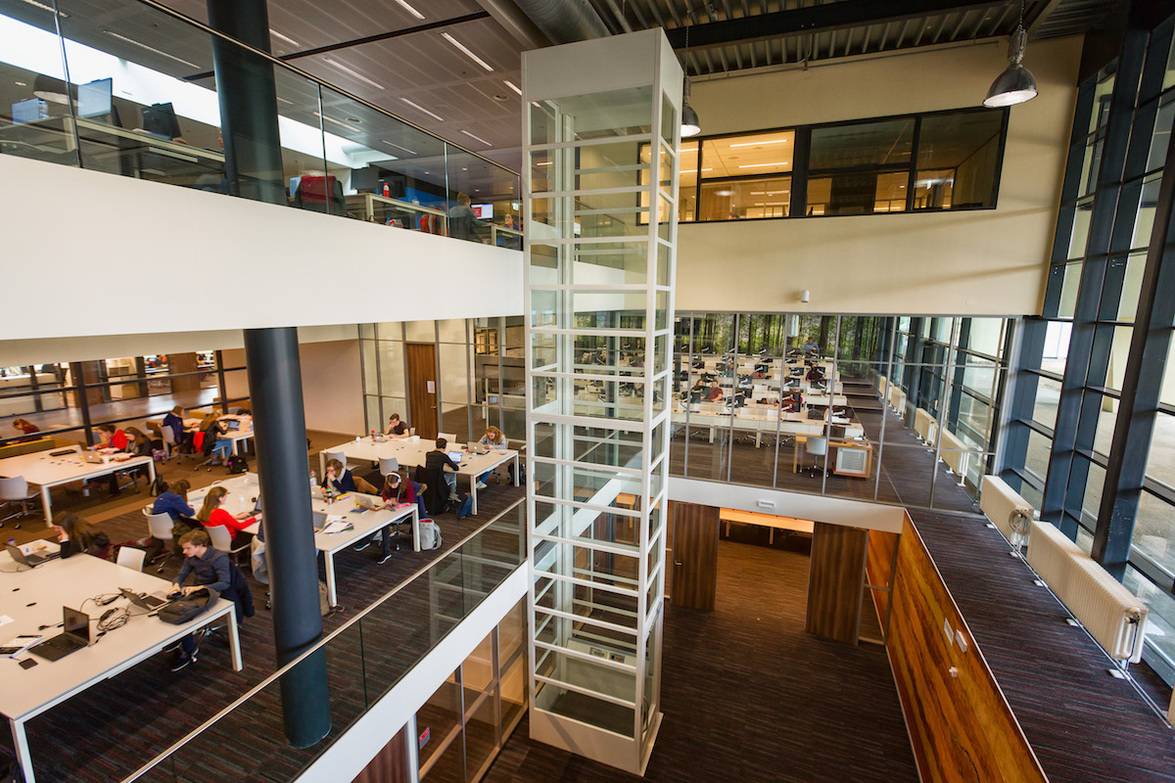 How the Economics+ approach is changing the face of the discipline
Situated in the oldest city of the Netherlands, Nijmegen, Radboud University has firmly established itself as one of the country's most reputable institutions of higher education. Offering programmes across the academic spectrum, its MSc in Economics, in particular, is attracting students from all over the world.
A growing number of graduates from this program have ascended the ranks in many sectors, from banking and consultancy, to NGOs and International Development. The Master's is distinguished not only by its impressive academic staff but also by its adoption of the Economics+ approach to teaching. To find out more, INOMICS sat down with Economics Lecturer and Researcher at Radboud, Charan van Krevel, for a chat about the MSc in Economics, his time as a student, and his position now as part of the Economics' faculty at this great university.
Get more information on the Master's programme offered by Radboud University

Much is made of the Economics+ approach that underpins the teaching of the Master's program. How does it differ from more traditional ways of teaching economics?
Traditionally taught economics approaches economic decision-making from a solely rational perspective. People are assumed to be optimizers: creatures capable of processing all available information when confronted with a choice, and who act simply to maximize their own happiness. In reality, we are constrained by the physiology of our brains and, most importantly, by our environment. Therefore Economics+ integrates insights from psychology, law, and sociology into its methodology, to better understand the occasionally counter-intuitive decisions people make. We do not negate the traditional perspective entirely as there remains much to be gained from its study; rather, we shift the emphasis toward a holistic approach to human decision-making.
How did the Economics+ approach develop?
Economics+ has actually been the main characteristic of our Bachelor's and Master's programs for a long time. Even before the crisis in 2008—which revealed the dangers of trusting any economic model that had the "optimizing individual" at its base—we placed great emphasis on the context in which economic processes happen. In the short time since its inception, Economics+ has really gained in popularity, and not just in the Netherlands. This development, I believe, owes a lot to the teaching and research of Economics at the Radboud University.
What advantages does the Economics+ approach bring to studying, work and life generally?
First off, I should say that it's not required for students to have prior experience of Economics+; in fact, most do not. Introductory courses like Pluralisms in Economics will bring students up to speed. With respect to the advantages it offers, we believe Economics+ helps foster a more realistic and nuanced approach to looking at the world. It challenges students to constantly look beyond their pre-existing conceptual horizons—a process that is designed to produce critical, flexible and adaptive problem solvers. These skills, when developed correctly, are crucial in devising policies, and are something that both companies and governments have expressed admiration for when describing our alumni. We welcome prospective students who are motivated, eager to learn, and looking to expand their horizons.
We also believe that this critical attitude and broad perspective that Economics+ instils is transferred to the way we perceive and engage with society. It enables us to better understand the viewpoints of others—crucial for consensus building—and prevents us from developing tunnel vision. Ultimately, these skills help us engage with each other more constructively in the political, economic, and social arenas. I am confident that exemplars of Economics+ will contribute to building bridges.
Where do graduates from the MSc in Economics typically end up? What are the career prospects?
The career prospects are promising! 95% of our graduates find a job within 6 months of graduation, and 35% of graduates already have a job even before graduating. Usually, they choose large enterprises, with 100+ or 1000+ employees, but some also prefer smaller companies.

The type of occupation they pursue depends a lot on their specialization. Still, a large portion of our graduates decide to go into consultancy, whether it is financial or accounting, or they go into banking. Some also opt for a career in international development, at an NGO or a government. Of course, some graduates, like me, stay in academia to teach or do research.
How much one-on-one time should prospective students expect while studying the MSc in Economics?
One-on-one time with lecturers is either built into a course itself, or is optional. For instance, when you write your master's thesis you will have a supervisor, available to you personally, with one-on-one time. Additionally, most lecturers have an open door policy if students wish to visit them or discuss something one-on-one. Our small scale teaching strategy is not only about built-in one-on-one time, but also relies a lot on student initiative and lecturer approachability.
Does the department support students in finding internships? And are there existing links with other institutions that help facilitate this process?
We find it important that students have the freedom to choose an internship if they so wish. There are several organizations with ties to Radboud that have internship programs for students. Some of these organizations are student-led, while others are independent companies. Either way, we give students the freedom do an internship by awarding credits for their completion.
Your students have ranked you highly on their student evaluations. What exactly about your teaching style do you think led to this?
Although I can't speak for my students, I can describe my teaching philosophy. For students to learn something I have to present information in a way that makes them want to learn it. So often I use humour to explain a dull theoretical concept; other times I provoke them by arguing an unpopular opinion and challenging them to prove me wrong, rewarding them when they succeed. Ultimately, I always want to engage with my students on a personal level. In trying to do so, I often use examples from my personal life. I tell my students that by the end of the course, I want to know all their names. Content-wise, I always keep in mind why I find something interesting myself, and try to inspire my students by exhibiting my sincere toddler-like curiosity.
Being alumni of the Economics+ program and now a lecturer at the faculty what would you say the program has contributed to your professional success? Why did you choose the Nijmegen School of Management at Radboud University for your studies? And if you had to choose again, would you make the same choice?
I owe a lot of my professional success to the program and being granted the opportunity to join the lecturers who inspired me as a student has been an absolute privilege. I remember when I first enrolled in the Economics Bachelor's when I was a teenager. I decided to study economics because it was by far my favourite subject in high school and I wanted to pursue a career at a financial corporation, perhaps as an accountant. But somewhere along the way my curiosity for science and economic thought drove me towards academia. My performance in the Master's distinguished me from my fellow students and my experience as a lecturer gave me the chance to pursue my dream of becoming a researcher too. The study climate in Nijmegen has definitely been conducive to my relative success. I got to know my professors personally while I was a student, and they encouraged me to follow my ambition, something that was hugely motivating. Moreover, the city of Nijmegen itself has always been the most comfortable place to live. I often travel the world, but there's no place like Nijmegen. Despite some bumps I've experienced along the road, I wouldn't have wanted it any other way.
And finally, where is the best place to relax for economics students at Radboud University?
That's tricky, because Radboud has so much to offer. Personally, I like going on serene walks in one of the many parks that border the campus, or the huge forest that's close by. In my student days I often turned to the vibrant city centre or one of the beaches. Nijmegen is not a coastal city, but we have several lakes and rivers that have fantastic beaches on their banks. There are also some concert venues in- and outside the city centre that I still frequent, in addition to the array of other nightlife options.
Get more information on the Master's programme offered by Radboud University
---
Recommended Insights
The Economics of Climate Change
Universal Basic Income: a panacea for society's ills?
10 Biggest Struggles of PhD Students
10 Characteristics of Successful Students