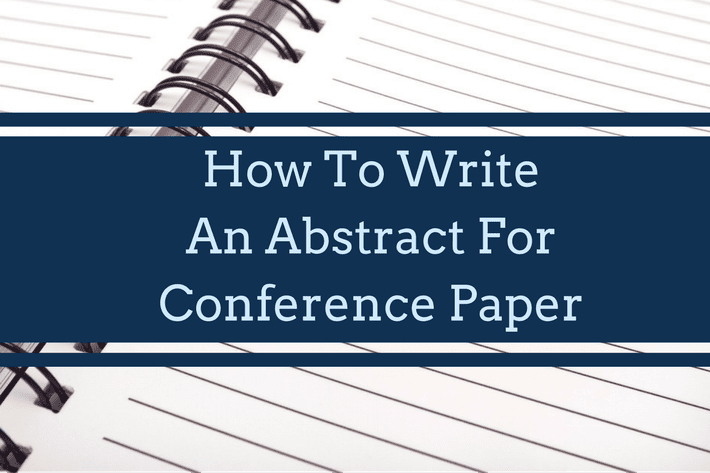 How to write an abstract for conference paper
Read a summary or generate practice questions based on this article with the new INOMICS AI toolhere.
If you want to get your work out to the academic community before you publish it, then presenting at a conference is an excellent opportunity. When you give a talk or present a poster to a conference audience, you can share your work, gather feedback and new ideas from other attendees, and raise your own profile as a researcher.
If you want to present at a conference, you'll need to send in an application to the conference organisers. As part of this application, you will have to include an abstract which summarises the work which you are planning to present. Here are our tips on writing an abstract for a conference paper, to give you the best chance of being invited to present.
Use the usual abstract structure
The abstract for your paper should be similar to the abstract you would write for a journal article or other academic purpose. You should use the same structure for your abstract (such as introduction – methodology – results – discussion) that you would normally use in your field. This structure will help you to convey all the relevant information in just a few hundred words. Remember not to be too technical or to use specialist jargon in your abstract, so that it can be understood by people who are outside of your particular sub-field. Also, take note of the word count allowed, and do not go over this.
It's fine to present preliminary results, but mark them as such
One advantage of a conference presentation is that, unlike a teaching presentation or a written paper, it's fine to show preliminary results. If you have started but not yet completed your data analysis, or if you have found something interesting but you want to run more tests before officially publishing it, you can still present what you have found so far at a conference. In fact, one of the advantages of attending conferences is getting to hear about new work before it is published. But if you do present preliminary data, but sure to mark it and announce it as such, and mention any uncertainties you have or tests you would like to perform on it in the future. This way you can get guidance or suggestions from other attendees regarding your speculations, and the audience will understand that the results you are presenting are not fully peer reviewed or finalised.
You can be speculative, more so than in a paper
Another difference between a conference presentation and a publication is that it is more acceptable to be speculative at a conference. If you have a new idea which you've been wanting to get feedback on, or if you have an unusual approach to share, then a conference is a good venue for this. So don't be afraid to mention this speculative material in your abstract.
Tie your results to the conference theme
Most conferences have a yearly theme which is specific to the subject area in which they operate. These themes tend to be broad and sometimes reflect the biggest trends or issues currently under discussion in the field. If you can tie your work into the theme of the conference you are applying to, you are more likely to be invited to present, so make sure that you mention some of the key words related to the theme in your abstract.
Highlight why your results are interesting to the audience
In your abstract, you don't want to just share your methods and results. You also want to explain why your findings are of interest to the conference audience. Do your results contradict a well-known theory? Do they provide support for one side in an ongoing debate in the field? Could they be a point of inspiration for other researchers? You should say something in your abstract about the potential impact of your work, so that organisers can see that it is relevant. Also, think about the particular attendees of the conference and try to adjust your content to make it relevant for them – for example, at a conference attended by many clinicians you should focus on the potential clinical impact of your work.

Also Interesting

Which Concentration Should You Choose For Your Master's Degree in Economics?

If you're planning to study economics at a Master's level, then you may have the opportunity to pursue a concentration, sometimes also referred to as a major. While rarer, some PhD programs may also offer concentrations, though many are already specialized degrees (or require you to have your own research agenda).

How To Find The Right Exchange Program

Exchange programs allow students to study at a different institution as part of their degree. Typically, students will use this opportunity to study abroad at a foreign partner of their home institution, though exchange programs can sometimes take place in the same country. Regardless, these programs are a fantastic way for students to broaden their horizons, take specific courses at another institution, and study abroad without committing to living multiple years in another country.

The GRE is changing: ETS to streamline the test in September 2023

The Graduate Record Examinations, more commonly known as the GRE, is one of the most important standardized tests in the world for admission to post-Baccalaureate programs. It's very often required by universities when considering admission into their Master's or even PhD programs.