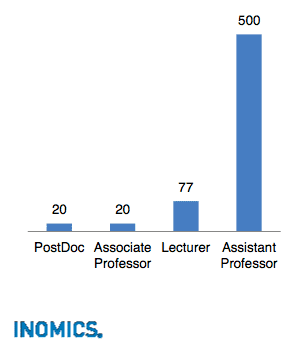 Jobs for Economists in Australia: What Recruiters are Looking For?
Figure 1. Average number of applications per position
Source: Economics Job Market Report 2013 (Australia)
Australia is known for being an attractive destination for both students and professionals from all over the world. Relatively friendly immigration policies, demand for skilled professionals (the number of places in the immigration program almost doubled in the last 10 years), high salaries and a stable economy, especially in the light of the European crises, all contribute to an appeal of the Australian job market for highly skilled candidates.
For academics, Australia is a particularly attractive destination too. As our latest research shows, Australia offers the highest salaries for Professors, not to mention extra benefits and lucrative living conditions. Moreover, the Australian job market is especially open for international applicants for economics professor positions: 0% of recruiters indicated that they would prefer a national candidate, and 30% said they would give preference to an international applicant, with 70% having no preference. However, the downside of attractive conditions is a fierce competition for the open positions.
According to INOMICS Australia Econ job Market Report, the results of which were released yesterday on the INOMICS website, the number of applications for Professor positions at the mid-level is enormous, with 500 applications per position on average. Entry-Level jobs, however, as well as Full Professor positions have much less competition and receive 20 applications per position on average. It is important to note though that the survey was conducted during the "low season" for entry-level positions, which might explain such a comparatively low number of applications for PostDoc positions.
So, what are the important characteristics recruiters are looking for in their candidates for academic economics positions in Australia?
A relevant degree, as well as research experience, have the highest importance for recruiters when choosing a candidate for an academic position at a university, with recommendations rated third. While the worldwide trend shows that recruiters of economists value communication skills over quantitative skills, it is not the case in Australia.
To read about the Economics Job Market in Australia, you can download the full version of the INOMICS Report (Australia) for free here.
Also Interesting

INOMICS Salary Report 2020

How COVID-19 has Affected Economists in the Global North and South

The damage wrought by COVID, far from equalising, has been pointedly prejudiced. While the virus itself may struggle to differentiate between people, the world in which it operates has no such problem. Indeed, its structures have ensured COVID's disruption of employment has fallen unevenly across regions - the experience of economists a case in point.

Jobs for Economists in the Government: The Right Career to Consider?

When discussing jobs in the government, the type of work that comes to mind is most likely influenced by your particular background. In countries in which large segments of the economy are nationalized, it's possible to become a civil servant in nearly any field. In other places, your options might be more limited. Regardless of where you're from, or where you'd like to work, however, every government employs economists, and it's easy to argue that they're needed now more than ever - though in the weird times of the pandemic, finding a government job may be more complicated.

Home Office and Uncertainty

COVID-19: The Economists' Experience

That the world of work has radically changed we know, we see it before our eyes: kitchens have replaced offices; pyjamas, suits; and housemates often now fill the space previously occupied by colleagues. But how have these changes - and others - been felt by economists around the world? Through a textual analysis undertaken in the INOMICS Salary Survey, we answer that question and, in doing so, paint an anecdotal picture of economists' COVID experience.