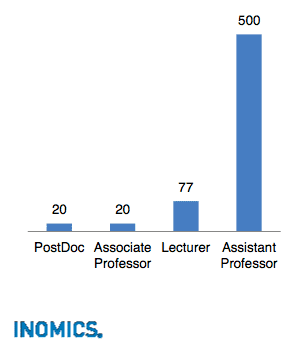 Jobs for Economists in Australia: What Recruiters are Looking For?
Figure 1. Average number of applications per position
Source: Economics Job Market Report 2013 (Australia)
Australia is known for being an attractive destination for both students and professionals from all over the world. Relatively friendly immigration policies, demand for skilled professionals (the number of places in the immigration program almost doubled in the last 10 years), high salaries and a stable economy, especially in the light of the European crises, all contribute to an appeal of the Australian job market for highly skilled candidates.
For academics, Australia is a particularly attractive destination too. As our latest research shows, Australia offers the highest salaries for Professors, not to mention extra benefits and lucrative living conditions. Moreover, the Australian job market is especially open for international applicants for economics professor positions: 0% of recruiters indicated that they would prefer a national candidate, and 30% said they would give preference to an international applicant, with 70% having no preference. However, the downside of attractive conditions is a fierce competition for the open positions.
According to INOMICS Australia Econ job Market Report, the results of which were released yesterday on the INOMICS website, the number of applications for Professor positions at the mid-level is enormous, with 500 applications per position on average. Entry-Level jobs, however, as well as Full Professor positions have much less competition and receive 20 applications per position on average. It is important to note though that the survey was conducted during the "low season" for entry-level positions, which might explain such a comparatively low number of applications for PostDoc positions.
So, what are the important characteristics recruiters are looking for in their candidates for academic economics positions in Australia?
A relevant degree, as well as research experience, have the highest importance for recruiters when choosing a candidate for an academic position at a university, with recommendations rated third. While the worldwide trend shows that recruiters of economists value communication skills over quantitative skills, it is not the case in Australia.
To read about the Economics Job Market in Australia, you can download the full version of the INOMICS Report (Australia) for free here.
Also Interesting

10 Most Affordable Countries in Europe to Do Your Economics PhD

Fortunately, the UK and the US aren't the only two places in the world with universities great for studying economics, and particularly in Europe, higher education hasn't yet been turned into corporate business, meaning not only are degrees cheap, some are completely free. And paying less (or even nothing) doesn't translate into a lesser experience. To the contrary, many of countries on this list can make legitimate claims to housing some of the most prestigious higher learning institutions in the world.

Ranking, Study Advice, Career Advice, Blog Post

The Top Economics Blogs

Reading economics blogs can be an easy way to get your fill of knowledge and, in many cases, they're more palatable compared with academic journals, which can be dense and gruelling. The blogs we've listed - in no particular order - are the ones we here at INOMICS turn to when we're looking for interesting, informative, and occasionally offbeat articles on a wide range of economic topics. With much of the outside world still off-limits, they also provide an excellent and productive means of passing the time. So go on, dive in.

The Pros and Cons of a Career in Research

Upon completion of a Master's degree or PhD, the big question arises: what next? Although it seems like natural progression to continue with further research, there are many other careers open to academics in business, education, or communications and journalism, to name but a few examples. So how do you know if research is the right career choice for you? A good way of figuring it out is weighing up the pros and cons.