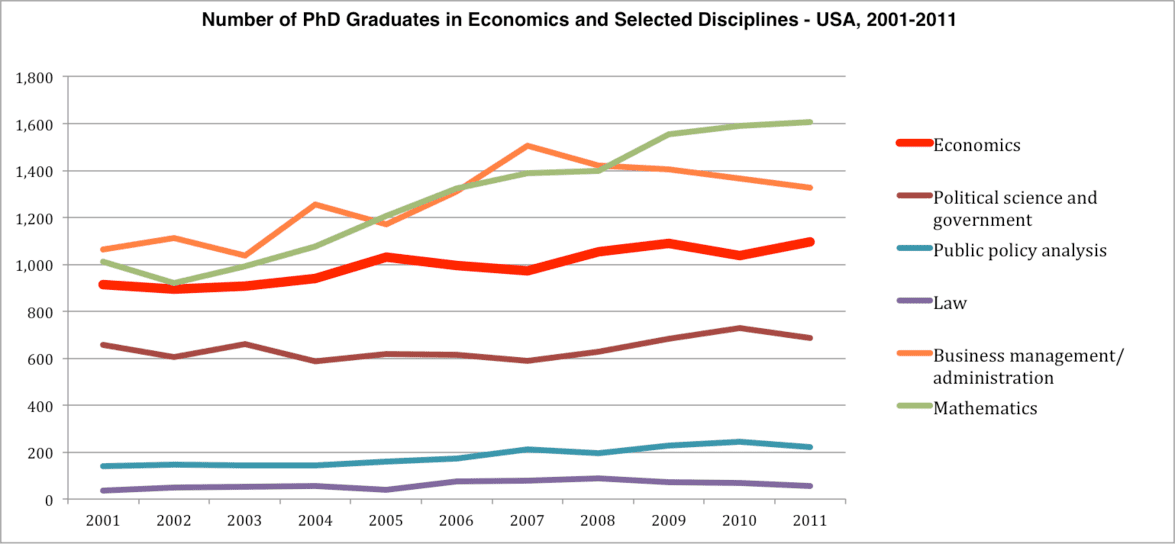 PhD Graduates: Disciplines and Numbers
Source: National Science Foundation, NSF/NIH/USED/USDA/NEH/NASA, Survey of Earned Doctorates
After our recent blog-post comparing the number of PhD graduates in the US and China we decided to have a closer look at the number of graduates in specific disciplines in the US, focusing on the change in the numbers of PhD graduates between 2001 and 2011 and see where Economics stands in comparison.
Despite the general overall growth in the number of Doctorate degrees granted in the last ten years in the US, this growth was not spread equally across all disciplines. The largest number of PhDs in 2011 were awarded in Life Sciences (11,467), Physical Sciences (8,678) and Engineering (8,004). The biggest growth, both in relative and absolute terms also occurred within the same fields (about 30% in 10 years). Within the Physical Sciences the number of PhDs granted in computer science doubled (from 830 in 2001 to 1,710 in 2011), with significant growth also in Mathematics and Physics.
In other disciplines the number of PhDs is traditionally lower. In 2011 5,014 Doctorates were granted in Humanities, 4,691 in Education and 4,526 in Social Sciences. The number of PhDs in Education fell from 6,356 in 2001 to 4,691 in 2011, and the number of PhDs in Humanities stayed almost at the same level, with a slight decrease. In contrast, the number of PhDs granted in Social Sciences grew: from 3,624 in 2001 to 4,526 in 2011.
Within the field of Social Sciences, the majority of Doctorates were granted in Economics (with a slight growth since 2001), followed by the Political Science & Government (with a slight decline since 2010) and Sociology.
You can see the full list of PhD Graduates by subfields here.
Also Interesting

Should you prolong your predoc life?

If you go through curricula vitae of recent PhD graduates, you may find it's not uncommon to see that a PhD owns two master's degrees. As lots of MA/MSc in Economics programs are one-year programs, some students will pursue an MRes or MPhil in Economics afterwards. Others may opt for a degree in applied mathematics, statistics or another field with an intention to strengthen their quantitative and/or coding skills (summer school programs are another option to do this).

A Post-PhD Career in Research: Jack of all Trades, Master of Some

The importance of writing as communication It is indeed true that researchers like us (post-docs, research fellows, senior researchers, and so on) working in academia or in public/private/non-profit institutes spend a lot of time at their desks: writing articles, among other things. We maybe Doctors of Philosophy, but in reality, we are Masters in Writing and a few other things. This is because the demands of a researcher's role requires us to be jacks of a lot of trades and masters in some.

Study Advice Article, Career Advice Article

How to balance your PhD and your social life

Treat your PhD like a regular job One of the challenges of adjusting to life as a PhD student is the lack of a firm schedule or a definite structure. Although there are options for structured PhD programs, especially in the US, many PhD programs do not have required coursework or set work times. This can make it hard to know when you should be working, and conversely, when you are allowed to take time off.