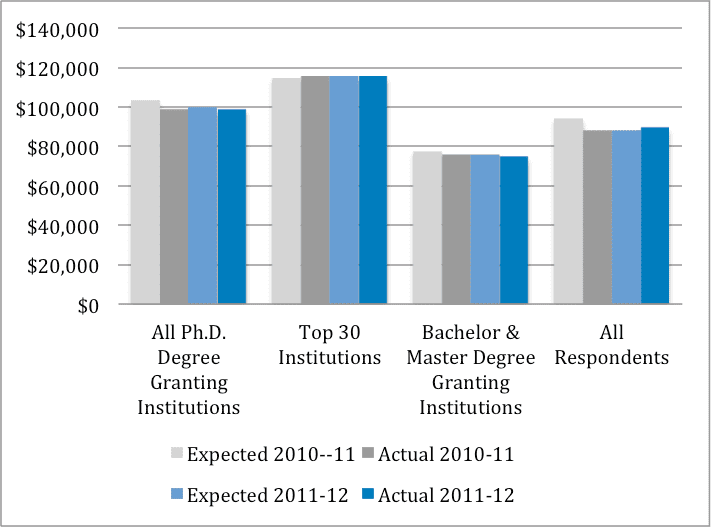 Salaries of Econ PhDs in the US
New Ph.D Hires in Economics: Expected and Actual Offers for the 2010-11 Academic Year
Last month Arkansas University published a survey on the labor market for new Ph.D hires in economics 2011 – 2012. The survey, which was featured in Greg Mankiw's Blog, offered a comprehensive overview of expected and real salaries for new PH.D. hires, based on a questionnaire response from 191 US academic institutions.
According to the responses from 90 institutions, the average expected salary in 2011-2012 is $89,155, which is 1.8 % more than an actual offer in 2010-11. The average expected offer by Ph.D. degree granting institutions is $99,269 and $115,000 by Top 30 institutions, whereas an average expected offer by Bachelor and Master degree granting institutions is $74,520.
Based on data from the survey from last year, " … all doctoral degree granting programs made actual offers 1.6 percent below what was expected, Top 30 institutions made actual offers 4.0 percent above what was expected, and the actual offers of Master and Bachelor degree granting schools were 2.0 percent below average expected values. For all 109 respondents, the average actual offer was below the average expected offer."
Additional Support
Some of the institutions that participated in the survey offer additional support to their candidates, often including relocation allowances (90.8 %), housing allowances (7.8 %), TIAA-CREF retirement plan (88.3 %), full vesting (58.3 %), or no-cost life insurance (72.2%).
To see the full report, click here
Source: Graphs are based on Survey of the labor market for new PH.D. hires in economics 2011 – 12, Sam M. Walton College of Business, University of Arkansas
Also Interesting

Why study at University of Applied Sciences Utrecht, Netherlands?

Programs available at HU This combination of conveying both knowledge and skills is key to the university experience at HU. As Lorenza explained, "The HU definitely allows a practical university experience. Although there is theory included in the courses, most of the projects consist in applying the theory to brands and experiences. It is an approach that not only helps students to be creative but also to be prepared for a future job."

Summer tips to make the most of your recruitment on INOMICS

1) Re-Use and Re-Activate Previous Announcements Our customer team will help you keep your content up-to-date online, or boost your next campaign. By keeping an existing page online, you can benefit from the "reputation" your opportunity has already gained with Google and other search engines (SEO).

Salaries in Economics: Does having a PhD Matter?

Now, with the release of the INOMICS Salary Report – based on the salary data of almost 2,000 economists – any uncertainty can be laid to rest and the question answered: in financial terms, yes, having a PhD does matter. In fact, to say that it matters is something of an understatement – such is its influence on an economist's future earnings.