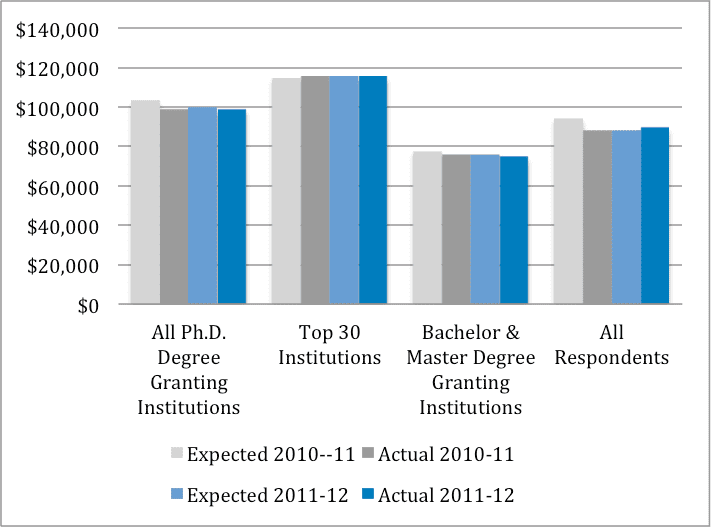 Salaries of Econ PhDs in the US
Read a summary or generate practice questions based on this article with the new INOMICS AI toolhere.
New Ph.D Hires in Economics: Expected and Actual Offers for the 2010-11 Academic Year
Last month Arkansas University published a survey on the labor market for new Ph.D hires in economics 2011 – 2012. The survey, which was featured in Greg Mankiw's Blog, offered a comprehensive overview of expected and real salaries for new PH.D. hires, based on a questionnaire response from 191 US academic institutions.
According to the responses from 90 institutions, the average expected salary in 2011-2012 is $89,155, which is 1.8 % more than an actual offer in 2010-11. The average expected offer by Ph.D. degree granting institutions is $99,269 and $115,000 by Top 30 institutions, whereas an average expected offer by Bachelor and Master degree granting institutions is $74,520.
Based on data from the survey from last year, " … all doctoral degree granting programs made actual offers 1.6 percent below what was expected, Top 30 institutions made actual offers 4.0 percent above what was expected, and the actual offers of Master and Bachelor degree granting schools were 2.0 percent below average expected values. For all 109 respondents, the average actual offer was below the average expected offer."
Additional Support
Some of the institutions that participated in the survey offer additional support to their candidates, often including relocation allowances (90.8 %), housing allowances (7.8 %), TIAA-CREF retirement plan (88.3 %), full vesting (58.3 %), or no-cost life insurance (72.2%).
To see the full report, click here
Source: Graphs are based on Survey of the labor market for new PH.D. hires in economics 2011 – 12, Sam M. Walton College of Business, University of Arkansas
Also Interesting

How To Find The Right Exchange Program

Exchange programs allow students to study at a different institution as part of their degree. Typically, students will use this opportunity to study abroad at a foreign partner of their home institution, though exchange programs can sometimes take place in the same country. Regardless, these programs are a fantastic way for students to broaden their horizons, take specific courses at another institution, and study abroad without committing to living multiple years in another country.

Which Concentration Should You Choose For Your Master's Degree in Economics?

If you're planning to study economics at a Master's level, then you may have the opportunity to pursue a concentration, sometimes also referred to as a major. While rarer, some PhD programs may also offer concentrations, though many are already specialized degrees (or require you to have your own research agenda).

The GRE is changing: ETS to streamline the test in September 2023

The Graduate Record Examinations, more commonly known as the GRE, is one of the most important standardized tests in the world for admission to post-Baccalaureate programs. It's very often required by universities when considering admission into their Master's or even PhD programs.