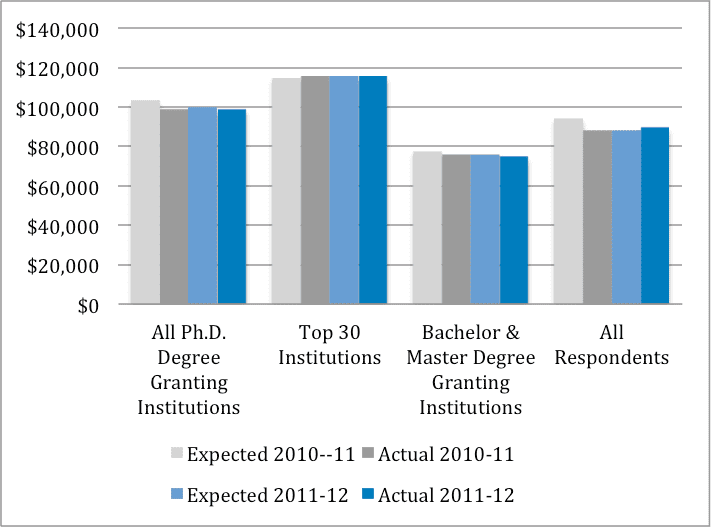 Salaries of Econ PhDs in the US
New Ph.D Hires in Economics: Expected and Actual Offers for the 2010-11 Academic Year
Last month Arkansas University published a survey on the labor market for new Ph.D hires in economics 2011 – 2012. The survey, which was featured in Greg Mankiw's Blog, offered a comprehensive overview of expected and real salaries for new PH.D. hires, based on a questionnaire response from 191 US academic institutions.
According to the responses from 90 institutions, the average expected salary in 2011-2012 is $89,155, which is 1.8 % more than an actual offer in 2010-11. The average expected offer by Ph.D. degree granting institutions is $99,269 and $115,000 by Top 30 institutions, whereas an average expected offer by Bachelor and Master degree granting institutions is $74,520.
Based on data from the survey from last year, " … all doctoral degree granting programs made actual offers 1.6 percent below what was expected, Top 30 institutions made actual offers 4.0 percent above what was expected, and the actual offers of Master and Bachelor degree granting schools were 2.0 percent below average expected values. For all 109 respondents, the average actual offer was below the average expected offer."
Additional Support
Some of the institutions that participated in the survey offer additional support to their candidates, often including relocation allowances (90.8 %), housing allowances (7.8 %), TIAA-CREF retirement plan (88.3 %), full vesting (58.3 %), or no-cost life insurance (72.2%).
To see the full report, click here
Source: Graphs are based on Survey of the labor market for new PH.D. hires in economics 2011 – 12, Sam M. Walton College of Business, University of Arkansas
Also Interesting

Decisions, Decisions, Decisions

Pros and Cons of Being A College Professor

If you're thinking about which direction to take your research career, one possibility is the professor route, teaching and researching in a university context. This is one of the most desirable jobs among young academics, and something that people often strive for. But what are the pros and cons of working as a college professor?

Ranking, Study Advice, Career Advice, Blog Post

The Top Economics Blogs

Reading economics blogs can be an easy way to get your fill of knowledge and, in many cases, they're more palatable compared with academic journals, which can be dense and gruelling. The blogs we've listed - in no particular order - are the ones we here at INOMICS turn to when we're looking for interesting, informative, and occasionally offbeat articles on a wide range of economic topics. With much of the outside world still off-limits, they also provide an excellent and productive means of passing the time. So go on, dive in.

A Critique of Neoliberalism

Few would contest it has been the ideology of our political age. Ever since the 1980s, it has dominated western politics, underpinning governance, influencing culture, and leaving its indelible mark across society. During this time its core tenets were rarely challenged and only its peripheral aspects tweaked. The 2008 financial crash, however, changed this, shaking confidence in an ideology whose name, up until that point, was rarely ever spoken.