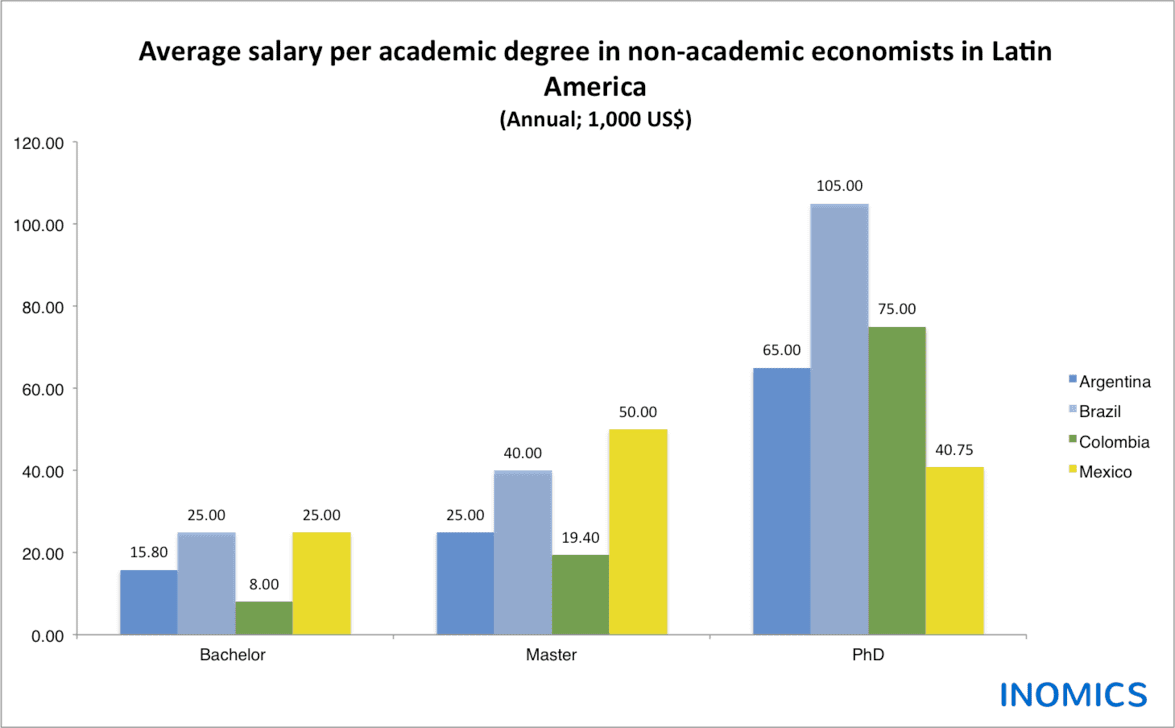 Salaries of Economists in Latin America: Where Do Economists Earn the Most?
Read a summary or generate practice questions based on this article with the new INOMICS AI toolhere.
As previously mentioned in our articles about Spanish professionals moving to South America and Brazil as a new destination for skilled migration, Latin America is becoming ever more attractive in terms of professional development for people from all over the world. Latin American migration trends are undoubtedly connected to demographic and economic indicators for the region. In some cases, countries like Brazil stand out thanks to promising conditions for foreign employees, or increasing living standards and wages for the higher-educated workforce.
The decision to move to a new country requires detailed information to justify such a drastic life change, where potential income level plays a central role. For economists who are considering work in a different country in Latin America or just for professionals interested in labor mobility, we have compiled a brief regional comparison of wages by academic degree for Latin American economists in academic jobs. This short summary is based on our latest report.
As is seen in the global trend, the graph above indicates that income level of economists rises as they advance in their professional development. Generally economists with doctoral degrees have better chances of achieving high salary ranges, with the exception of Mexico, where salaries of PhD holders were reported not to exceed those of Master's holders.
Brazil can be identified as the country that offers the best salaries in the region. Analysts, economists and researchers with a PhD title in Brazil receive salaries up to 30% greater than those professions in countries such as Argentina, Colombia and Mexico. However, in the case of professionals with Bachelor's and Master's degrees, Mexico achieves equal salaries or surpasses the offers made by Brazil.
Please note: the wages shown in the graph are not adjusted to real income; the cost of living is not included in the analysis, so it is important to consider other factors in further judgements. To see a detailed methodology and profile of the respondents, please see the Economics Job Market Report 2013 (Latin America), which is available for free download. The report contains valuable information about wages, employment preferences, international mobility and education, the value of academic qualifications and work experience when looking for a new job, and other matters related to professional development.
Also Interesting

The GRE is changing: ETS to streamline the test in September 2023

The Graduate Record Examinations, more commonly known as the GRE, is one of the most important standardized tests in the world for admission to post-Baccalaureate programs. It's very often required by universities when considering admission into their Master's or even PhD programs.

Which Concentration Should You Choose For Your Master's Degree in Economics?

If you're planning to study economics at a Master's level, then you may have the opportunity to pursue a concentration, sometimes also referred to as a major. While rarer, some PhD programs may also offer concentrations, though many are already specialized degrees (or require you to have your own research agenda).

How To Find The Right Exchange Program

Exchange programs allow students to study at a different institution as part of their degree. Typically, students will use this opportunity to study abroad at a foreign partner of their home institution, though exchange programs can sometimes take place in the same country. Regardless, these programs are a fantastic way for students to broaden their horizons, take specific courses at another institution, and study abroad without committing to living multiple years in another country.