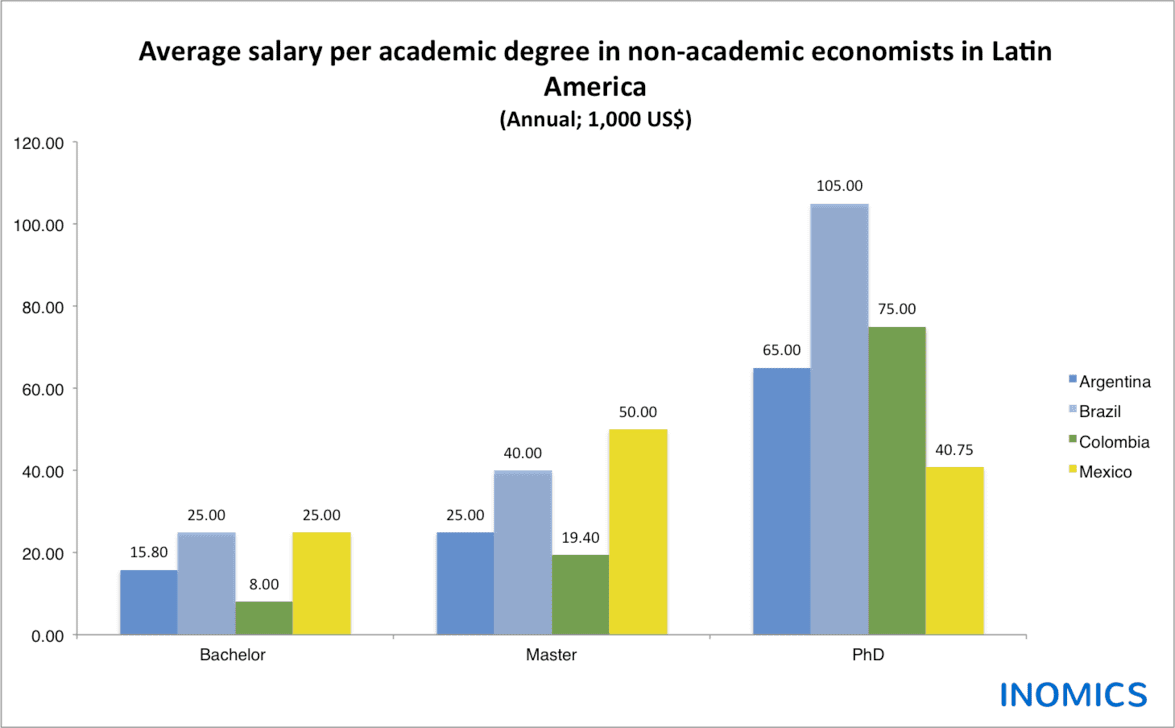 Salaries of Economists in Latin America: Where Do Economists Earn the Most?
As previously mentioned in our articles about Spanish professionals moving to South America and Brazil as a new destination for skilled migration, Latin America is becoming ever more attractive in terms of professional development for people from all over the world. Latin American migration trends are undoubtedly connected to demographic and economic indicators for the region. In some cases, countries like Brazil stand out thanks to promising conditions for foreign employees, or increasing living standards and wages for the higher-educated workforce.
The decision to move to a new country requires detailed information to justify such a drastic life change, where potential income level plays a central role. For economists who are considering work in a different country in Latin America or just for professionals interested in labor mobility, we have compiled a brief regional comparison of wages by academic degree for Latin American economists in academic jobs. This short summary is based on our latest report.
As is seen in the global trend, the graph above indicates that income level of economists rises as they advance in their professional development. Generally economists with doctoral degrees have better chances of achieving high salary ranges, with the exception of Mexico, where salaries of PhD holders were reported not to exceed those of Master's holders.
Brazil can be identified as the country that offers the best salaries in the region. Analysts, economists and researchers with a PhD title in Brazil receive salaries up to 30% greater than those professions in countries such as Argentina, Colombia and Mexico. However, in the case of professionals with Bachelor's and Master's degrees, Mexico achieves equal salaries or surpasses the offers made by Brazil.
Please note: the wages shown in the graph are not adjusted to real income; the cost of living is not included in the analysis, so it is important to consider other factors in further judgements. To see a detailed methodology and profile of the respondents, please see the Economics Job Market Report 2013 (Latin America), which is available for free download. The report contains valuable information about wages, employment preferences, international mobility and education, the value of academic qualifications and work experience when looking for a new job, and other matters related to professional development.
Also Interesting

The Pros and Cons of a Career in Research

Upon completion of a Master's degree or PhD, the big question arises: what next? Although it seems like natural progression to continue with further research, there are many other careers open to academics in business, education, or communications and journalism, to name but a few examples. So how do you know if research is the right career choice for you? A good way of figuring it out is weighing up the pros and cons.

Recognising What Matters Most

The UK COVID-19 Recovery and the Case for Community Wealth Building

'The greatest science policy failure for a generation' is how the editor of The Lancet, Richard Horton, described the UK's COVID response last June. It was a widely shared sentiment – made credible by the UK having one of the highest death rates in the western world. Fast forward to the present, and the government has finally claimed a 'much needed win' – a big one, too.

The Problems With Development Aid

​Development aid: what is it good for? Well, according to much research the answer may well be absolutely nothing. In fact, it may well be worse than nothing. When judged against its aim of 'instigating economic development and alleviating poverty', its record is so dismal it looks as though aid actually hinders the achievement of its own stated goals. And the curious thing is this seems to be something of an open secret. Even to an untrained eye the big numbers pertaining to development aid don't look right. Take Africa, for example.