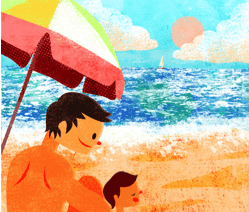 Summer Schools 2014: be found on time
It is no secret that Summer Schools are among the most visited types of Announcement on INOMICS. As many PhD and Masters students aim to be awarded external funding or need to go through complex bureaucratic procedures inside their own institutions before they can attend, their decision about which Summer School(s) to attend often needs to be made several months ahead.
In 2013, our Blog Post Top Economics Summer Schools was the most visited article of the year, which confirms that interest in this kind of program is enormous, with the peak starting at the end of January each year. Many of the INOMICS summer school visitors are returning visitors, which means that annually students and professionals are searching and comparing their options, and eagerly waiting for new summer school opportunities.
Unfortunately, if a summer school promotion is not timed properly, for example if there is too little time before the application deadline or not enough time for the applicant to apply for funding, many participants who would otherwise apply can be lost. That is why it is important to make sure that your summer schools are published on the INOMICS website well in advance. Institutions that post two or more months in advance typically receive several times more views and, hence, qualified applications than those posting last minute.
So, now is the time to post your summer schools – and the earlier your summer school appears online, the more chance you have to find qualified and motivated participants! Contact our sales team, or just post your announcement here.
Photo Credit: taichi_nishida