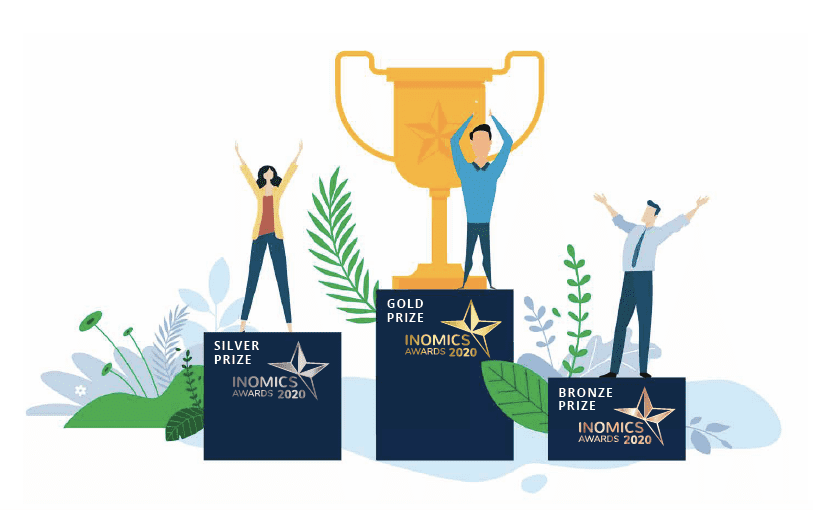 The INOMICS Handbook
The 2020 INOMICS Awards
Now in their fourth year, the prestigious INOMICS Awards recognise the top career and study opportunities offered by INOMICS customers in 2019. Keeping with tradition, we divided the awards into categories to showcase exactly which opportunities were of greatest interest to INOMICS users. They include: Top Employers, Top Training Courses, Top Places to do a Master's, Top Places to do a PhD, Top Conference Organizers and Top Summer School Organizers.

Acknowledging the fierceness of competition we awarded Gold, Silver and Bronze prizes in each category, toagether with a shortlist of institutions worthy of recognition. To reach this list, we combined the total interest generated by each opportunity, together with the attractiveness of the opportunity as defined by the percentage of those viewing it who were interested enough to enquire further. As such, the Awards are a reflection of the interests and ambitions of INOMICS users.
Across the categories nominees included: Ludwig Maximilians University; Barcelona Graduate School of Economics; EcoMod School of Modeling and Data Science; School of Economics, University of Surrey; Economics School of Louvain; Guido Carli University of Rome; Paris School of Economics; University of St. Gallen; and the Erasmus School of Economics at University Rotterdam. All are elite institutions and worthy winners. However, to find out who actually took home the gongs, download this year's Handbook here. In addition to the Awards, it also contains discussions on tax reform, the COVID-19 pandemic, and the sexism latent in our economies. It's a bumper issue and not to be missed.
Also Interesting

Free e-Guide for Recruiters

Recruitment during Covid-19

The e-guide "RECRUITMENT DURING COVID-19" includes:

Making Money With Your Degree

High-Salary Career Options for Economists

Before you start considering what crazy lucrative job you are going to get with your economics degree, consider this fact: a lot of rich people don't like their money. Many complain about not knowing what to do with it all, yet simultaneously having huge anxiety they'll lose it. They moan about their friends treating them like walking bank accounts, being judged for not looking the part, and no longer being able to visit - how to put it delicately? - less refined establishments.

A Discriminatory Pandemic

The Racial Inequalities of COVID-19

Dubbed 'the great equalizer' at its outset, COVID-19 has often been described as picking its victims at random. Blind to race, ethnicity, and gender, it sees just a human body, a host that enables it to do what all pathogens are programmed to do: spread. While this, from a biological perspective, may be true, the disease's sweep of the globe has been anything but equalising. Data from both the US and UK - who along with Brazil compete for the honour of worst pandemic response - show that in terms of cases and deaths, minorities are hugely overrepresented.