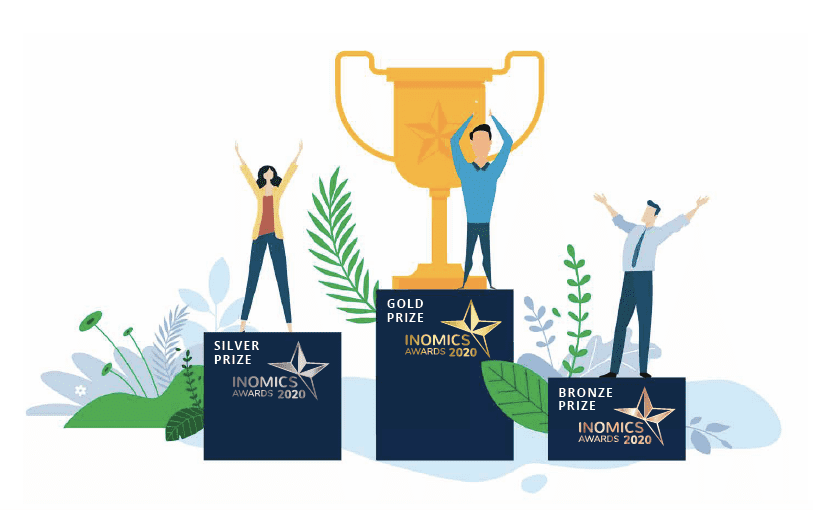 The INOMICS Handbook
The 2020 INOMICS Awards
Now in their fourth year, the prestigious INOMICS Awards recognise the top career and study opportunities offered by INOMICS customers in 2019. Keeping with tradition, we divided the awards into categories to showcase exactly which opportunities were of greatest interest to INOMICS users. They include: Top Employers, Top Training Courses, Top Places to do a Master's, Top Places to do a PhD, Top Conference Organizers and Top Summer School Organizers.

Acknowledging the fierceness of competition we awarded Gold, Silver and Bronze prizes in each category, toagether with a shortlist of institutions worthy of recognition. To reach this list, we combined the total interest generated by each opportunity, together with the attractiveness of the opportunity as defined by the percentage of those viewing it who were interested enough to enquire further. As such, the Awards are a reflection of the interests and ambitions of INOMICS users.
Across the categories nominees included: Ludwig Maximilians University; Barcelona Graduate School of Economics; EcoMod School of Modeling and Data Science; School of Economics, University of Surrey; Economics School of Louvain; Guido Carli University of Rome; Paris School of Economics; University of St. Gallen; and the Erasmus School of Economics at University Rotterdam. All are elite institutions and worthy winners. However, to find out who actually took home the gongs, download this year's Handbook here. In addition to the Awards, it also contains discussions on tax reform, the COVID-19 pandemic, and the sexism latent in our economies. It's a bumper issue and not to be missed.
Also Interesting

Ranking, Study Advice, Career Advice, Blog Post

Top Economics Journals

Getting published. It's the bane of many economists' lives, and it's never been so important. Jobs, tenure, not to mention reputation, all now heavily rely on getting published, often regularly. Unsurprisingly, given its importance, there's much to consider when approaching journals. Where your work is published can have a huge effect on how it's perceived, how many people it reaches, and what kind of profile engages with it.

Home Office and Uncertainty

COVID-19: The Economists' Experience

That the world of work has radically changed we know, we see it before our eyes: kitchens have replaced offices; pyjamas, suits; and housemates often now fill the space previously occupied by colleagues. But how have these changes - and others - been felt by economists around the world? Through a textual analysis undertaken in the INOMICS Salary Survey, we answer that question and, in doing so, paint an anecdotal picture of economists' COVID experience.

Power your Recruitment Strategy with a Multi-Channel Campaign

Multi-channel marketing campaigns allow institutions to increase conversion rates by interacting with potential candidates (students, professors and researchers) at different stages of their decision process, using the best channel for that stage. For example, a candidate who has already visited your institution website is more likely to respond positively to a direct email campaign, while a young candidate who has not yet heard of your university/centre/company is more responsive to meeting representatives at a recruitment fair.