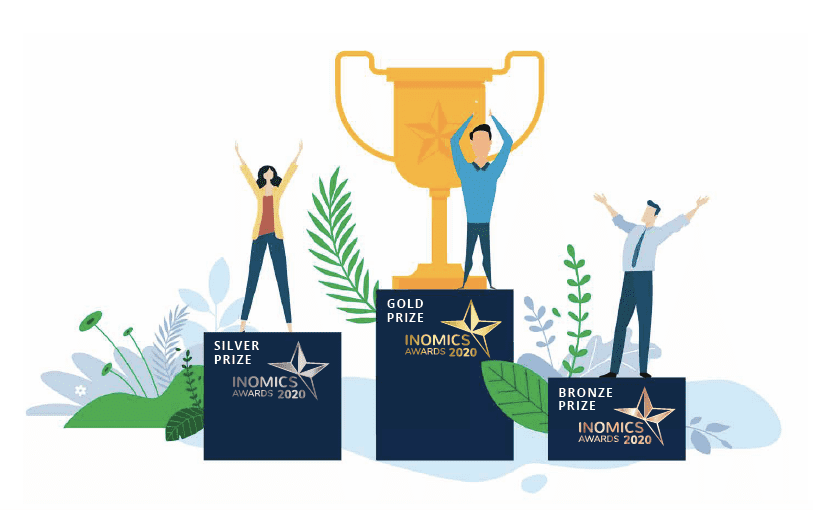 The INOMICS Handbook
The 2020 INOMICS Awards
Now in their fourth year, the prestigious INOMICS Awards recognise the top career and study opportunities offered by INOMICS customers in 2019. Keeping with tradition, we divided the awards into categories to showcase exactly which opportunities were of greatest interest to INOMICS users. They include: Top Employers, Top Training Courses, Top Places to do a Master's, Top Places to do a PhD, Top Conference Organizers and Top Summer School Organizers.

Acknowledging the fierceness of competition we awarded Gold, Silver and Bronze prizes in each category, toagether with a shortlist of institutions worthy of recognition. To reach this list, we combined the total interest generated by each opportunity, together with the attractiveness of the opportunity as defined by the percentage of those viewing it who were interested enough to enquire further. As such, the Awards are a reflection of the interests and ambitions of INOMICS users.
Across the categories nominees included: Ludwig Maximilians University; Barcelona Graduate School of Economics; EcoMod School of Modeling and Data Science; School of Economics, University of Surrey; Economics School of Louvain; Guido Carli University of Rome; Paris School of Economics; University of St. Gallen; and the Erasmus School of Economics at University Rotterdam. All are elite institutions and worthy winners. However, to find out who actually took home the gongs, download this year's Handbook here. In addition to the Awards, it also contains discussions on tax reform, the COVID-19 pandemic, and the sexism latent in our economies. It's a bumper issue and not to be missed.
Also Interesting

For conference organizers

Event management and organization during the coronavirus outbreak

Virtual options such as GoToMeeting and Zoom are viable solutions which allow conference organizers to host their events safely, in spite of the pandemic. Virtual broadcasting may also allow you to expand the options available to participants. Here's how: Pre-recorded sessions:

The Pros and Cons of a Career in Research

Upon completion of a Master's degree or PhD, the big question arises: what next? Although it seems like natural progression to continue with further research, there are many other careers open to academics in business, education, or communication and journalism, to name but a few examples. So how do you know if research is the right career choice for you? A good way of figuring it out is weighing up the pros and cons. Browse our job listings for economics opportunities

The Lives and Livelihoods Fund

Four years ago, the world adopted an ambitious set of Sustainable Development Goals (SDGs) designed 'to end poverty, protect the planet and ensure that all people enjoy peace and prosperity by 2030'. Despite rising life expectancy and the eradication of many endemic diseases, more than 400 million people in the member states of the Islamic Development Bank (IsDB) still live in absolute poverty, subsisting on less than US$1.90 per day. It is, perhaps, these countries that face the greatest challenges in fulfilling the SDGs.