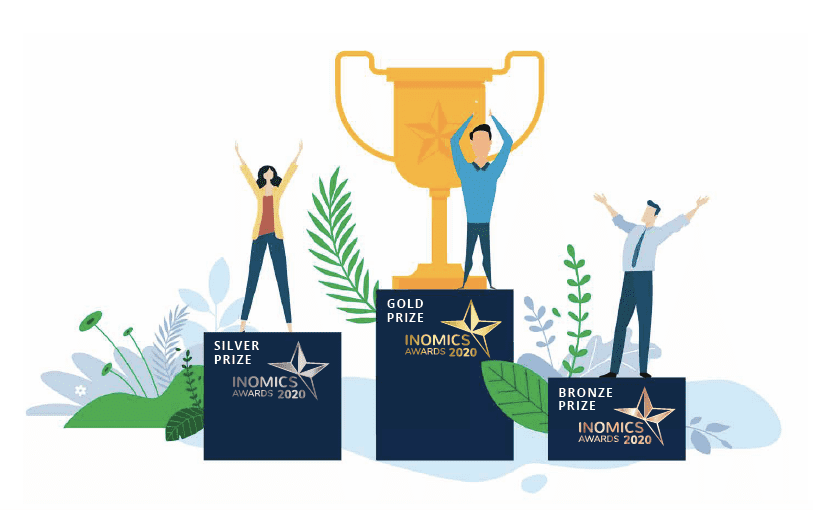 The INOMICS Handbook
The 2020 INOMICS Awards
Now in their fourth year, the prestigious INOMICS Awards recognise the top career and study opportunities offered by INOMICS customers in 2019. Keeping with tradition, we divided the awards into categories to showcase exactly which opportunities were of greatest interest to INOMICS users. They include: Top Employers, Top Training Courses, Top Places to do a Master's, Top Places to do a PhD, Top Conference Organizers and Top Summer School Organizers.

Acknowledging the fierceness of competition we awarded Gold, Silver and Bronze prizes in each category, toagether with a shortlist of institutions worthy of recognition. To reach this list, we combined the total interest generated by each opportunity, together with the attractiveness of the opportunity as defined by the percentage of those viewing it who were interested enough to enquire further. As such, the Awards are a reflection of the interests and ambitions of INOMICS users.
Across the categories nominees included: Ludwig Maximilians University; Barcelona Graduate School of Economics; EcoMod School of Modeling and Data Science; School of Economics, University of Surrey; Economics School of Louvain; Guido Carli University of Rome; Paris School of Economics; University of St. Gallen; and the Erasmus School of Economics at University Rotterdam. All are elite institutions and worthy winners. However, to find out who actually took home the gongs, download this year's Handbook here. In addition to the Awards, it also contains discussions on tax reform, the COVID-19 pandemic, and the sexism latent in our economies. It's a bumper issue and not to be missed.
Also Interesting

Top Economics Think Tanks and Research Institutes in the US

Think tanks are important institutions in the modern world. As the world becomes more globalised, think tanks which can undertake research and advocacy work at a transnational level become essential players in the global scene. Seeing as economics doesn't happen in a vacuum - each country's economic situation affects the political situation of every other country - they are also crucial to the profession (or at least, line of academic study) of most of the readers of this website. But which ones are the ones you should be following?

The Top Economics Blogs

There are many excellent economics blogs out there. Whether you want to read commentaries on economic policy, find out what people are currently researching, or simply keep up to date with the latest economic happenings across the world, there are blogs for all tastes. Economics bloggers vary widely from individual students and professors sharing their thoughts on the state of the profession to blogging superstars like Greg Mankiw, Paul Krugman and Tyler Cowen, whose analyses are backed by years of experience and a deep knowledge of the field.

The INOMICS Questionnaire: Fratzscher vs Rossi-Hansberg

Esteemed economist, Princeton Professor, and friend of INOMICS, Esteban Rossi-Hansberg, generously took time out of his busy schedule to take part in the second INOMICS Handbook Questionnaire. Opposite him, in his customary role of quizmaster, was Professor Marcel Fratzscher, president of the DIW Berlin, and one of Germany's leading voices in macroeconomics. Keeping with tradition, and as a nod to the heavyweight reputations of those involved, we dubbed the encounter 'Fratzscher v Rossi-Hansberg'.