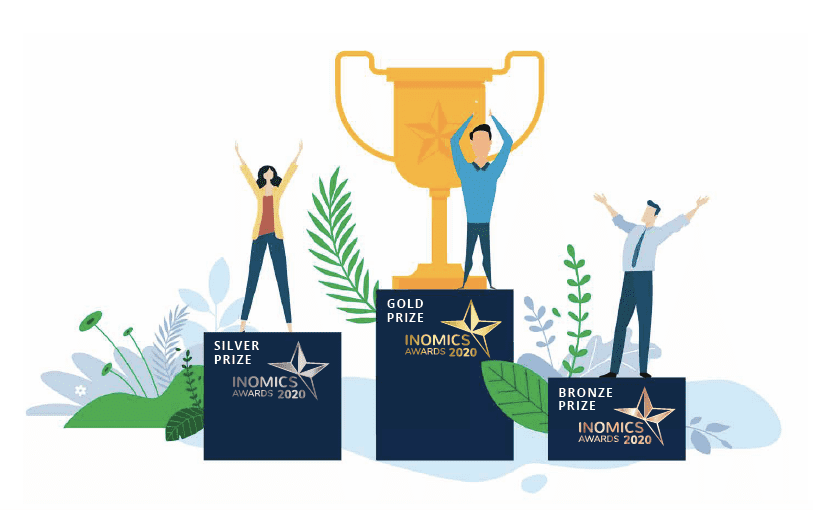 The INOMICS Handbook
The 2020 INOMICS Awards
Now in their fourth year, the prestigious INOMICS Awards recognise the top career and study opportunities offered by INOMICS customers in 2019. Keeping with tradition, we divided the awards into categories to showcase exactly which opportunities were of greatest interest to INOMICS users. They include: Top Employers, Top Training Courses, Top Places to do a Master's, Top Places to do a PhD, Top Conference Organizers and Top Summer School Organizers.

Acknowledging the fierceness of competition we awarded Gold, Silver and Bronze prizes in each category, toagether with a shortlist of institutions worthy of recognition. To reach this list, we combined the total interest generated by each opportunity, together with the attractiveness of the opportunity as defined by the percentage of those viewing it who were interested enough to enquire further. As such, the Awards are a reflection of the interests and ambitions of INOMICS users.
Across the categories nominees included: Ludwig Maximilians University; Barcelona Graduate School of Economics; EcoMod School of Modeling and Data Science; School of Economics, University of Surrey; Economics School of Louvain; Guido Carli University of Rome; Paris School of Economics; University of St. Gallen; and the Erasmus School of Economics at University Rotterdam. All are elite institutions and worthy winners. However, to find out who actually took home the gongs, download this year's Handbook here. In addition to the Awards, it also contains discussions on tax reform, the COVID-19 pandemic, and the sexism latent in our economies. It's a bumper issue and not to be missed.
Also Interesting

The Most Useful Apps for Economics Students

Your phone is one of the most useful tools you've got, whether you're studying or working in the field. Particularly in the current situation, using the technology many of us have all around us is a great way to stay on top of your economics research and remain knowledgeable while inside, staying safe during the coronavirus COVID-19 pandemic. Most of the apps listed below are also available on iPad, so you can download them on whichever device is more appropriate for you.

Career Advice, Study Advice

Top YouTube Channels to Learn Econometrics and Economics

Despite the easing of Corona-induced restrictions in certain places around the world, many universities and centers of learning remain shut, and will likely stay so for some time. For the foreseeable future then online learning will fill the void and become the default means of study. Yes, these are strange times. If you aren't already incredibly familiar with Zoom/Whereby/Skype we advise you to download them all now!

Balancing Work While Starting a Family

You are educated, qualified and consider yourself reasonably intelligent. You have handed in countless papers, proposals, and at least one thesis. You probably have some experience under your belt, maybe already landed a pretty good job with good prospects. You are confident of your ability, ready to work evenings and weekends, and keen to impress. You may also have a steady partner, or are thinking about settling down in the next few years, which opens the possibility of starting a family, if you haven't already. The game is about to change.