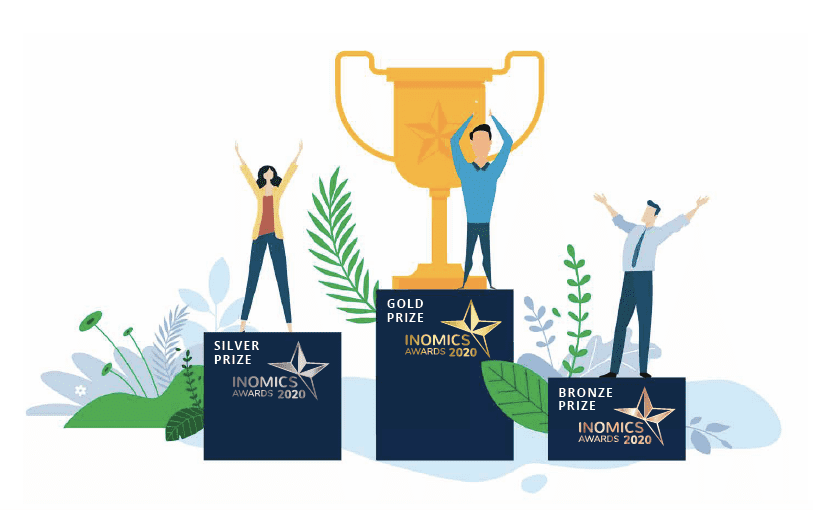 The INOMICS Handbook
The 2020 INOMICS Awards
Now in their fourth year, the prestigious INOMICS Awards recognise the top career and study opportunities offered by INOMICS customers in 2019. Keeping with tradition, we divided the awards into categories to showcase exactly which opportunities were of greatest interest to INOMICS users. They include: Top Employers, Top Training Courses, Top Places to do a Master's, Top Places to do a PhD, Top Conference Organizers and Top Summer School Organizers.

Acknowledging the fierceness of competition we awarded Gold, Silver and Bronze prizes in each category, toagether with a shortlist of institutions worthy of recognition. To reach this list, we combined the total interest generated by each opportunity, together with the attractiveness of the opportunity as defined by the percentage of those viewing it who were interested enough to enquire further. As such, the Awards are a reflection of the interests and ambitions of INOMICS users.
Across the categories nominees included: Ludwig Maximilians University; Barcelona Graduate School of Economics; EcoMod School of Modeling and Data Science; School of Economics, University of Surrey; Economics School of Louvain; Guido Carli University of Rome; Paris School of Economics; University of St. Gallen; and the Erasmus School of Economics at University Rotterdam. All are elite institutions and worthy winners. However, to find out who actually took home the gongs, download this year's Handbook here. In addition to the Awards, it also contains discussions on tax reform, the COVID-19 pandemic, and the sexism latent in our economies. It's a bumper issue and not to be missed.
Also Interesting

Why do a PhD?

If you're an economics student currently doing your undergraduate or Master's degree, you might be considering doing a PhD at some point. The idea of dedicating another three years or more of your life to original research is both exciting and terrifying, and the experience of actually doing it can be both exhilarating and harrowing. Taking the step towards doing a PhD is a big decision, and one that shouldn't be made without the proper research and consideration. Once taken, however, it can be an extremely valuable experience and one that can set you up nicely in the future.

10 Most Affordable Countries in Europe to Do Your Economics PhD

Fortunately, the UK and the US aren't the only two places in the world with universities great for studying economics, and particularly in Europe, higher education hasn't yet been turned into corporate business, meaning not only are degrees cheap, some are completely free. And paying less (or even nothing) doesn't translate into a lesser experience. To the contrary, many of countries on this list can make legitimate claims to housing some of the most prestigious higher learning institutions in the world.

Best Countries in Europe to Do Your Economics Master's Degree

Looking for a great Master's program in Economics?