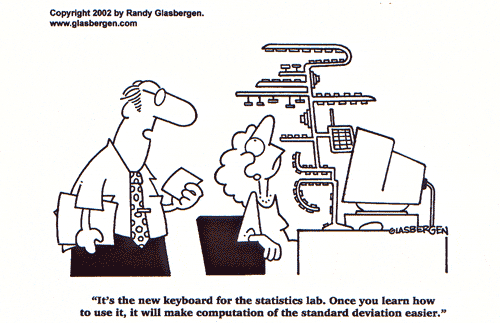 The Power of Statistics
Just two days ago Time magazine released a list of the 100 most influential people in the world. Among other prominent figures included in the list is Hans Rosling, a doctor and statistician, who became famous after his "TED talk" in 2006. In the video released by BBC four years later, Hans Rosling presented statistical data about 200 years of world development in the most creative and clear way the world had ever seen. The video got over 5 000 000 views on You Tube. A complicated subject, feared among generations of students, was transformed into a mind-blowing show. This video will show you how.
Statistics is not an easy subject to teach, especially if your students do not have solid quantitative skills. To overcome this hurdle, teachers and professors need to seek out truly innovative ways to make their students understand that statistics is vital for managing information in any field. That said, there is a consensus among professors: to create an excellent class, statistics should be made practical and personal.
There are dozens of books and plenty of advice on how to teach statistics (you might like to check "Teaching Statistics: A Bag of Tricks" or some practical examples from FREAKONOMICS). If you have some exciting insights into teaching statistics, please let us know in the comments below!
Also Interesting

Why do a PhD?

If you're an economics student currently doing your undergraduate or Master's degree, you might be considering doing a PhD at some point. The idea of dedicating another three years or more of your life to original research is both exciting and terrifying, and the experience of actually doing it can be both exhilarating and harrowing. Taking the step towards doing a PhD is a big decision, and one that shouldn't be made without the proper research and consideration. Once taken, however, it can be an extremely valuable experience and one that can set you up nicely in the future.

A Critique of Neoliberalism

Few would contest it has been the ideology of our political age. Ever since the 1980s, it has dominated western politics, underpinning governance, influencing culture, and leaving its indelible mark across society. During this time its core tenets were rarely challenged and only its peripheral aspects tweaked. The 2008 financial crash, however, changed this, shaking confidence in an ideology whose name, up until that point, was rarely ever spoken.

Decisions, Decisions, Decisions

Pros and Cons of Being A College Professor

If you're thinking about which direction to take your research career, one possibility is the professor route, teaching and researching in a university context. This is one of the most desirable jobs among young academics, and something that people often strive for. But what are the pros and cons of working as a college professor?