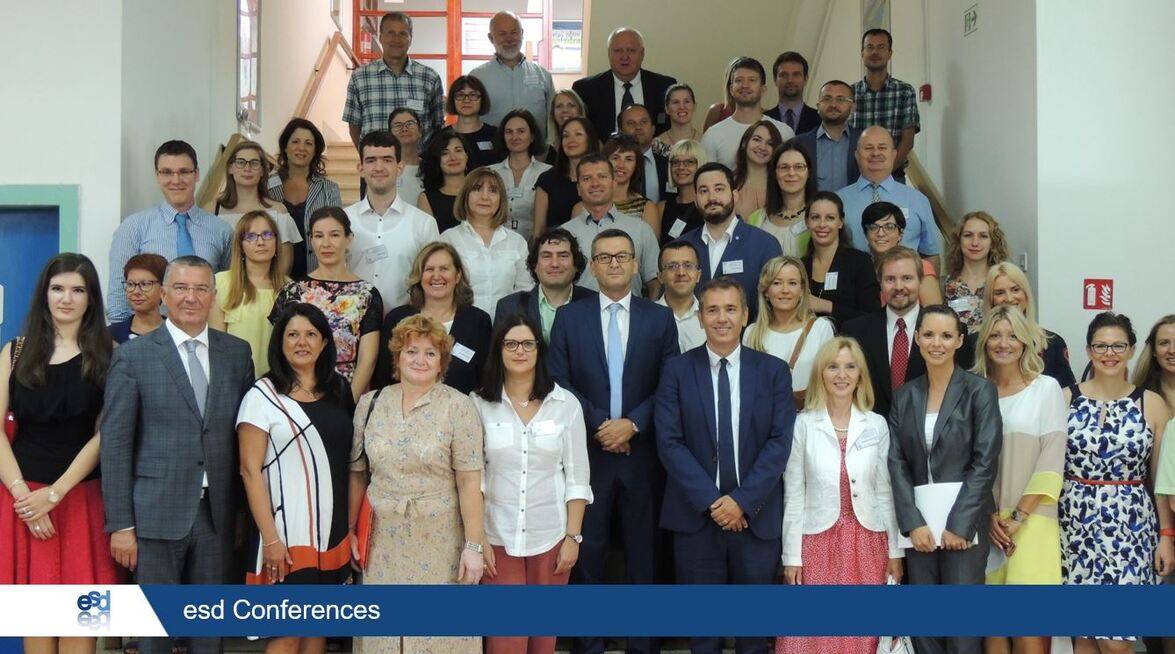 Customer Testimonials
The Role of INOMICS and Conference Monkey in the Success of esd Conferences
Read a summary or generate practice questions based on this article with the new INOMICS AI toolhere.
Since our inception in 1998, our mission has been to help students, researchers and academics advance in their careers while at the same time, helping institutions to improve their profiles, reputations and, recruit the best candidates for their offers. As part of our actions to fulfil our mission, we have initiated cooperative partnerships with universities, research centres and conference organizers with the aim of promoting research and knowledge exchange at the highest level.
One year ago, 11 Academia Networks and esd Conferences started a cooperative partnership. So far, the partnership has brought copious benefits to both organisations that have contributed to their growth. Esd Conferences benefits from visibility to our audiences on INOMICS and Conference Monkey, as well as visibility in the midst of high quality information such as salary reports. At the same time, the cooperation has greatly helped 11 Academia Networks to expand our user network and build trust in our services.
We asked Domagoj Cingula, the esd Conference Organizing Committee President, about his experience being an INOMICS and Conference Monkey Partner as well as about the success of his conferences. We have shared his thoughts below:
About esd Conferences
"esd Conferences" was the product of the idea of gathering scientists from all over the world to share their thoughts on economic and social developments, from different perspectives. Since then, the conferences have been a great opportunity for younger people for networking and improving their status in their professional lives.
After their first conference in Frankfurt, the Varazdin Development and Entrepreneurship Agency, organiser of esd Conferences, set up more events worldwide (Paris, Belgrade, Vienna, Zagreb, Istanbul, New York, Miami, Bangkok, Barcelona, Varazdin, Split, Warsaw, Melbourne etc.) with more scientific institutions as partners and co-organizers.
Now, there are more institutions and individuals who want to be included in the organizing committees, and more cities wanting to host the events, not only academic institutions.
The Role of the 11 Academia Networks - esd Conferences Partnerships
"It is not the same if you are doing something in the academic world "all by yourself" or if you have a strong partner standing behind you. Our partners often provide crucial resources to help us bring the quality of our conferences and publications to a higher level," affirms Domagoj.
The esd partners provide not only technical assistance with venues and catering of the events, but partners such as INOMICS and Conference Monkey have helped them collect high quality papers, build up their review system and helped them connect with more partner institutions.
In addition to11 Academia Networks, esd Conferences are proud to partner with the City of Prague, University North from Croatia, the Faculty of Management at the University of Warsaw, John Naisbitt University from Belgrade, the Faculty of Law of the University of Split and, Victoria University, Melbourne, to name a few.

The Contribution of INOMICS and Conference Monkey to the Success of esd Conferences
At the start, esd Conferences started announcing their events by themselves. Due to the amount of work and lack of support, they started to use conference website support, among them INOMICS and Conference Monkey. "We find INOMICS and Conference Monkey to be the most complete platforms," says Domagoj. According to his words, both websites offer a wide selection of services, they are both very easy to use and they register an increasing growth trend every month. "What can be better than having someone else finding your clients too? What I would also like to emphasize is that correspondence with their team is always quick, professional and of course, fruitful," adds Domagoj.
After starting the promotion on INOMICS and Conference Monkey, esd Conferences has received more and more inquiries. Moreover, after extra months of visibility, the conference organizers often began receiving some papers even during the "extended deadline" period. "One thing I like the most – the initiative of our partners (INOMICS and Conference Monkey) - was the idea to organize a small contest giving away a free ticket to our conferences. We hosted the winner of that contest at our conference in Prague; the young student was able to attend an international scientific even, which was a great experience both for the winner and for us as organizers. I realized that other delegates liked that and were very supportive to our winner", explains Domagoj.
Future of the Cooperation
Thanks to the fruitful year of cooperation, esd Conferences will be happy to maintain this kind of partnership, even moreso to develop the cooperation towards contests. "Contests can be another opportunity for someone to attend our events more easily; mutual advertising is something we also love to support", confirms the esd Conference committee president.
"I have to say that we were very proud after our conference became a Gold Partner with INOMICS and Conference Monkey, and after we saw our name among other distinguished entities, like the American Economic Association for example. Now after our past publications (Books of Proceedings) are indexed in Web of Science (CPCI), EconLit (AEA), ABI Inform (ProQuest) and EconBIZ, we hope we have justified and surpassed the expectations of our delegates and partners", concludes Domagoj.
The expansion of INOMICS into new disciplines and the launch of 10 more niche platforms satisfying the needs of specific audiences opens the door to new institutions to become a 11 Academia Networks Partner. If you are interested in supporting the academic community and helping us grow together we invite you to send an email to info@11academianetworks.com and mention your idea for a partnership, we will evaluate your proposal and confirm the available options for your institution.
Also Interesting

Studying in Germany: How to apply for a student visa

So you want to study abroad in Germany, the largest economy in Europe. It's a great country filled with many high-quality, internationally competitive universities. Plus, lovers of pretzels and sausages will never find a better place to be. Of course, if you're an international student, you'll probably need to get a visa before you can go.

The GRE is changing: ETS to streamline the test in September 2023

The Graduate Record Examinations, more commonly known as the GRE, is one of the most important standardized tests in the world for admission to post-Baccalaureate programs. It's very often required by universities when considering admission into their Master's or even PhD programs.

How To Find The Right Exchange Program

Exchange programs allow students to study at a different institution as part of their degree. Typically, students will use this opportunity to study abroad at a foreign partner of their home institution, though exchange programs can sometimes take place in the same country. Regardless, these programs are a fantastic way for students to broaden their horizons, take specific courses at another institution, and study abroad without committing to living multiple years in another country.