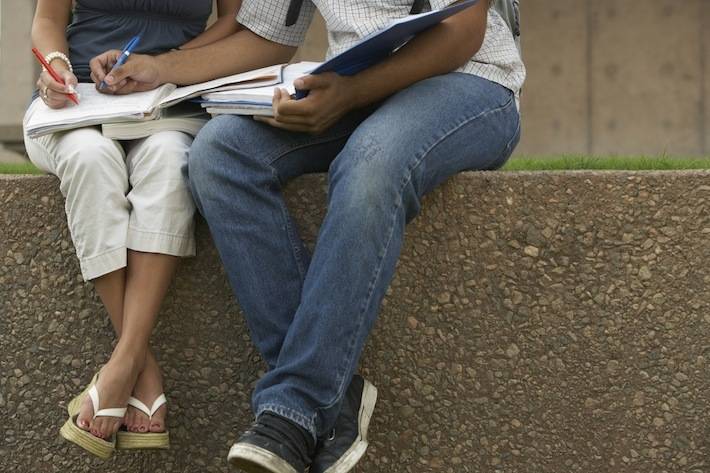 Top 10 Spanish Summer Schools 2016
If you're a student and you'd like the chance to refine your language skills, to travel to a new place, and to enhance your CV, then you should consider attending a summer school. The opportunity to study and acquire specialist skills over the summer is useful for everyone, but especially for students of languages! For those who are studying Spanish, here we've compiled a list of the best summer schools for 2016. You'll have lots of opportunities to practise your speaking skills, as well as to brush up on your grammar and cultural knowledge.

Executive Commercial Spanish Course
Organizer: Cervantes
Location: Malaga, Spain
Details: This course is aimed at students or professionals who need to use their Spanish in a business setting. The course is split into 2 parts: theory and practice, and during both parts, the students will use different tools: written materials, specialized publications, audio-visual materials, software applications, Internet, etc. It is taught by highly qualified teachers with extensive experience in teaching Spanish as a foreign language and deep knowledge of the business world.

Organizer: Barcelona University
Location: Barcelona, Spain
Details: The UAB's summer courses are offered throughout June, July and August. You can choose between 6 different levels from elementary to proficient. The courses follow the structure of the university's regular intensive courses, and can be taken individually or combined for an extended program. One course class consist of 6-15 students. During the month of August, optional extra-curricular activities are arranged on Fridays.

Organizer: Salamanca University
Location: Salamanca, Spain
Details: If you are engaged with regular studies in your home country, but at the same time want to take advantage of your summer break to learn Spanish, this course is for you. in Spain. The summer courses are similar in structure to the intensive and semester-long courses. You can choose between 15, 20 or 25 classroom hours per week and four distinct language levels, ranging from complete beginner to advanced speaker.

Organizer: Malaga University
Location: Malaga, Spain
Details: The Summer Semester Course runs from the beginning of July to the end of September. The course is divided into 6 different European Framework levels, from Beginners (A1) to Mastery (C2). Upon arrival students are tested and placed into groups according to their existing level of Spanish, with 9-15 students per class. The first 3 Spanish language levels spend 1-2 hours per day on structured language and grammar learning, and 1-2 hours on practicing Spanish language communication. Students in the 3 most advanced levels have 2-3 daily hours of language and grammar, focusing on perfecting their Spanish language skills, and during the last 1-2 hours per day they attend special culture classes on topics such as Spanish literature, history, cinema, art, geography, economy, commerce, society and politics. The Spanish cultural courses are normally given by professors or lecturers at Malaga University, specialists in their particular subject.

Summer Spanish Language + Culture
Organizer: CIEE
Location: Palma de Mallorca, Spain
Details: This course is for you if you're looking to begin your study of Spanish, or you're an intermediate to advanced student ready to take your Spanish proficiency to the next level. In Palma you'll find intensive language instruction, and a rich selection of area studies electives that are supplemented with substantial interactive and experiential components. That means stepping out of the classroom into fieldwork that encourages learning by doing. And homestays, site visits, cultural activities and excursions will provide you with a unique academic and intercultural experience abroad.

Organizer: inhispania
Location: Madrid, Spain
Details: During this summer programme, you can choose between 20- and 30-classes intensive courses. Borth of these programmes can be complemented by a Spanish culture course (+5 classes per week) or with private classes. In Madrid, you will have a multicultural experience, making new friends from all over the world. and you will discover a fantastic city, full of vitality and energy.

Spanish Language and Mexican Culture
Organizer: Academic Programs International
Location: Santiago de Querétaro, Mexico
Details: Students who choose to study abroad in Mexico with API attend courses at the Centro Intercultural de Querétaro (CIQ). Students at all levels are welcome to participate in this program, and all classes are taught in Spanish. Spanish language courses have been designed to encourage students to develop basic skills and help beginning, intermediate, and advanced students progress in their Spanish language acquisition, using the language in both real life and in academic situations. Each language course focuses on building vocabulary, practicing speaking and increasing fluency, learning and applying grammatical principles, and improving listening, reading and writing abilities.

Spanish Language and Chilean Culture
Organizer: The Pontificia Universidad Católica de Valparaíso
Location: Valparaíso, Chile
Details: The Spanish Language and Chilean Culture program is a 5-week summer program totaling 90 contact hours (usually 6 US credits, depending on the home university's transfer policy). Spanish language classes are small, personalized, and offered from the beginning to advanced levels. Every student enrolls in 2 courses. Minimum prerequisite to join the course is a sophomore-level status. Students should also have some previous contact with the language.

Summer Language and Culture Program
Organizer: Academic Programs International
Location: Havana, Cuba
Details: Beginning-level students have two options for this summer. The first option is to take a Spanish language course for 60 hours, and then take 30 hours of Cuban cultural topics (taught in English). The second option for beginning-level students, which is also available for students through the advanced-level, is to take a Spanish language course (at their appropriate level) for 80 hours of intensive language study and 10 hours of cultural topics and activities for a total of 6 semester credits. Finally, advanced and superior-level students may elect to take a course in "Rhetoric and Composition: The Cuban Experience" that consists of 65 hours of intensive language instruction and writing activities, and 10 hours of cultural seminars for a total of 5 semester credits. Minimum enrollment is required for this course to be offered.

Organizer: Spanish World Institute
Location: Bogota, Colombia
Details: This spanish course is ideal for people who study business or work in a job that requires a good level of Spanish. This is an intensive spanish course which can be taught in group or private, depending on the number of students enrolled. In the morning the students develop general skills, while in the afternoon they focus on Spanish for business. The course develops negotiation workshops, case studies and role plays in marketing, finances, and general management.
For more information on summer schools, see our other articles:
>> Top 10 English Summer Schools 2016
>> Top 10 Summer Schools 2016: Economics
>> Top 10 Summer Schools 2016: Finance & Accounting
>> Top 10 Summer Schools 2016: Maths & Stats
>> Top 10 Summer Schools 2016: Business & Management
>> Top 10 Interdisciplinary Summer Schools 2016: Social Sciences
>> Top 10 Summer Schools 2016: Political Science & International Relations
Also Interesting

How the Coronavirus is Affecting Economics

15:00 8 June 2020 As some countries begin to loosen their lockdowns to varying degrees of success, many universities are still playing it on the safe side. The University of Surey, for example, has moved its CIMS summer school course online. This will be from the 7th to 12th of September 2020.

The Need to Decolonise Higher Education

History, it feels, is quickening pace. Pandemics, both old and new, are rocking the world, shaking its foundations. Systemic racism, an age-old disease, continues to facilitate violence on black bodies and undermine humanity, while a novel coronavirus has killed hundreds of thousands, disproportionately affected people of colour, and compounded the often racial inequalities that characterise our societies. Protestors now fill the streets, and across much of the anglophone world a tipping point has been reached. What will emerge from this moment is hard to say.

From University Campus to Remote Education: How Steep is the Learning Curve?

Universities around the world are currently experiencing a crash course in online education. The coronavirus pandemic has shaken the sector in a big way, leaving professors and students struggling to complete the academic year off campus and having to prepare for the next one under very uncertain circumstances.