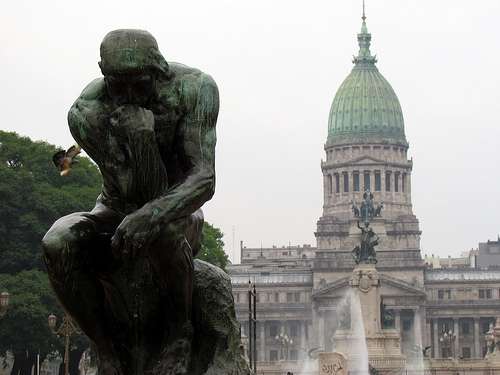 Top Think Tanks and Social Science Research Institutes in Spain and Latin America
This blog post is the third in a series of entries highlighting top think tanks around the globe. Last week we posted a list of top institutes in Europe, and yesterday we offered you a list of think tanks in the United States. Today we'll focus on the Spanish-speaking world, with a list of top think tanks and research institutes in Spain and Latin America.
With this list we hope to highlight prominent institutions undertaking important research on diverse topics within the broad fields of politics, economics and international relations. Whether you're interested in a job or internship or just want sources for top-notch analysis, this list is a great place to start.
We recognize that these three posts only covered certain regions, leaving out hundreds of highly respected institutes in areas including Asia and Africa. To take a look at the many other institutions with jobs, conferences and other listings on offer, head to the INOMICS website here. Additionally, please share your experiences with others by leaving a review on the INOMICS website for any institute where you have worked, studied or interned!
Photo credit: David Berkowitz
Also Interesting

The Lives and Livelihoods Fund

Four years ago, the world adopted an ambitious set of Sustainable Development Goals (SDGs) designed 'to end poverty, protect the planet and ensure that all people enjoy peace and prosperity by 2030'. Despite rising life expectancy and the eradication of many endemic diseases, more than 400 million people in the member states of the Islamic Development Bank (IsDB) still live in absolute poverty, subsisting on less than US$1.90 per day. It is, perhaps, these countries that face the greatest challenges in fulfilling the SDGs.

Additional Courses to Improve Your Prospects in a Career in Economics

If you're doing an economics degree and thinking about ways to maximise your career prospects once you graduate, there are lots of courses outside the realm of economics for you to choose from. From business to programming to statistics, there are plenty of areas which can help you improve your chances of getting a job and widen your skillset more generally, if you've got the money and time to enrol on one.

Chemicals in the Shipping Container Industry

Inventory of hazardous substances in container vessels: another necessary but bureaucratic burden for carriers

The European Union (EU) is working very hard to make ship recycling greener and safer in the future. It is quite clear that the dismantling of ships in many parts of South Asia in its current state is not acceptable, either from an environmental or a social point of view. Ship recycling regulations, adopted seven years ago, are finally gathering pace now.