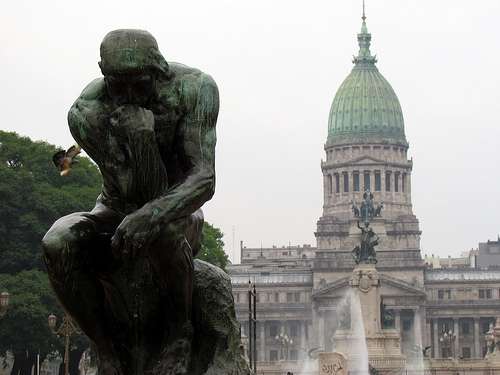 Top Think Tanks and Social Science Research Institutes in Spain and Latin America
This blog post is the third in a series of entries highlighting top think tanks around the globe. Last week we posted a list of top institutes in Europe, and yesterday we offered you a list of think tanks in the United States. Today we'll focus on the Spanish-speaking world, with a list of top think tanks and research institutes in Spain and Latin America.
With this list we hope to highlight prominent institutions undertaking important research on diverse topics within the broad fields of politics, economics and international relations. Whether you're interested in a job or internship or just want sources for top-notch analysis, this list is a great place to start.
We recognize that these three posts only covered certain regions, leaving out hundreds of highly respected institutes in areas including Asia and Africa. To take a look at the many other institutions with jobs, conferences and other listings on offer, head to the INOMICS website here. Additionally, please share your experiences with others by leaving a review on the INOMICS website for any institute where you have worked, studied or interned!
Photo credit: David Berkowitz
Also Interesting

MBA or Specialized Master's Degree: Which One is Best for You?

There are several key differences between an MBA and M.S. degree. The one you choose depends on your career goals, experience, finances and more. Focus MBA programs are more all-encompassing. They are meant for students looking to gain functional knowledge across all aspects of business. A specialized master's program is exactly that — it focuses on a specific area of business and provides a deep and precise knowledge of that subject.

The Lives and Livelihoods Fund

Four years ago, the world adopted an ambitious set of Sustainable Development Goals (SDGs) designed 'to end poverty, protect the planet and ensure that all people enjoy peace and prosperity by 2030'. Despite rising life expectancy and the eradication of many endemic diseases, more than 400 million people in the member states of the Islamic Development Bank (IsDB) still live in absolute poverty, subsisting on less than US$1.90 per day. It is, perhaps, these countries that face the greatest challenges in fulfilling the SDGs.

Making Money With Your Degree

High-Salary Career Options for Economists

Before you start considering what crazy lucrative job you are going to get with your economics degree, consider this fact: a lot of rich people don't like their money. Many complain about not knowing what to do with it all, yet simultaneously having huge anxiety they'll lose it. They moan about their friends treating them like walking bank accounts, being judged for not looking the part, and no longer being able to visit - how to put it delicately? - less refined establishments.