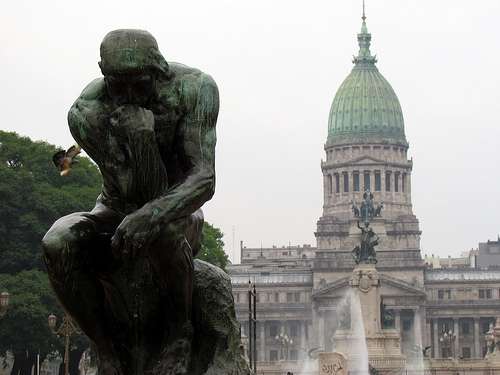 Top Think Tanks and Social Science Research Institutes in Spain and Latin America
This blog post is the third in a series of entries highlighting top think tanks around the globe. Last week we posted a list of top institutes in Europe, and yesterday we offered you a list of think tanks in the United States. Today we'll focus on the Spanish-speaking world, with a list of top think tanks and research institutes in Spain and Latin America.
With this list we hope to highlight prominent institutions undertaking important research on diverse topics within the broad fields of politics, economics and international relations. Whether you're interested in a job or internship or just want sources for top-notch analysis, this list is a great place to start.
We recognize that these three posts only covered certain regions, leaving out hundreds of highly respected institutes in areas including Asia and Africa. To take a look at the many other institutions with jobs, conferences and other listings on offer, head to the INOMICS website here. Additionally, please share your experiences with others by leaving a review on the INOMICS website for any institute where you have worked, studied or interned!
Photo credit: David Berkowitz
Also Interesting

10 Most Affordable Countries in Europe to Do Your Economics PhD

Fortunately, the UK and the US aren't the only two places in the world with universities great for studying economics, and particularly in Europe, higher education hasn't yet been turned into corporate business, meaning not only are degrees cheap, some are completely free. And paying less (or even nothing) doesn't translate into a lesser experience. To the contrary, many of countries on this list can make legitimate claims to housing some of the most prestigious higher learning institutions in the world.

Decisions, Decisions, Decisions

Pros and Cons of Being A College Professor

If you're thinking about which direction to take your research career, one possibility is the professor route, teaching and researching in a university context. This is one of the most desirable jobs among young academics, and something that people often strive for. But what are the pros and cons of working as a college professor?

A Critique of Centrism

The current moment is one defined by crisis. It can be found everywhere: in the climate, economy, mental health, even in democracy. It's so ubiquitous as to have almost become the new norm. Amid the chaos, politics has struggled to keep up, its landscape is in permanent shift, its rulebook long thrown away. New formations have emerged, metastasized, sometimes died, and occasionally taken over - developments often surprising and hard to make sense of. What's clear, though, is that polarisation has set in.